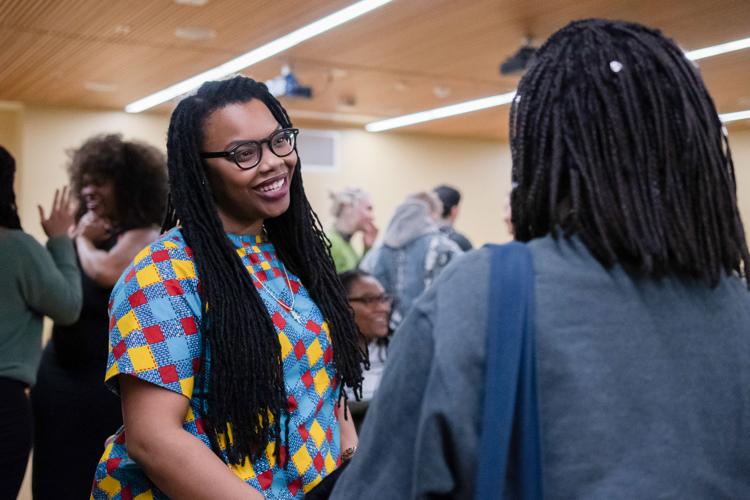 In her workshop "Framing Blackness: Documenting the Spectrum of Black Identity," Jessica Rycheal presented her photographs that depict the range in complexity of Black individuals. The event, honoring Black History Month, took place Feb. 7 in the Samuel E. Kelly Ethnic Cultural Center and was hosted by ASUW Arts & Entertainment.
"When you put Black people under an umbrella, you take away their chance at being themselves," Rycheal said.
The photographs shown in slides were notably in pairs, confronting the traditional singularity in the themes of masculinity and femininity.
On the first slide there were two side-by-side images of seemingly contrasting Black males at the 2016 Afropunk Festival. After more inspection, similar features were evident in both individuals and the photographs showcased the dynamic layers that form each individual.
Rycheal's photographs strive to bridge society's tendency to generalize Black character, and doing so often requires her to reevaluate her own notions.
"Even as an artist, I constantly have to unlearn my own life," Rycheal said.  
Her presentation, as Rycheal relied upon audience participation, greatly affected many aspiring artists.
"For me, as I do art through music, I find it hard to convey people's stories in an honest and true way," UW student and workshop attendee Gigi Gaultier said.  "The way that [Rycheal] is able to analyze people's faces and pick out small details is a cool feature."
With every new photograph, Rycheal incorporated storytelling in conveying the significance each image had in regard to her own life, as well as her activism.
"I don't want you to give me anything, but who you are in the moment," Rycheal said.
Especially representative of the authenticity in Rycheal's work was a photograph taken on her phone of a mother and her son on the bus. I was immediately entranced by the focus of the image.
"I have read her story in the magazine [Human Condition] and value her commitment to telling people's stories through her art," Gaultier said.
Rycheal's photographs of two nonbinary medical school students, who looked wildly different from one another, depicted how one's community does not solely define that individual.
"In any space you find, you have to give yourself permission to be yourself," Rycheal said.
In the gallery of photographs, Rycheal clearly intertwined her artistic vision and social commentary.
"There are so many reasons to be mad right now, especially in this sociopolitical climate, but she presented the issues in an eloquent way that was especially inspiring to all people — not just Black people," UW student and workshop attendee Julia Jannon-Shields said.
Throughout her workshop, Rycheal's striking honesty about her transformation with photography, appealed to the masses in a highly personal manner.
"I am in the biggest creative block right now, and she addressed many insecurities that I've been feeling, and hearing someone's journey in photography gave me the validation that this block is temporary," UW student Guadalupe Mendoza said.
Rycheal did not have an ordinary journey with photography, as she originally started taking self-timed portraits in college with an nonprofessional camera. Slowly developing notoriety on Facebook, she was later contacted for her first paid photoshoot.
"I was shocked. I felt like I needed to pay her for coming all the way," Rycheal said. "I was so afraid of her not thinking I was good enough."
Upon hearing this, I felt connected to the humanistic sincerity of Rycheal and admire the development of her career that stemmed from humble beginnings.
Rycheal's best friend at the time told her: "I'm going to need you to act like you're worth $80 and a road trip."
Through more experience with photography, Rycheal eventually gained belief in her work.
"Things shifted for me when I found the confidence in myself to just let the art come out," Rycheal said.
Reach contributing writer Suhani Dalal at development@dailyuw.com. Twitter: @DalalSuhani
Like what you're reading? Support high-quality student journalism by donating here.