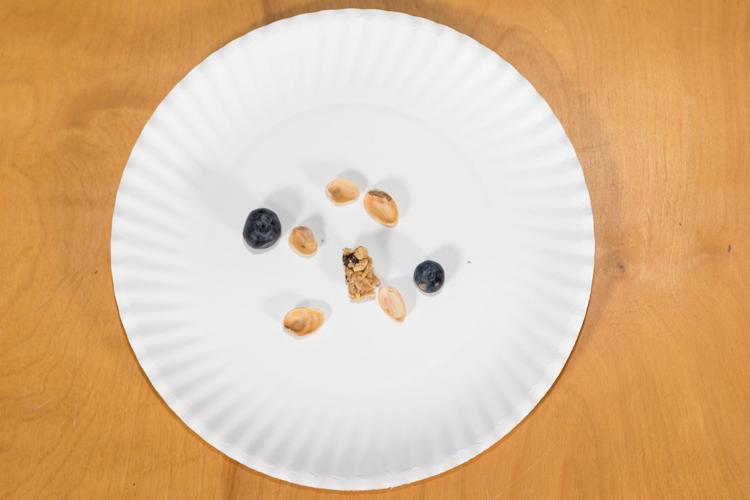 I used to joke as much as the next Husky about being a "starving" college student and subsisting on ramen. At the end of the day, though, I've never had to worry about whether or not I could afford to eat. I'm writing this article because some of my peers can't say the same.  
Twenty percent of four-year college students have very low food security, but that's not just a problem at universities: An even higher percentage of community college students — 25% — qualify as having very low food security. Rates are higher among college students of color: 28% of black students and 25% of Latinx students, fall into this group. Additionally, 31% of first-generation college students have very low food security.
Food insecurity can be loosely defined as lacking reliable access to sufficient quantities of nutritious, affordable food.
For one person, it might mean running out of money to buy groceries before the end of the month. Another person might skip meals because they can't afford to eat, or they might make unhealthy changes to their diet because that's the only way to make ends meet. People with families might choose to restrict their own eating in order to feed their children.
However, even markers like these do not always make it easy to identify if someone is food insecure.
"You can come up with stories why any of one of those might not be an indicator of a major problem at one time," Rachel Fyall, a professor at the UW Evans School of Public Policy and Governance who studies food insecurity, said. "That student who's making a choice not to eat because they're saving up for a trip to Europe, that's a different thing than if a student's not eating because they're saving money for their rent."
–––––
Some students feel compelled to overwork themselves to make up for financial shortfalls. According to a recent report from Georgetown University, about 40% of full-time undergraduate students work more than 30 hours a week.
Just ask Melodie Reece, former intern at Any Hungry Husky, the UW food pantry. As a UW undergraduate student, she herself worked as much as she could to avoid having to use the food pantry, even at the expense of her grades.
"I remember having to find extra jobs to pay for stuff, because I'm the kind of person who would rather do that than use a food pantry," Reece said.
Depending on the type of job the student has and whether or not school is in session, though, sometimes extra work isn't an option.
During her first year as an undergraduate student, Reece worked on-campus and work-study jobs which limited her from working sufficient hours to meet her financial needs. The student employee hour limits kept her from working enough to be eligible for government aid programs that could have made a difference.
"You can't get food stamps or SNAP benefits as a full-time student unless you work 20 hours a week. And as a student employee on campus, you're only allowed to work 19.5 hours per week," Reece said. "There's no way to bridge that gap unless you use food banks or the food pantry."
"I was working pretty much as much as I could as a student, and just falling short," Reece said. "I remember being like, well, I could either go to Grocery Outlet and buy a 10-pound bag of rice and live off that for a couple weeks, or I could go to the food bank and see what they have. It wasn't super fancy, they didn't have a ton of stuff, but it was better than getting a plain bag of rice or whatever and living off of that."
In addition to being unable to work more, Reece credits living in a relatively expensive UW residence hall with her financial struggles that year. The cost of living in a UW dorm can range from $1,687 to $4,408 per quarter in on-campus residence halls and up to $1,745 per month in Nordheim Court, the 12-month apartment-style dorm near University Village.
"It's not something that ever really went away, but it's something that I learned to manage better, and only really have to use [the food pantry] at certain times," Reece said. At best, she would return about every "four months, or every so often, because I physically [couldn't] work any more to make extra money."
–––––
Food insecurity has impacts beyond a person's diet and grades: It also affects their social life. Many consider getting together with friends for food or bubble tea on the Ave to be an integral part of UW life, but that just isn't an option when you're barely making ends meet.
Eating out is also the norm at many RSOs and study groups, where students often assume that everyone around them can afford to splurge.
"[I] wasn't able to fully participate in some of the clubs that we had, because they would go out to restaurants and sometimes I just didn't have money," Reece said.
Perhaps the worst social aspect of food insecurity is the stigma.
"I had to hide certain things from my roommates because I didn't want them to know that I went to the food bank," Reece said.
According to Reece, part of the stigma stems from the fact that many people have a certain image in mind of what food insecurity looks like –– and it doesn't fit the typical food-insecure college student. The stigma is so strong that many of the people she's talked to in her work do not want to identify as food insecure even if they obviously are.
"People have a lot of internalized stigma about food insecurity and housing insecurity, to the point where even if they're skipping meals or skipping buying textbooks to pay for food, they won't necessarily identify as food insecure," Reece said.
Reece can only hope that communities can overcome these mental barriers, so that people can get help when they need it.
–––––
Kay Lewis, executive director of UW financial aid and assistant vice provost for enrollment, said that students coming to her office for emergency aid have a wide variety of situations. Unexpected medical expenses, losing income from work due to an illness, or losing family support due to a devastating natural disaster back home can all cause students to fall into sudden food insecurity.
However, there is a pattern: Students from low-income families are far more likely to need immediate resources for food.
"Typically students with low income have very little safety net," Lewis said. "For many people who maybe have more resources … [their] families might have a temporary setback or unusual expense, and they could just absorb and keep going. For someone who's in a low to low-middle income group, that's very hard to do."
Reece also saw patterns among shoppers at Any Hungry Husky. As the program manager, she often interacted with customers and got to know some of their stories.
"It's usually like, 'My financial aid is running out, and I don't get paid for another week, and I don't have anything to eat today,'" Reece said. "It was a lot of those intermittent, short-term cash flow issues."
Reece also said that she recalled graduate students and international students being overrepresented among shoppers at Any Hungry Husky. International students are less likely to be eligible for many forms of financial aid, such as domestic loans, so they may have fewer resources available to them in a crisis than most students.
According to a recent study from the U.S. Government Accountability Office, international students are more likely to experience food insecurity that in-state or out-of-state students. Thirty-eight percent of international students said they experienced food insecurity, while 30.7% of in-state and 29.3% of out-of-state students experienced the same.
Regardless of residency status, while 70% of students knew campus food pantries were a resource, only 15.6% of students used them. Students cited a wide range of reasons for not using the pantry, ranging from "work and school interfere with opening hours" to "fear of judgment."
As Reece noted, some food-insecure students were reluctant to identify as such and were quoted with statements like, "While sometimes I do not have enough money to buy food, I also feel that I am not poor enough."
–––––
Reece believes that food insecurity is connected to the broader issues of rising tuition and rent, especially in Seattle.
"It really is something that literally anyone can go through regardless of background or skin color or visa status or anything like that, just because of the exact predicament we're in, with higher education … and the cost of living being as expensive as it is," Reece said.
College tuition across the country has risen dramatically in the past few decades, even when accounting for inflation. In the 1980-81 school year, the average cost of tuition at a public university was $2,196, adjusting for inflation. In the 2014-15 school year, it was $8,534.
At $11,207 for the 2018-19 school year, the UW is more expensive than average across all U.S. public universities, but less expensive than similar universities, according to the most recent report released by the UW's Office of Planning and Budgeting. The university has worked to make tuition more affordable with measures like the historic 10% tuition cut in 2015.
However, there's a cost: In a 2016 report, it was found that UW professors were compensated significantly below their colleagues at peer institutions.
TAs, tutors, graders, and research assistants also face compensation challenges, leading to a strike last May which protested low wages and other issues. Many of these campus employees are students themselves who may be experiencing food insecurity.
Part of the reason for the rise in college tuition is that state governments, including our own, are not absorbing as much of the cost of education as they used to. Following the Great Recession, state funding for the UW decreased by nearly 50% in three years –– and while the state has increased funding since then, it has not returned to 2009 levels.
The cost of living is an issue, too: Seattle rents soared 155% in the past two decades. Between the rising cost of education and basic living expenses, it's no wonder that many students are struggling to meet their basic needs.
Even as college becomes more costly, it's becoming more difficult to find a decent job without a degree. High school graduates can expect to earn about half what their college-educated peers earn.
As Reece put it, "Poverty's hard to get out of, and that's why people go to school."
–––––
Food insecurity can happen to anyone, and the UW Office of Student Financial Aid (OSFA)  agrees.
OSFA employees and other counselors look at each student holistically, including their current situation and longer term needs. They may be able to adjust the student's financial aid or offer additional loans or grants, as well as mental health, academic, and other resources.
Both Lewis and Reece emphasized that it's OK to ask for support when you need it, even if it means asking multiple times, even if you think others might need it more.
"There's no real problem in asking us if we can work with their situation again and again, and seeing if we can work something out," Lewis said.
"You don't have to be sleeping on the street in order to need support," Reece said. "That's one of the things that I wish people just kind of knew and accepted, that it's OK to ask for support even if you're not destitute."
All students, regardless of status, can apply for a $100 Food Security Grant in case of a short-term, immediate need. A financial aid staff member will typically reach out to the student within 24 hours and determine eligibility. From there, $100 will be put on the student's Husky Card that they can use for food at any campus dining facility.
Students can also apply for short-term loans worth up to $2,500 for undergraduates and $3,200 for graduate and professional students. There is no interest, but a $30 service charge will be added to the repayment of each loan.
Any Hungry Husky, the UW food pantry, is located in Poplar Hall on West Campus. You can find their drop-in hours online. Students need their Husky ID to check in, and the pantry recommends bringing reusable grocery bags to carry items home.
The University District Food Bank offers food, toiletries, baby formula, diapers, and connections to community resources for individuals and families across Northeast Seattle. They operate a walk-in food bank four days a week at 5017 Roosevelt Way NE. First-time visitors should bring a photo ID and proof of residence if applicable.
Counselors across campus can also help students find additional resources. This includes counselors from OSFA, the Counseling Center, Hall Health, Health and Wellness, the Office of Minority Affairs and Diversity, the Champions Program, and department advisers, among others.
The first step to finding support is asking.
Reach writer Leslie Fisher at wellness@dailyuw.com. Twitter: @lesliefish3r
Like what you're reading? Support high-quality student journalism by donating here.
A pervious version of this article misspelled Melodie Reece's name as Melodie Reese. This article was updated to reflect the correct spelling on April 29.