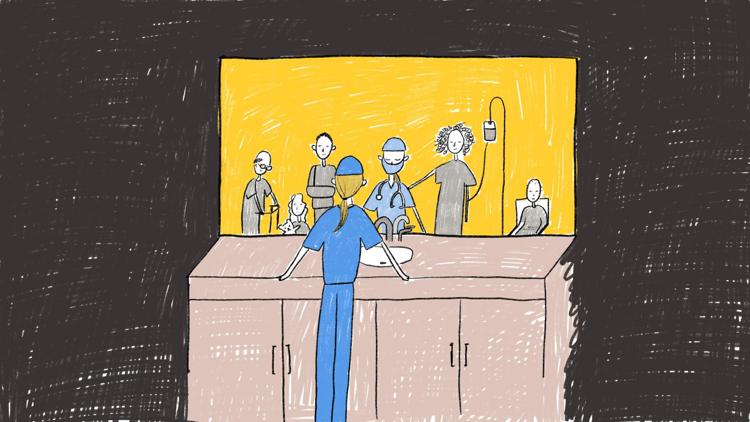 Kelly MacWhorter's first personal experience with grief occurred during her inpatient training at Harborview Medical Center. After her patient died, she didn't get an opportunity to express herself and was expected to continue working. When MacWhorter broke down during her shift, she realized that she was ill-equipped to handle grief's impact on her ability to work.
After encountering similar experiences, MacWhorter tried counseling but ended up crying the whole time — the exhaustion of working 20-hour shifts prevented her from confronting her overwhelming emotions that had repeatedly been suppressed.
Now, as a fourth-year medical student at the UW School of Medicine (UWSOM), MacWhorter is working with a palliative care doctor on creating a five-page handout that will act as a toolkit for future medical students dealing with grief while working.
"We've talked about mental health, and we had a physician suicide awareness day and reflected on that," MacWhorter said. "But we never really answered the question of 'how' — how do we take care of ourselves? How do we seek out help? How do we deal with grief personally when we're faced with it?"
When Carol Kummet, a palliative care social worker, came to the UW Medical Center in 2010, everybody was talking about Elisabeth Kübler-Ross' five stages of grief. But that is now considered to be outdated information.
Kummet, who has extensive experience in bereavement services, explained that updated theories such as J. William Worden's four tasks of mourning focus on "actual doing" for healthy processing of grief.
"The first [task] is to stop and acknowledge the losses, changes, challenges, and deaths that you've experienced," Kummet said. Once the loss is acknowledged, "you're going to have some pain associated with that: tears, anger, yearning, depression, sorrow, irritability. But William Worden says the second task is to actually sit with the pain and experience it." 
Medical students have to be good at witnessing sorrow, but often end up numbing the accompanying pain because they have to keep moving. Although suppressing these feelings works in the short-term it may have negative impacts later on, Kummet explained.
"Because we're helpers, we want to go in and take that pain away, and that's not helpful," Kummet said. "It is important for people to actually experience the difficult side of grief so that they can process through it. It is a skill to be present and bear witness to what somebody's going through but serve them well — you're the professional in that situation, it isn't your father, it isn't your child."
However, it still impacts you because you're human, Kummet continued, and including good grief work such as Worden's tasks in medical school's curriculum could help students gain the skills to be self-aware during a patient's death. One such skill is learning how to compartmentalize emotions in a professional setting and later find the space to open those compartments rather than abandoning them.
"If a medical student could identify their losses, changes, challenges and the deaths that they have, actually bear witness to the sorrow, sit with the pain, however that manifests itself in them, figure out skills and how to cope and adjust, and then incorporate those skills into their work — that would be helpful for them," Kummet said.
For example, Worden's third task of adjusting to the situation is reflected in how Dr. Jay Zhu, a surgical resident at UW Medicine's department of surgery, handles death in doctor-patient relationships. 
"As a surgeon, when you are given the privilege to intervene and have your hand inside someone's body, you take a lot of ownership of that because you never want to cause harm," Zhu said. "You can't be paralyzed by these situations. And at the same time, you can't help but be changed and be transformed by the experience."
The point of medicine isn't as much about avoiding death as it is about improving someone's life, according to Zhu, who reminds himself that even in dying there are small miracles. 
"It's a time when families come together and share this really deep personal journey where they support each other through hardship," Zhu said. "They actively remember someone's life. In the sort of silver lining of death, you see a lot of people, supporting each other, and there's a lot of love within that."
Compared to other professions, being a health care provider can be a uniquely isolating experience. One moment you're sitting with family members through death, the next you're watching a patient who got shot in the heart walk out of the hospital, complaining over their scar a few days after you opened their chest.
MacWhorter shared a similar sentiment and emphasized the importance of having a support system consisting of students who share similar experiences.
Kayla Secrest, another fourth-year medical student at UWSOM, keeps what she calls a "sunshine folder" of positive patient interactions to look over during times of grief and loss. Secrest also mentioned that writing sympathy cards to a patient's family brings closure and is a strategy she has shared with her colleagues, who have also found it helpful.
Worden's last task is remembering the person who died. 
"One person goes home and goes on a walk on a beach and collects a rock, then puts it in a vase," MacWhorter said. "She has the vase on her desk and has a collection of rocks. She remembers each of these lives that she's touched and celebrates that hopefully, they're in a better place."
Reach contributing writer Ragini Gupta at development@dailyuw.com. Twitter: @raginigupta__
Like what you're reading? Support high-quality student journalism by donating here.