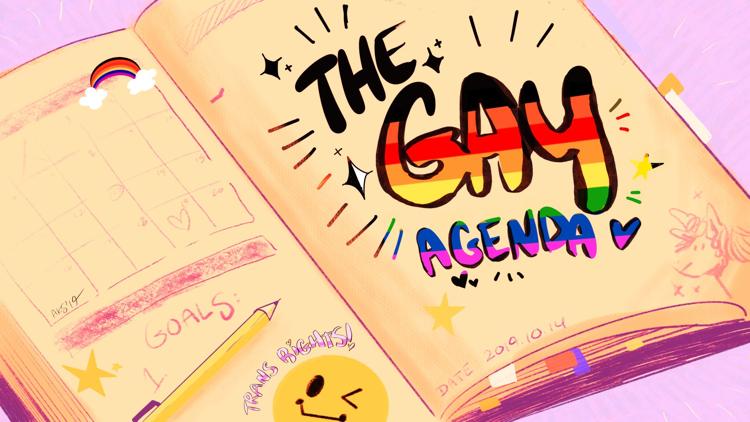 Editor's note: The Gay Agenda is a column about LGBTQ issues and experiences.
My best-laid plans for a sexy weekend got foiled by some unexpected vaginal bleeding that no doctor could give a certain diagnosis for, so I had to try and guess for myself. 
Back when I thought I was going to be having sex, I got an STI screening at the Hall Health Center, a test I had never experienced before. After a lot of questions about my sex life, the nurse practitioner told me to go to the lab for a blood and urine test, something not covered with your one free visit, by the way. But I had peed within the last hour, so I had to wait around a little while. 
No one had warned me about that stipulation and I was a little frustrated because waiting was going to make me late for class. But I waited for the few extra minutes and took my ticket to go into the lab. 
Two vials of blood later, I was being handed a plastic cup and directed toward the bathroom. 
I was never more envious of penis pissers than I was right then. I've never had to worry about aiming before (it's hard to miss a giant bowl when you're sitting on it), so trying to pee into a small cup while having little knowledge of my urethra was stressful. And for the test I was doing, I was supposed to get the first void, so no doing a quick little squirt first to get my bearings. 
Pulling the cup up to my face, I saw that I hadn't peed up to the line they needed me to. But more upsetting than that was the fact that the liquid in the cup was orange. Yellow urine plus blood makes orange. 
I'm used to having blood in and around my vagina when on my period, but thanks to my birth control, I haven't had a period in years. And now this blood wants to show up days before my sex date? Wack. 
Seeing as it was the end of my appointment and I couldn't pee anymore, I put the cup in the lab window and left. 
I grabbed one of the free menstrual products from the bathrooms and opened Google. And I discovered that sex education sucks, but also that my doctors have never told me much about my body. 
From what I could gather from the internet, I had either traumatized my cervix or popped a polyp while masturbating. A standard menstrual period was a possibility, but with the timing post-masturbating, I thought that trauma or a polyp was more likely. 
In all my sex-positive, fairly decently sex-educated years, I had never heard of cervical trauma or cervical polyps before. Not from teachers, my doctors, or even popular culture. 
Something I do know is that I have polycystic ovarian syndrome (PCOS), a hormonal condition that can cause a whole mess of things, potentially including polyps. Unsurprisingly, there is little research on cervical polyps, because who wants to research women or vaginas, right? 
It took me years to get a PCOS diagnosis. I don't know why my primary care doctor didn't really address it. I told her I was experiencing things I would later come to learn were common symptoms: irregular but intense periods, weight gain, and signs of excess testosterone. 
It wasn't until I saw a specialist for a different problem that I was prescribed or even heard about the needed medication. But he never mentioned the potential for increased cervical polyps or how they could lead to post-coital bleeding. 
Over the next day, I stewed in thoughts of how poorly my own health has been taught to me, from schools and from my own doctors. I feel left in the dark about my own health. I'm on so many medications that have undisclosed side effects, and everyone is watching my weight, but I'm just trying to meet someone and be happy. 
My spotting is supposed to stop in the next few days, but it was enough of a problem that my sex plans were in jeopardy. It was a race against time this past weekend to see if I would stop bleeding before the weekend sex window was closed. It eventually did stop, but I'm not disclosing any more of my sex life. 
And if I ever want to get a real answer on what the f--- happened with my body, I'll have to make a whole other appointment, probably get a pap smear or pelvic exam, and then maybe have a doctor physically remove the polyps, if that is even the issue.
And, while the procedure is supposed to be easy and painless, is this going to be a lifelong issue? Why is this happening even after I'm on the proper hormone medications? Why did we not learn about this? What the f---? 
Poor sex education doesn't just affect cisgender, heterosexual people. Young bisexual and lesbian cis women are two to three times more likely to experience an unexpected pregnancy. And all LGBTQ youth are more likely to have unsafe sex. There are safe sex supplies for LGBTQ students at Hall Health and the Q Center, but the intricacies of sexual and reproductive health are harder to grasp than a free dental dam. 
Reach columnist Miranda Milton at wellness@dailyuw.com. Twitter: @miggitymilltown 
Like what you're reading? Support high-quality student journalism by donating here.