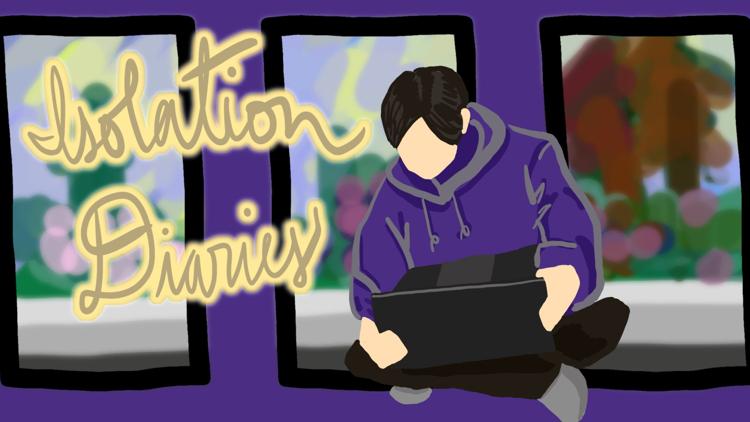 Editor's note: The Isolation Diaries is a Health & Wellness series about living in isolation during the coronavirus pandemic. 
I left campus for my mom's house in Tacoma on March 7. I was sick and had just learned that the final week of classes was being canceled anyway. We went to a grocery store in Tacoma on the way home. At that point, the only products the store didn't have were chicken noodle soup and toilet paper. 
My mom woke up sick the next morning and we started what would become a three-week self-isolation with each other. 
We weren't perfect. We went to the store probably too much: we had to keep checking for toilet paper. My mom went hiking with coworkers and my brother's Dungeons & Dragons group still met at our house.
But this was still early in the United States' reaction, back when only a few people had died in Washington state and Trump was writing off the virus as a Democratic political weapon. 
Less than a week later, Gov. Jay Inslee closed all restaurants and bars and we started to panic a bit. My mom called out from work for another week. She finally got approval for testing, though we never got the test results and probably never will. 
Every night, my mom watched the news, and I would put on headphones or leave because I found that watching just gave me anxiety. Nothing changed from day to day — just more cases and deaths — but she insisted on watching. Twitter kept me updated on the political movements of Trump and Inslee. 
I checked my email over and over again, looking for an email from my landlady announcing a rent suspension — wishful thinking. 
My mom and I worked in our yard, colored in those adult coloring books that used to be popular, bemoaned our lack of puzzles, and watched movies. 
We set up a home office for the few days my mom was asked to work from home — a difficult thing in the healthcare field — and I took it over for the first week of spring quarter. 
We watched my brother's coworkers get temporarily laid off and the majority of Tacoma General Hospital's staff be instructed to work from home. We watched "High Fidelity" and got drunk. I watched the 2000's version of "Charlie's Angels" about three times. We pet my cat and cleaned the house: Anything to keep busy after Inslee's order and Washington's rain teamed up to keep us indoors. 
We still ordered take-out because neither of us likes to cook. We tipped generously and asked the delivery person to leave the food on the porch.  
I don't know if we had the coronavirus in early March. We very well could have; or I could have had it even earlier in the quarter, when "that bug" was going around, like many are speculating. 
We didn't want to risk it, though, so we didn't visit my grandmother and I think she got lonely. My mom had made it a habit to visit every week before the virus was a concern. My grandma only lives up the street from us, but at 83 years old, she is a prime target of this virus. 
My mom and I played cribbage a lot and one night, over the cribbage board, she brought up an unsettling thought. 
"If I die," she started, "the house is almost paid off and you and your brother will get my life insurance."
The TV was on in the background featuring talking heads spewing statistics of healthcare workers, like my mom, who have died from the coronavirus.
Reach writer Miranda Milton at wellness@dailyuw.com. Twitter: @miggitymilltown 
Like what you're reading? Support high-quality student journalism by donating here.