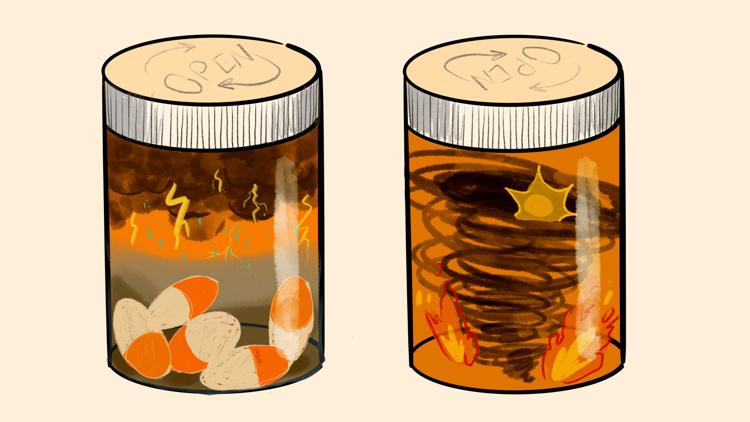 "We held together like a clump of stinging nettles that would never be separated, and we stood together like an ancient forest of giant cedar trees that could never be pushed over by human beings, and our prayers bounced off the sky, our ancestors lifted us up," Paul Che oke ten Wagner, a member of the Vancouver Island Saanich Tribe, said.
Wagner is an activist and musician. On the day of the National Youth Climate Strike, he, along with other activists, walked along the Salish Sea from Tacoma to the state capitol in Olympia. The group was protesting a fracked gas facility, the controversial LNG plant, in Puyallup on unceded territory. 
The Indigenous Protectors of the Salish Sea, of which Wagner is a part, were also calling on Gov. Jay Inslee to declare a climate emergency, to halt future expansion in the fossil fuel industry in Washington by executive order, and to convene special legislation in the 2020 period about climate change. 
"We [had] become one heart, one mind, one prayer, one house," Wagner said of the activists that day in Olympia. 
Wagner described the event as a win; they were able to emotionally move some of the police dressed in riot gear who had been sent to break up the protest. 
"Someday you will make a choice," Wagner said. "They know this world is collapsing and dying, and they're standing on the wrong side of history, so we won that night, we opened some hearts and we did it in a prayerful way and a peaceful way but with the most unbelievable strengths." 
----------------------------------
I am sitting at a park, a few days before my conversation with Wagner. A family sits nearby on a blanket laid carefully over the grass. A runner is pulled by their pup along a path. A child flies a kite and a student doodles in the edges of her novel. The water is blue all around, dotted by sailboats and paddle boarders and geese.  
I heard a rumor that in the days following the Fourth of July, a holiday that draws tens of thousands to the park I am occupying, toxic chemicals leak up through the soil that is loosened from too many footsteps. And while journalists shouldn't be in the business of rumor-milling, this story is powerful because of the history it points to. 
Gas Works Park is, in my view, a sort of emblem to our climate crisis. It's a public space, with water and greenery, in which people can play and sit and think — the kind of space that is few and far between in many of our neighborhoods, often in a way that is exasperated along lines of race and class. 
But the park is also home to industrial structures — rusted and aged. A relic of Seattle's past energy source. There is a sign by the water warning of toxic contaminants. You can enjoy the view, but not without remembering how much we have f----- up this earth, how we have taken views for granted, how we will only learn to practice gratitude to the sun and the earth as we slip away from it.
Gas Works Park used to be home to an energy plant— and we aren't talking renewables. The practice relied on carbon-intensive resources, including coal and petroleum. When the effort was abandoned following a search for alternative energy sources, the park remained scarred, toxins buried under the soil and within the water along the park's border. 
Reports say the toxins under the soil are nothing to be worried about, absent chronic exposure. But this is a reminder that our decisions, the way we orient and run our communities, have consequences for future generations. We are living that now — we are that future generation. 
----------------------------------
Last month, The Seattle Times reported about the health impacts of climate change on people in the Pacific Northwest. The article cites a study published by the National Resources Defense Council (NRDC), a fund which tracks climate health impacts. 
The study looked at deaths in Washington state caused by wildfire smoke inhalation and the associated cost of these deaths (both of which will only increase in the coming years, as climate change worsens). The Seattle Times article goes on to discuss a wide range of possible health outcomes, from heatstroke to increased risk of developing cancer.  
Moreover, the UW's Climate Impacts Group published a brief this year that applied the IPCC's Special Report on Global Warming of 1.5 C to Washington state. 
Here are some particularly alarming conclusions of the report:
As Washington experiences warmer days, there will be more wildfires in the Cascades, as well as threats to agriculture. 

Washington's coastal areas will be impacted most by changing water levels and temperatures, cutting off resources to Northwest tribes and other coastal communities. 
The report reads, "Those on the front lines of climate change — tribes, economically disadvantaged communities and those dependent on natural resource economies — are expected to experience impacts first and most severely." 
"Under-resourced communities and those who are physiologically more vulnerable (e.g. elderly) are disproportionately affected by climate change," Tania Busch Isaksen, a senior lecturer in the department of environmental and occupational health sciences, said.
Busch Isaksen went on to describe vulnerable groups she has studied through her research, including the elderly, people with pre-existing health conditions, and folks who are more frequently exposed to high-heat work environments. 
"There is no doubt that climate change will not affect all the same way," Busch Isaksen said.  
Kristie Ebi, a professor in global health and environmental and occupational health sciences, co-authored a Science Advances report in September 2019 which looks at potential mortality rates related to heat in Washington.
She, along with a handful of other researchers at the Center for Health and the Global Environment, put together a guide for Washington's climate health impacts. 
Their guide highlights four changes to our environment that are already occurring — extreme weather, rising temperatures, increasing carbon dioxide levels, and rising sea levels. These patterns have the potential to negatively impact our water and food supply, to increase air pollution, and increase in new viruses, to name a few. The researchers highlight that there are determinants between the four climate patterns and impacts we will feel — housing and infrastructure in place, education level of folks, discimination, and more. 
Take increased allergens as a specific example. The climate impacts we have already set in — like increased temperatures — have increased allergens in the air. For folks with limited access to care, this may lead to or worsen allergies and asthma. 
In fact, due to climate change, the pollen season is two to four weeks longer than it was in the mid-1990s, according to one study. 
"Other risks that could be affected by climate change include diseases carried by mosquitoes, such as dengue fever; respiratory diseases from air pollution (e.g. traffic and allergies); and health risks associated with migration," Ebi said. 
It's a bleak picture, but there are things we can do (and frankly, what's the alternative?). 
Busch Isaksen says that we have a consumer responsibility and that our individual choices matter. However, she has no illusions about where the power really lies. 
"Vote for policymakers that value, and have solutions toward achieving carbon neutrality," Busch Isaksen said. "It's not enough to change out your light bulbs, to carpool, or to go vegan — we need big infrastructure and economic changes that only policy can achieve." 
And that brings us back to Paul Che oke ten Wagner, who is engaging in this critical work of holding truth to power.
"We need to work together today — support the Indigenous people, stand behind them, because we've been working to protect the circle of life and our children's future since time immemorial here," Wagner said.
On an individual level, it's critically important to understand some of the health impacts predicted to increase with climate change. See the EPA and CDC for recommendations and next steps.
"Individuals can increase their awareness of the health risks of weather, climate variability, and climate change, including how those risks could affect them and their families and friends," Ebi said. 
But she, too, does not mistake our daily actions and taking preventive steps for the bigger picture.  
"Reducing longer-term risks requires reducing greenhouse gas emissions," Ebi said. 
Climate change is often presented as a package of complex "sciencey" problems with equally technical solutions, tied up with a pretty bow of terms like "carbon sequestration" and "solar radiation management." Ignore that. Instead, hear this: We know how it feels to love a place so much we'll run to it, to sit and practice being as the wind slaps our faces, to stare out as the sun reflects off the water and as children somersault across the grass. 
So, for God's sake, vote. Stay involved. Support Indigenous groups and youth of color. Educate one another. Read student newspapers and protest big government. We are the future generation that has been screwed. Let's not pass that torch on to the next. 
The Protectors of the Salish Sea continue to offer sunrise, noon, and evening prayer circles and events at the capitol building in Olympia for those looking to celebrate with them and support their activism.
Reach reporter Niki Seligman at wellness@dailyuw.com. Twitter: @NikiSeligman
Like what you're reading? Support high-quality student journalism by donating here.