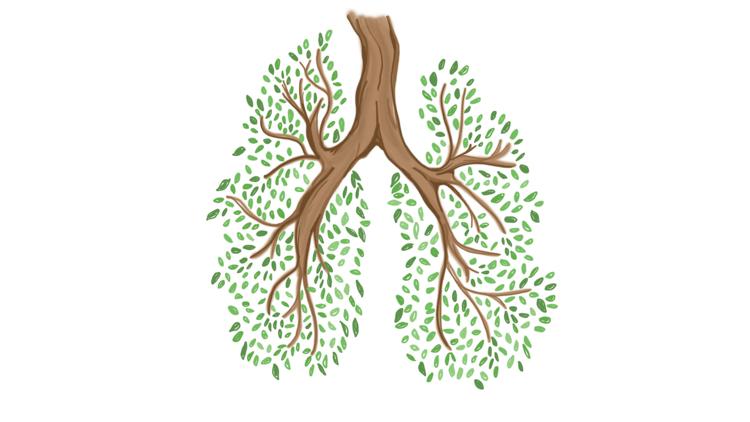 A new study led in part by the UW has found a link between ambient air pollutants, especially those caused by climate change, and reduced lung function. 
Previous studies have identified the connection between air pollutants and certain cardiovascular and respiratory diseases. However, this study focused on whether exposure to contemporary air pollutant concentrations caused by climate change is directly associated with emphysema.
According to the American Lung Association, emphysema causes thinning and destruction of the air sacs. This leads to wheezing, shortness of breath, and higher mortality rates.
The Centers for Disease Control and Prevention reports that chronic obstructive pulmonary disorder, which includes chronic bronchitis and emphysema, is the fourth-leading cause of death in the United States.
"Lung disease rates overall are increasing, and this is occurring even while rates of smoking are falling," said Dr. Joel Kaufman, a UW professor of environmental and occupational health sciences and epidemiology for the School of Public Health. "Environmental causes, which can include secondhand smoke exposure, may be important, and the role of air pollution is also key to understand." 
Kaufman co-authored the study, along with doctors from the University at Buffalo and Columbia University.
The study was funded by the National Institute of Environmental Health Sciences and the National Heart, Lung, and Blood Institute.
Researchers enlisted a multiethnic cohort of adults and examined the progression of emphysema shown on CT imaging and the decline in lung function. All in all, upward of 15,000 CT scans were repeated on thousands of people for as long as 18 years.
The extensive study, which enlisted over 7,000 participants from the Multi-Ethnic Study of Atherosclerosis Air Pollution Study (MESA Air), examined air pollution in six areas in the United States: Chicago, Baltimore, New York, Los Angeles, St. Paul, and Winston-Salem, North Carolina. 
"This is a large and well-conducted study," Kaufman said. "We are able to adjust for potential confounding factors so have a high level of confidence in the results." 
Researchers found that ambient concentrations of air pollutants, especially ozone, were associated with an increase in the progression of emphysema-like changes on CT scans and pulmonary function testing. 
Kaufman explained that a difference in ozone levels of three parts per billion over a decade was associated with an increase in emphysema equivalent to smoking a pack of cigarettes every day for 29 years. He also noted that ozone levels — unlike levels of other major air pollutants — are not decreasing steadily due in part to climate change.
Due to the Clean Air Act, the United States has established National Ambient Air Quality Standards (NAAQS) for harmful pollutants. NAAQS are set for six major pollutants: carbon monoxide, lead, nitrogen oxides, particulate matter, sulfur dioxide, and ozone. 
In the state of Washington, the Puget Sound Clean Air Agency monitors air quality, with an emphasis on fine particle pollution, across four counties. Citizens can monitor pollution on the Air Quality Network Map.
"Ozone levels are trending up across the country, with the two major factors being a change in 'ozone precursors', like car emissions, [and] climate change," Kaufman said. 
According to the Environmental Protection Agency, ground-level ozone pollution is caused by emissions from industrial facilities, vehicle exhaust, and chemical solvents. It is important to note that ground-level ozone is not directly emitted into the air but is created when oxides of nitrogen and volatile organic compounds chemically react in the presence of heat and sunlight. 
Kaufman had two main suggestions for those interested in improving air quality. 
"Reduce fossil fuel combustion, which is almost always the same things you are trying to do to reduce your carbon footprint… [and] support elected officials who are concerned about science-based environmental policies," Kaufman said. 
Reach contributing writer Karina Patel at development@dailyuw.com Twitter: @karinappatel
Like what you're reading? Support high-quality student journalism by donating here.