Coconut husks for clean-cooking stoves in rural India; a portable stand-alone device that provides a safe 10-day supply of insulin for traveling patients; and an automatic emergency ventilator that can be used by people with no medical training to help those who have stopped breathing were just three out of the 22 incredible student-driven projects on display in the HUB Ballroom on March 6.
The Hollomon Health Innovation Challenge (HIC), one of four annual entrepreneurship challenges hosted by the Foster School of Business Buerk Center for Entrepreneurship, seeks to spotlight student innovations in the field of public health. Undergraduate and graduate students from all across the Pacific Northwest, many of whom study engineering or computer science, are encouraged to apply.
"A lot of them are technical students who are interested in new ideas and bringing something meaningful forward," Terri Butler, the assistant director of the HIC, said.
But knowledge of health and engineering isn't all students need to compete in this challenge. The other component of successful HIC entries is entrepreneurial savvy. In keeping with the Buerk Center's purview under the Foster School of Business, the challenge emphasizes both public health ingenuity and the ability to mobilize innovations into a successful business or startup.
This year, the participants in the HIC came exclusively from the UW and WSU. While the challenge is open to universities in Oregon and Idaho as well, only Washington schools cleared the application hurdles this year.
"Mostly undergrads [participated] this year, which is rare," Charles Trillingham, the assistant director of communication for the Buerk Center, said. "It's usually grad students … This is the first time [in the four years of the event] we've had more undergrads than grads."
Trillingham was also pleased by the fact that one of the competing teams, DevCo Diagnostics, included both a UW and a WSU student, in a display of Husky-Coug unity found only in the realm of strictly academic competitions.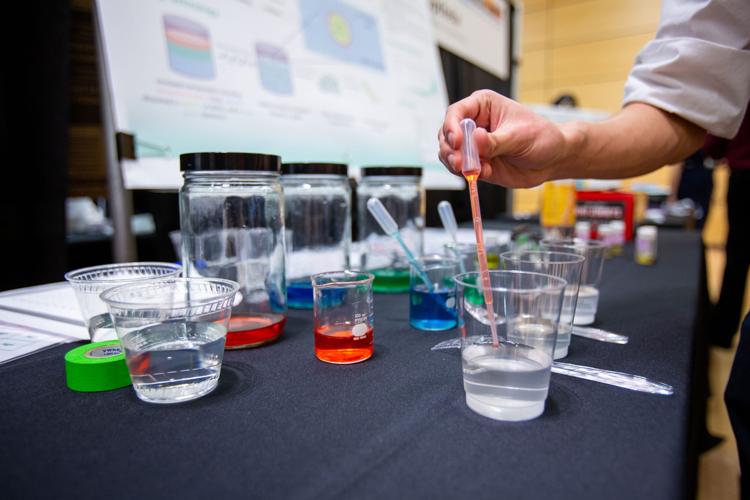 The only criteria for applying to the HIC is being an active student at a Pacific Northwest-located university. Some of the projects on display represent yearslong efforts where the baton has been passed down from class to class. For example, this year, the startup Nanodropper (which The Daily has profiled before) attended the HIC for the second time and took home the $15,000 grand prize.
"They've just passed the first stage of FDA approval," Trillingham said about Nanodropper. "For a project that started at UW, in the lab, they're pretty far along."
Judges assessed student projects on the criteria of the groups' one-page summaries, pitches, prototype demonstrations, and potential for impact. According to Trillingham, 130 judges attended the event, circulating among student projects, listening to pitches, and participating in prototype demonstrations before casting their votes.
All in all, five student projects were recognized with monetary prizes at this event: Nanodropper, Appiture, Pulmora, Insulin Anywhere, and DopCuff. You can read more about these teams' projects and aspirations here.
Funding for these awards comes from sponsors and donors in the community, including the Hollomon family. Student teams are encouraged to use the money toward advancing their projects, but according to Trillingham, it mainly comes no-strings-attached.
The winning team, Nanodropper, is comprised of pharmacology, bioengineering, and medical students from the UW. They invented an adaptor that decreases the size of conventional medical eyedroppers (which often deliver more fluid than can fit into an eye), saving patients money on expensive prescription eye medicine. Their next steps will be to deliver their award-winning technology to consumers.
The HIC is followed by two other Buerk Center-hosted events each year: the Alaska Airlines Environmental Innovation Challenge and the Dempsey Startup Competition. These later challenges also emphasize entrepreneurship and pairing business skills with innovative concepts.
Reach writer McKenzie Murray at wellness@dailyuw.com. Twitter: @merqto
Like what you're reading? Support high-quality student journalism by donating here.