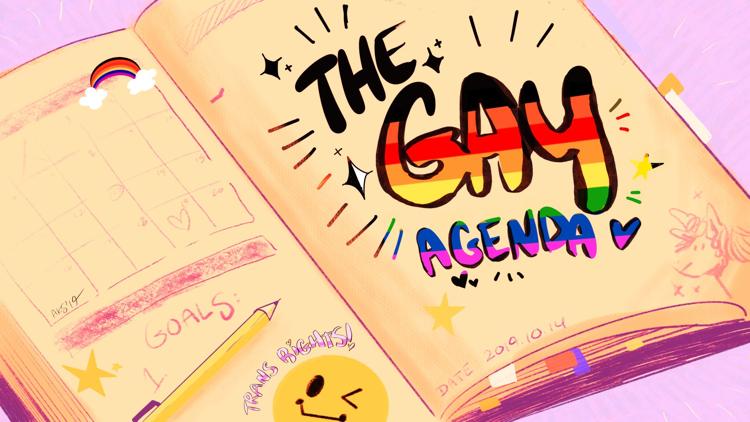 Editor's note: The Gay Agenda is a column about LGBTQ experiences and issues.
oSTEM, an RSO specifically for LGBTQ people in STEM, is hosting its first event of the year this Thursday: an LGBTQ trivia night at the Q Center. 
The RSO is a place for LGBTQ students to build community and share resources. 
"The STEM fields are typically quite isolating for minority groups," oSTEM graduate outreach coordinator Emma Cave said in an email. "oSTEM offers a way to combat that isolation."
You don't even have to be a STEM major, just someone enrolled in a STEM class. 
"We don't want to be exclusive at all," oSTEM secretary Ashley Dostie said. "The biggest thing is promoting a safe space and a community for people to feel welcome."
Allies are welcome too.
oSTEM was created to give LGBTQ people in STEM a safe and welcoming space because of the historic lack of LGBTQ representation in the STEM areas. Famous, openly LGBTQ individuals are primarily in the arts — Laverne Cox, Neil Patrick Harris, and Ellen Page to name a few. 
Some famous LGBTQ individuals branch out from acting to the political field, like Rachel Maddow and Anderson Cooper, but few come from STEM fields. I can't think of anyone besides Alan Turing and Issac Newton, though the latter's homosexuality is speculation.
The trivia night oSTEM is hosting Thursday is a generalized trivia game with LGBTQ-focused questions. The goal is to help students learn about LGBTQ history, art, and culture. The trivia night purposefully comes shortly after the end of October, LGBT history month.
"It goes back to needing a role model in order to feel like there is a space in that environment for you," Dostie said. 
By spreading awareness and creating a space for LGBTQ STEM students, oSTEM hopes to foster a sense of belonging and community at the UW. 
"My favorite part of oSTEM is being able to meet queer people from all different departments," Cave said. "I forget just how big this university is sometimes, and it is nice to realize that there are people from all different fields and levels who live shared experiences of being queer in STEM."
Trivia and game nights are only some of what oSTEM does. It also has a program coming up in winter quarter that pairs a graduate student researcher with an undergraduate student for a day. This is to get undergraduates interested in research and show them what being a researcher is like.
Once a quarter, oSTEM also hosts a mental health workshop, typically around exam weeks. This quarter's workshop will be run by a mental health therapist and will focus on stress management and self-care. It will be held Dec. 4 at 5 p.m. in the Q Center. 
oSTEM meets in the evenings at the Q Center (HUB 315). For more information and meeting dates, email ostemuw@uw.edu. Trivia is this Thursday at 5:30 p.m. in the Q Center. Bring your friends or form teams there, and compete in the Jeopardy-style game to win prizes.
Reach columnist Miranda Milton at wellness@dailyuw.com. Twitter: @mirandamilton99
Like what you're reading? Support high-quality student journalism by donating here.