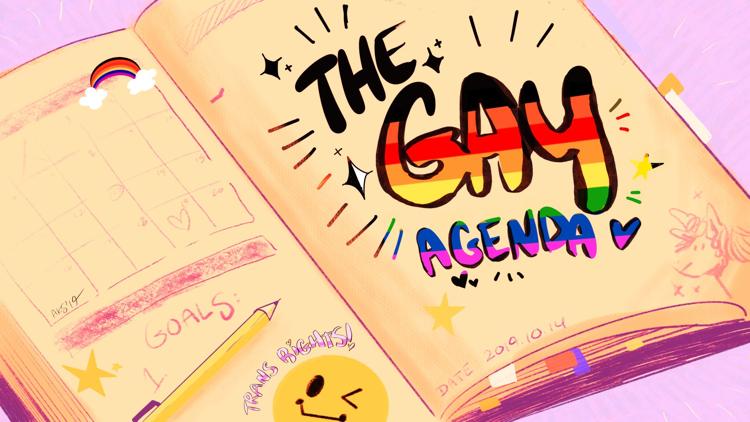 Editor's note: The Gay Agenda is a column about LGBTQ experiences and issues. 
It might seem odd for me to say that I'm in the closet after starting an LGBTQ column and talking openly about coming out on the Wellness Weekly podcast, but in reality, I am not out to most of my family. That didn't change for me over winter break, but for some people, it could have. 
Popular culture has put a lot of emphasis on coming out, with popular TikToks on the subject and even a day dedicated to coming out. And while those things can be empowering for some, coming out does not have to be an integral part of your LGBTQ life if you do not want it to be. 
We typically say some form of congratulations when people come out (though no one did to me; they said, "Yeah, I know"). But what are we congratulating? Coming out can be an act of bravery. It's scary. Your heart races, and you might fumble over your words. Even if you know your family will love and accept you, coming out has the potential to change a lot of things in your life, so it's scary. 
Junior Lucas Moody purposefully came out to his parents on a camping trip. 
"I wasn't sure if they were going to kick me out or not," Moody said. "I figured if I did it on a camping trip, they sure as hell couldn't kick me out of the house because we weren't there." 
Even after I came out, I never wanted to talk about my sexuality with my family, partially because of how they responded and partially because it made me uncomfortable to bring it up. I had never talked about my love life before, and I didn't want to start. 
So should you come out? It's up to you. If being in the closet is holding you back from enjoying or experiencing things, sure, come out. If you don't see the need, then don't. 
People stay in the closet for a number of reasons, not one is more correct or legitimate than the others, but if you did decide to come out recently, congratulations! If you want to go crazy with rainbows now, go for it. But if you just want people to leave you alone, I respect that. 
"I felt like I was walking around with a target on my chest," Moody said of coming out at his high school in Kennewick, Washington.
From experience — an experience that is in no way universal — here is what you can expect after coming out. 
For women-loving women, the men in your life might sexualize other women in front of you in attempts to bond with you. To the men in my life: yes, Florence Pugh is hot, but she, like all women, is more than just her looks. 
People will ask you questions about your sex life. In response, I typically tell people that they are fetishizing me and queer relationships, but only do that if you feel comfortable. Side note: No matter who you are, please don't ask a butch lesbian, even as a joke online, to dominate you, step on you, or hit you, unless you are in a consensual relationship with them. You shouldn't do this to anyone, but butch lesbians especially. 
People will send you gay memes or TikToks. I enjoy this one, even if the people sending them to me are straight. 
Someone inevitably will ask if you think they are hot. Do with this what you will. 
"I would encourage [people] to know that they don't have to depend on the other people in their life to know that they are valid, acceptable, and okay and beautiful," Moody said. "They will be that regardless of what other people say. Love and light, yo." 
Reach columnist Miranda Milton at wellness@dailyuw.com. Twitter: @mirandamilton99
Like what you're reading? Support high-quality student journalism by donating here.