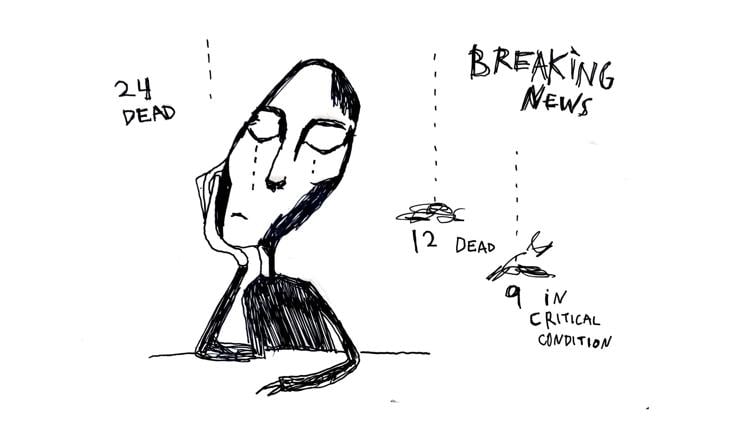 The Center for Disease Control's latest data on annual deaths from firearms indicate that in 2017, the number of people who died from firearms totaled 39,773 — a rate of 12.2 deaths per 100,000. About 36% of these deaths were homicides, while close to two-thirds were suicides.
Still, homicide by firearm accounts for nearly 75% of all homicides in the United States and is a bigger problem in the United States than any other socioeconomically similar country. While the overall homicide rate in the United States is 7.5 times higher than other high-income countries, the firearm homicide rate specifically is an astonishing 24.9 times that of other high-income countries.
It is likely that this high prevalence of shootings and firearm-related deaths has led to adverse mental health effects among Americans who are traumatized by events of firearm violence in their communities or experience anxiety that they, or someone they love, will be a victim of the seemingly ever-present threat of gun violence.
However, as with most issues relating to firearms, there is little research or data on the mental health effects of the high prevalence of firearm violence in the United States due to a combination of factors including lack of funding and federal restrictions which make firearm-related research difficult.
"Our information on this issue is very limited, unfortunately," Ali Rowhani-Rahbar, UW Bartley Dobb Professor for the study and prevention of violence, said.
In a viewpoint article for the Journal of the American Medical Association, Rowhani-Rahbar, as well as fellow Harborview Injury Prevention & Research Center psychiatrist Dr. Douglas F. Zatzick and pediatrician Dr. Frederick P. Rivara, outlines some of the mental health effects of gun violence and mass shootings.
The article reports that limited research shows that short-term effects of mass shootings on survivors include "anxiety, depression, grief, sleep problems, anger, demoralization, catastrophic thinking, and somatization symptoms."
A research review article by epidemiologists Dr. Sarah Lowe and Dr. Sandro Galea reports that it is likely that the media coverage of mass shootings spreads the mental health effects of shootings far beyond the communities in which they take place. Indirect exposure to tragic events may lead to adverse mental health effects even for people who weren't directly impacted by the event. 
After the Sept. 11 attacks, people who were indirectly exposed to the attacks through media experienced an increase in anxiety, post-traumatic stress, and mood disorders. As mass shootings are often widely reported in the media, it is likely that this phenomenon applies to some people who are indirectly exposed to mass shootings as well.
The little research that does exist on the effects of gun violence on mental health tends to focus on the mental health effects of mass shootings (usually defined as four or more people dying in a single place) and does not examine the effects of the "daily" gun violence that is common in many larger urban and suburban areas, where people are shot and killed every day by guns. 
These events of firearm violence are not reported by the media as often as mass shootings, but they can be equally traumatic and invoke just as much daily fear, if not more, as they are much more common than mass shootings.
People living in areas particularly affected by everyday gun violence, which are usually poor neighborhoods and neighborhoods with a high proportion of people of color, report that they constantly feel on edge from the threat of gun violence. Additionally, they report that because of the constant nature of gun violence in their neighborhoods, there is no time to heal from one tragedy before the next one occurs.
In their article "Gun Violence and the Minority Experience," Yolanda T. Mitchell and Tiffany L. Bromfield reported that no matter where a shooting was witnessed — whether it be at school, in the community, or at home — people experienced increased risk of depression, anxiety, PTSD, and drug and alcohol abuse.
There is still a great deal to learn about the ways in which America's gun violence epidemic affects the mental health of Americans, whether they be directly impacted by gun violence on a daily basis or just exposed to the threat of gun violence in the media.
However, from what little research has been done, and from testimonials of those affected by firearm-related violence, it is clear that the impacts of gun violence extend far beyond death and physical injury: Americans' mental and emotional health are also at stake as a result of this public health crisis and should be considered when evaluating the devastating problem of gun violence in America.
Reach writer Emily Young at wellness@dailyuw.com. Twitter: @emilymyoung7
Like what you're reading? Support high-quality student journalism by donating here.