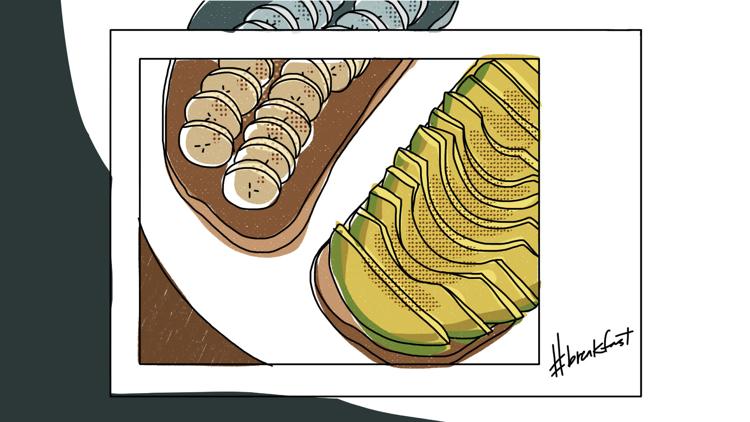 Whenever the calendar hits Jan. 1, we all gain this sudden urge to be healthier. By the time we get to May, most of us have fallen off this health kick because we realize we set completely unrealistic expectations of ourselves.
This often comes down to what our understanding of a healthy lifestyle is.
Many of us are constantly bombarded within social media by idealized people promoting this supposed healthy lifestyle and it can begin to warp our perception of reality.
Lisa Erlanger, a therapist at Hall Health, shed light on how we misunderstand the term healthy.
"A lot of what we see marketed as 'healthy' is just diet culture dressed up in new clothes," Erlanger said. "Phrases like 'strong is the new skinny' may sound inspiring, but [they] actually just create a new set of external values for all of us to scramble to meet."
Erlanger offered some tips to approach becoming a healthier version of yourself without falling back into the same patterns of short-lived health kicks that ultimately place you back where you began.
"[If] weight and size did not exist [and] you stepped on a scale in the morning, what would you want it to measure?" Erlanger said. "Then ask yourself, 'What actions in my day help me achieve those goals?'"   
This measurement can be extremely small but powerful in helping change your perspective on health.
"Perhaps it is important to you to be a good friend, to make a positive difference in the world, or to grow your mind," Erlanger said. Health can be positively improving how your body interacts with the world or how it exists internally. "Perhaps you have body or health goals such as to feel calm, focused, energetic, or to lower your blood pressure. There are many ways to accomplish these goals."
If you are seeking to feel like a healthier version of yourself, begin looking at yourself as a whole person. Long-term lifestyle changes do not happen through outside motivators.
"Accountability buddies and strict schedules are great for short term bursts, but rarely lead to sustainable change," Erlanger said. "Sustainable change comes when we are aware of and meeting our own true needs."
Often the external motivator pushed on us is found on Instagram. With the rise of fitness influencers who post workout videos every day and attempt to promote fitness brands and supplements, it is hard to not feel as if you're not measuring up.
When interviewing Patricia Atwater, director of health promotion at Hall Health, she suggested curating a feed that leaves you inspired but not feeling guilty. If Instagram starts morphing into a trigger for self-hate or harm Atwater suggests seeing a therapist.
"[If you] know that you have that tendency to compare yourself to others and know within yourself that you have a strained relationship with eating, whether that's disordered eating or an eating disorder, I think the place to start is talking to a therapist," Atwater said.
If you have access to a therapist, having someone to talk you through these relationships you have with food and social media can be extremely beneficial.
Taylor Fridenmaker, a senior majoring in anthropology, took a close look at the culture of Instagram influencers for his thesis.
One point that he continued to reiterate was that it's important to remember that people who are influencers are using this platform as a job. They have to promote products and sell the idea that if you buy certain products you will look like them. Simply, they are people trying to survive in a capitalist society. The unfortunate reality of this system is that influencers are just one piece in a massive industry meant to make money and they do it through completely disregarding the realities of how it impacts consumer's health.
"We know that much of health is determined by things other than our habits. For example, race, gender, class, exposure to trauma and toxic stress, access to healthcare, family history and intergenerational trauma, education and other privileges," Erlanger said.
Health is so much more than cutting out carbs from your diet and never eating fried food again. Waist training and doing juice cleanses isn't even health: it's manipulating you into thinking you can buy your way into being skinny and, incorrectly, healthy.
Health, rather, is focusing on your mental health, it is finding exercise that works best for you, and it is doing things for yourself rather than attempting to measure up to others.
"[What] I think is a really a good way to go [is] doing things with your body that bring you joy and feel good," Atwater said. "Whether that's having sex or getting certain types of exercise, things that make you feel strong and proud of your body and what it can do for you."
Appreciating and not comparing yourself is a difficult task but it will allow you to approach your body in the safest way.
"Approach yourself gently and kindly and make changes that truly respond to your needs and values, and you will notice a long term difference," Erlanger said.
If you are in need of someone to talk to here is a list of some low costs options on and off campus.
Reach writer Chamidae Ford at wellness@dailyuw.com Twitter chamidae_ford
Like what you're reading? Support high-quality student journalism by donating here.