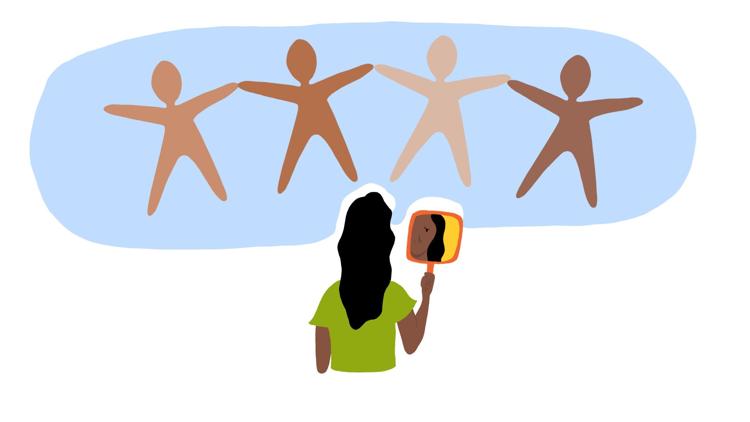 Editor's note: "Watch Your (Body) Language" is a multipart series exploring issues of body image and the harmful messages we internalize from the world around us. 
If I wanted to talk about all the ways colorism has shaped my life, it would take so long that racism would be solved by the end of the article. Here's a start. 
Colorism, defined as "a form of racial discrimination based on the shade of an individual's skin tone, typically favoring lighter skin," was a term coined by Alice Walker, award-winning author of "The Color Purple."
Images of white beauty, and solely white beauty, have been seeping into my brain for two decades. It has been ingrained in me that light skin is better, but this mentality is subconscious. If you had asked me about it at any point in my life, I would have immediately replied that all skin colors are equal.  
The media that surrounds me has fed me these colorist messages. 
India has an obsession with white skin and its media bombards the population with these images. 
It is infuriating to hear "clear your skin in 30 days with" [insert one of hundreds of whitening products], and see accompanying graphics of the dark from a person's face literally evaporating away. In these advertisements, as the actor's skin color lightens, their world becomes brighter and happier, and they become more successful. 
All the television stars there are light-skinned, and they unabashedly promote these products. 
Growing up, I watched a lot of American rom-coms, Indian soap operas, and Indian romantic movies, and I didn't see female leads that looked like me in any of the above. It is pretty unrepresentative to say that brown people don't have love stories. 
If you do not even see yourself in a certain context, you start to internalize the fact that you do not belong in that context. So, I thought that I was not worthy of a relationship for many years.  
The first thought that comes to mind when I see a light-skinned person of color is, "wow, they are so beautiful." Yes, they are beautiful, we are all beautiful, but this is not always the first thought that comes to mind when I see darker-skinned people. 
The notion that people of color are somehow better if they resemble white people has always been present in my mind. Today, I find myself being attracted to people of color that are lighter-skinned, something that I am in the process of unlearning. I also remember finding mixed white people beautiful as a young teenager.
I am not alone in these feelings. A Cardiff University study has revealed that people of mixed race are perceived as more attractive than non-mixed-race people.
"Public disdain for the Indian race created superiority based on 'white' skin color and deeply embedded race-based ideologies in nation's darker skinned common man who was ruled by the whiter skin masters: first by Mughals then by other European rulers like the Portuguese and the British for over [350] years," Neha Mishra, a researcher at REVA University in Bangalore, noted in a report.
"This shaped the common man's association of white colored skin with the ruling class, with power, with desirability, and also with beauty." 
The white slave owners and colonizers of this country established the standard for what an educated, superior individual would look like.
In the British era, Black Indians were banned from restaurants and educational institutions. Slaves in the United States with lighter skin were assigned domestic tasks, while darker skinned slaves were forced to perform grueling tasks in the fields.
We do not talk about colorism enough, which makes everyone that is experiencing it feel like their concerns are invalid. Facing our preconceptions is difficult and painful, but we have to bring colorism into our conversations so that we can start to counter it. 
I am constantly unlearning the ideas that have been ingrained in me for years, and we should all be taking similar steps. 
Things are changing. There is more and more representation every day, and I am grateful for that. There are now so many more Barbies of different skin tones, so many shows and movies with leads of color. Advertisements are using more dark-skinned actors. I can see myself and all of my friends everywhere; we are not invisible anymore.
There is going to be a new generation now, one that recognizes all types of beauty. Maybe little brown girls will not grow up feeling less than, feeling inadequate. I want to hug every brown girl in the world and tell them how beautiful and powerful and worthy of taking up space they are.  
I love being brown, I love my skin color with all my heart, and I would not change who I am for the world. 
Reach writer Tiasha Datta at wellness@dailyuw.com. Twitter: @TiashaDatta2
Like what you're reading? Support high-quality student journalism by donating here.