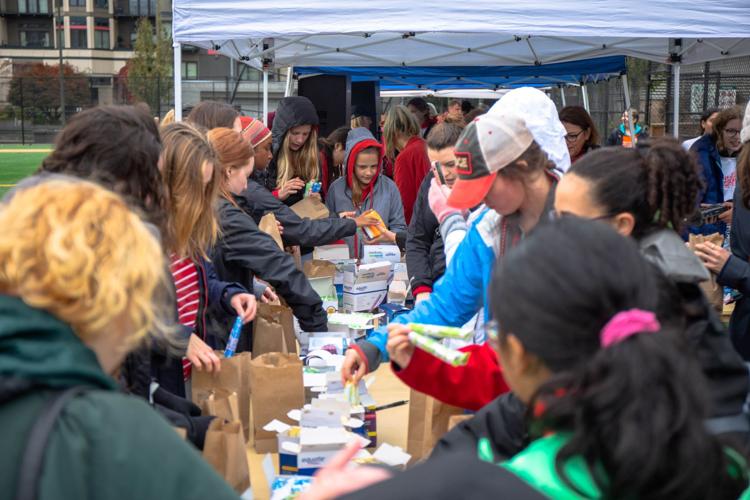 People gathered in Cal Anderson Park to honor the first National Period Day on Oct. 19 by rallying to bring light to "period poverty," defined as the inability to access pads and tampons.
With the sound of pouring rain and thunder in the background, proponents of menstrual equity voiced their demands: "Hey hey, ho ho, period poverty has got to go!" 
The park was decorated with booths from organizations that support menstrual health. A Planned Parenthood table shared pins with supportive messages, like "Mental Health Matters" and "Trans Men Are Men." Behind them, a string of patterned reusable pads was set up by the Days for Girls group, which provides washable cloth pads to those in need.
While the stigma around menstruation is a decades-old issue, the frontrunners of this movement are students aged 17 to 21. Lead organizer Aydan Garland-Miner felt it was time to view menstrual rights as a human rights issue.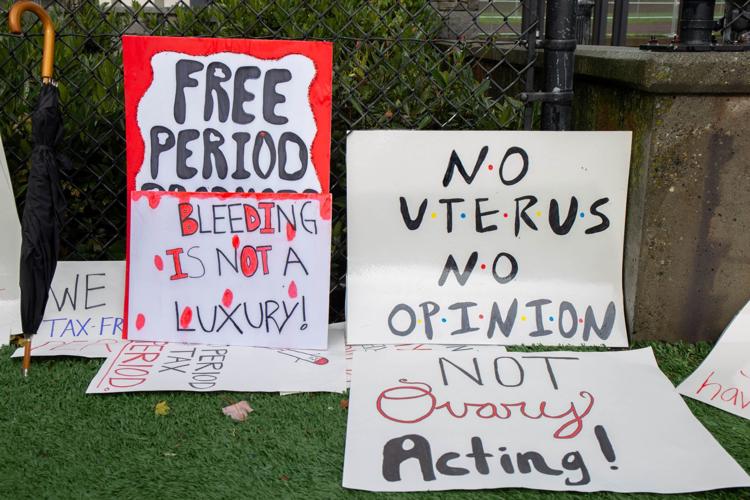 "The purpose of the rally today is to call attention to the cause, which is period poverty, ending the tampon tax, and ending the stigma in Washington state," Garland-Miner said. "It was important to come out today because right now we have bills in Congress and also in the Washington state government that … will help alleviate the tampon tax for all who menstruate."
Garland-Miner co-founded PERIOD at Washington State University (WSU), making it a chapter of the national nonprofit by the same name which established National Period Day. She felt empowered to join the cause after reading the book "Period Power: A Manifesto for the Menstrual Movement" by founder Nadya Okamoto.
Like the WSU PERIOD members, Okamoto began advocating for menstrual equity at a young age and founded PERIOD at 16-years-old in 2014. Garland-Miner spoke about bleeding through her pants in sixth grade after feeling too ashamed to ask for a pad. When she read Okamoto's book, Garland-Miner decided to apply for a WSU chapter of PERIOD.
"I had no idea what to expect, but a week later, I got an email saying that our chapter was official," Garland-Miner said into the microphone. "I got some friends together and talked about the cause in a few classes. And now behind me, my entire chapter of PERIOD is here, all 15 of us, and we've addressed over 180 periods."
Prominent figures attended the event to share their personal experiences with menstruation and normalize conversations about periods. Among those presenters were U.S. Rep. Suzan DelBene and state Rep. Amy Walen, who have co-sponsored legislation that would remove taxes on menstrual products.
The PERIOD members also raised awareness around pending bills in Congress that affect barriers to menstrual products. Supported by DelBene, H.R. 1882, aka the Menstrual Equity For All Act, would remove the tax on menstrual products and mandate that public federal spaces provide these products for free if the bill passes.
Planned Parenthood field organizer Ashley-Nichole Holland emphasized the importance of intersectionality at the rally by using the word "menstruators" over gendered terminology. She found it "so remarkable" and "incredible" that youth activists organized the day's events and spoke out.
"It's so inspiring to see these young people raising their voices and taking action against policies that are hostile towards their bodies," Holland said. "I want to encourage them to never give up. Sometimes this work can be emotionally draining, but it's so important that these young people are out in front of our movement. It's completely inspiring, and it gives me the energy and recharges me every day for my work."
Jinyang Zhang, co-founder of PERIOD at Kamiak High School, thinks her age gives her a unique perspective on the struggles that menstruators may face.
"One of the things that we're trying to help is those people who can't miss school because they don't have access to natural products," Zhang said. "We see that firsthand because we're students, so I think that's an advantage that we have."
About one in five girls in the United States have missed school due to not having the period products needed to get through the day, according to a survey by pad company Always. The PERIOD chapter members mobilized to combat that statistic by throwing a "packing party" after the speaker remarks ended.
Participants gathered around tables of menstrual products in all sizes and colors to fill 250 brown paper bags with nine tampons and six pads, a supply that can satisfy one period cycle. The members will deliver these period packs to shelters, detention centers, and menstruators who are homeless. 
Packing parties are just one of the ways that PERIOD members take action at the local level.
"A lot of people don't listen to young people because they think that we are not credible, we don't know what we're talking about," Zhang said. "So by standing up for something like this, I think it shows that we really care and that we know a lot more than they think."
Zhang's work has included getting the Mukilteo School District to provide free menstrual products in the bathrooms at Mariner and Kamiak High Schools for one year.
The PERIOD chapters at WSU, Kamiak, and Northwest University have coordinated this state-wide event since June. In fact, each chapter only met for the first time on the morning of the rally, despite having coordinated this event together since June. As these activists go separate ways, they will continue their efforts to make periods a priority in society. The UW also has a chapter of PERIOD, though it was not involved in coordinating this rally.
"The period needs have … gone unaddressed for so long, and we're not going to be silent anymore, and we're not going to stop until menstrual equity is accomplished," Garland-Miner said.
Reach contributing writer Annika Prom at development@dailyuw.com. Twitter: @AnnikaProm
Like what you're reading? Support high-quality student journalism by donating here.