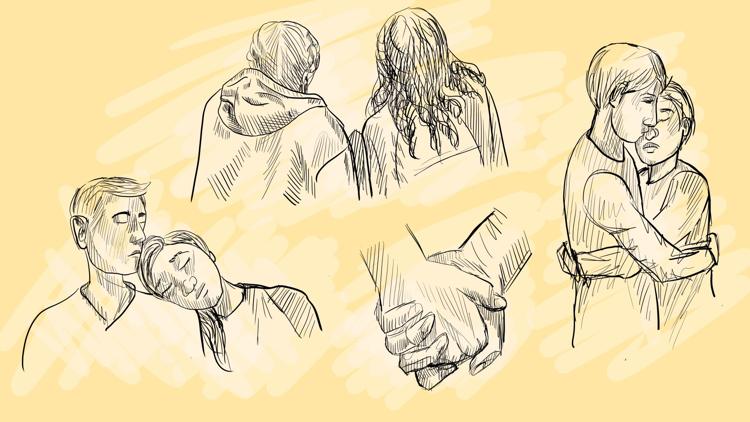 High fives, awkward fist bumps, hand holding, back pats, and side hugs are all small details that are no longer taken for granted in today's world. Just a touch can now have severe consequences and bring up anxiety about virus transmission.   
"Humans are born into this world held in their parents' arms," mental health therapist Hsuan Hsuan Dai said in an email. 
We were meant to be touched; it is our natural state. 
"Physical touch releases oxytocin, which is the 'love hormone,'" Dai said. "Hugging, holding hands, high fiving or giving a pat on the shoulder allow us to feel love and bond with one another. It creates a sense of safety and comfort when you have physical contact with someone you trust." 
Unfortunately, the "touch deprivation," or "skin hunger," that many of us are experiencing can have negative effects. A lack of physical contact for a long period of time can increase stress, depression, and anxiety, triggering negative physiological effects, Dai explained. 
In response to stress, our body releases cortisol, a hormone that activates the "flight-or-fight" response. This can have potential risks of higher blood pressure, trouble with sleep, increased heart rate, and muscle tension, as well as digestive system issues, according to Dai.
Dai has been finding it more difficult to deal with stress and anxiety in the pandemic, since embracing and touching her friends always made her feel better when her mental health suffered. She also feels disheartened by the fact that she can't easily hug her friends or hold their hands when they are dealing with difficult times. 
Before the pandemic when comforting friends, senior Jenson Yuen always wanted to initiate physical contact with them but felt a need to ask first. It feels wrong for a guy to want to give people hugs, Yuen explained in an email, but he is aware that it would be much more acceptable for a girl to do so. 
"Men here have a strange need to portray masculinity, and physical touch goes against their mental model of who they should be as a male," Yuen said.
The United States has a low-touch culture compared to some other countries, and this is often combined with manifestations of toxic masculinity. We do not greet each other with kisses, hugs, or hand holds, for example. Touch deprivation is something many of us have struggled with, even before the pandemic. 
The upcoming winter months appear intimidating. Seasonal Affective Disorder will have even greater effects without loved ones brightening up our day with hugs. 
One option is to choose a bubble of a few individuals or a household and collectively decide to spend time indoors and have physical contact only with each other. 
"Studies show that hugging for more than 20 seconds can reduce stress, anxiety and depression," Dai said. "So hug a little longer or give each other a rub on the shoulder." 
If you can't have physical contact, some small but meaningful ways to connect with another human could include phoning or video chatting with someone, making eye contact with the grocery clerk or barista, or waving at a stranger or neighbor during your walk, she said. 
The lack of physical contact has been hard on the mental health of new graduate student Ayesha Hayat, since she is a physically affectionate person. 
"To cope, I've been using other ways to express and receive affection — mostly through facetime and sending letters and gifts in the mail," Hayat said in an email. 
Dai suggests we spend time hugging and petting our animal friends, as this can be very meaningful and healing. 
It's a good time to consider adopting or fostering a pet if your living situation allows it, or else try engaging in safe outdoor activities that involve animals or ask someone if it's okay to pet their furry friend, Dai recommended. 
Exercise can be helpful to relieve the physical and mental effects from lack of touch; it also produces endorphins, which give us good feelings and lower cortisol, she said. 
Visualization is another option. "Whether through meditation or just looking at a photo with happy memories, it can be helpful to engage memories and experiences of bonding with others that produce warm and fuzzy feelings like oxytocin would," Dai explained. 
Dai recommends that we touch ourselves — massages, self-hugs, or taking a bath and gently rubbing our skin with soap or oil can mimic the feeling of touch from others. A weighted blanket can also simulate feelings of touch or being held.
I have adjusted to the touchlessness by wearing soft clothes, surrounding myself with plush blankets, and snuggling with my panda stuffie at night.  
One day, we will again hold each other, and tighter than ever. For now, virtual hugs will have to suffice, and I'm sending you all so many. We are going to be OK.
Reach writer Tiasha Datta at wellness@dailyuw.com. Twitter: @TiashaDatta2
Like what you're reading? Support high-quality student journalism by donating here.