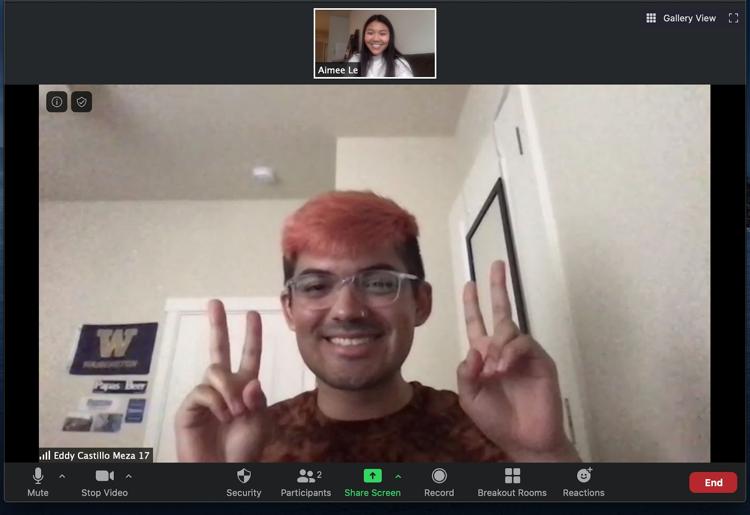 Students from the UW, particularly first-generation students, are facing new challenges in the online learning environment.
The UW moved all in-person classes online for spring quarter due to the coronavirus outbreak, and the transition has raised concerns among students and instructors about the quality of learning for online instruction. While many students previously spent their time studying on campus, they now face the challenge of studying at home.
Denise Martinez-Castillo, a first-generation UW student, said that sharing a room with her younger brother has been quite the adjustment while getting schoolwork done. The new study environment is imperfect compared to her usual study spot in the 24-hour Odegaard Library on campus.
"I come from a Mexican household, so it's always loud in my house," Martinez-Castillo said. 
For students like Martinez-Castillo, being at home with multiple family members, where there's a lot going on in the house, can be a distraction from getting work done.
"My mom has seven siblings and they're always over hanging out," Martinez-Castillo said. "I do my homework in the kitchen since I don't have a desk in my room, and it's not the best place to study with all the noise."
But Martinez-Castillo is certainly not alone in these challenges.
Annie Chadha, a graduating senior from the UW who is also a first-generation student, said that she's also struggling to get her parents to understand how important the last quarter is, despite classes being online.
"My parents never went to school," Chadha said. "They don't get how the education system works here so I'm constantly getting pulled to do other things that aren't in my capacity."
Parents of first-generation students may not be familiar with the average college student's lifestyle. In high school, when they lived at home, those students had less flexibility and freedom.
"My parents always catch me during my short study breaks and think that I'm not doing anything," Martinez-Castillo said. "I wouldn't have anyone checking up on me every minute if I was still on campus."
First-generation students deal with many factors of psychological stress: from their families to financial hardships to a lack of resources. Eddy Castillo, a second-year, first-generation student, said his mother is worried about what the future may look like for him now in terms of successfully completing college or staying in school. 
"When I told my mom that I was considering taking fall quarter off so my GPA wouldn't suffer and just work, she sounded disappointed," Castillo said.
First-generation students who also come from low-income backgrounds often average a lower graduation rate compared to their financially stable peers, according to a report in USA TODAY earlier this month. 
If students decide to drop out, they're often dealing with a financial burden and the ballooning costs of loan debt. And since many students have chosen to rethink their college plans due to the pandemic, this could mean taking a gap year to work or waiting for campuses to fully reopen. 
Castillo wonders what the next year will look like for him financially, since job searching has been tough. He said the part-time work positions he would usually look into are no longer available due to social distancing orders. 
Continuing online classes from his bedroom where he "semi-attends" lectures isn't something he's planning for, Castillo said.
In 2017, President Ana Mari Cauce reported that nearly 35% of enrolled undergraduate students at the UW were first-generation. Most of these students are enrolled in the UW's special programs, like the Educational Opportunity Program (EOP) and the Office of Minority Affairs & Diversity (OMA&D), for counseling services and resources.
Chadha, a first-generation OMA&D student who relied on the UW Career Center said her mentorship program was cut short due to the pandemic and that it was something that couldn't be successfully done without in-person interaction.
"All the in-person resources I had aren't available now," Chadha said. 
Even though a lot of in-person resources are no longer available, Antaknea Majors, an EOP academic advisor, said the biggest barrier to accessing resources for first-generation students now is trying to learn from home. 
"The EOP and other related programs are trying to address accessibility by providing technology resources and renting out equipment from UW," Majors said.
Some in-person classes at the UW are expected to resume in the fall, but adjusting to the new normal and continuing to learn from home is something that all students will have to do until there's a more stable outlook.
"I know everyone has their own struggles," Castillo said. "But it's definitely magnified for some of us first-generation students and it really sucks because there's no real help."
Reach writer Aimee Le at wellness@dailyuw.com. Twitter: @aimeedle 
Like what you're reading? Support high-quality student journalism by donating here.