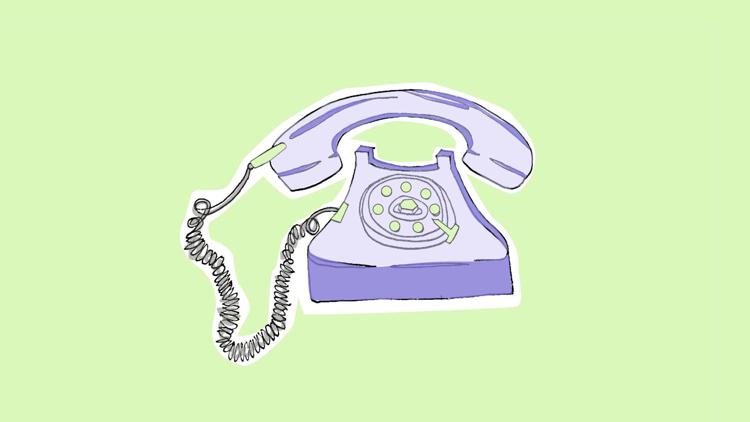 I've called, and texted, a crisis line a handful of times in my life. It's always awkward, but I'm always glad I did it.
It's awkward because normal conventions of conversation go out the window. The person on the other end of the line will probably pick up with something like "Hello, crisis clinic," to establish that you've called the right place. And then what are you supposed to say? "Hey, how are you doing?"
For all my experience with hotlines, I've never figured this part out. There is a certain welcome humor in making contact with a suicide hotline and fighting the impulse to ask, "Is this a good time?"
But you will get through this part. The people on the other end of the line know that it's awkward. They know why you're calling. And they'll stick with you as you muddle through the beginning of the conversation.
I usually end up saying (cleverly pretending as though I've never done this before) something like, "So, do I just, um, start talking?"
You do just start talking. They will affirm you in this question and provide some potential prompts if you really don't know where to start. This can be really helpful in unraveling the horrible knot in your head and finding the end of the thread, which you can then start following.
This person doesn't know you. In fact, they don't know anything about you except the area code of your phone number. They can't see what you look like, curled up in a ball on your bed tear-streaked and shaky, maybe naked, I don't know how you prefer to have your breakdowns. They're not even your therapist. Keeping this in mind really helps me because I know there's no pressure to try to seem coherent or witty or functional. You can just blubber and cry if that's what you need.
Bipasha Mukherjee, who is in her 23rd year volunteering at King County's Crisis Connections, considers it a privilege to be able to answer phone calls of those in crisis.
"The callers, with their vulnerability and struggles, make me more courageous," Mukherjee said. "Sometimes I wonder who is helping who."
More than likely, the person on the other end of the line has been through something like what you're going through, or they have been close to someone who has. All volunteers staffing crisis lines will have been trained in how to connect you to resources and help you feel better immediately in the moment.
UW students, faculty, and staff have the option to call SafeCampus, a 24/7 line for any safety concerns (for themselves or others), if they are in crisis. The SafeCampus line operators are uniquely positioned to help members of the UW community because they are familiar and have open lines of contact with resources here on campus.
"When I'm talking to someone on the phone, I might say, 'Here's what's going to happen next for UW,'" Gillian Wickwire, the SafeCampus manager and phone line respondent, said. "If [you] give me that information, I can send what you've told me over to the Counseling Center director or Hall Health Mental Health director and say that you're planning on visiting tomorrow morning, so they'll be ready for you."
The people who answer the SafeCampus line receive the same suicide intervention training as volunteers at Crisis Connections — it's called ASIST. Additionally, they are all trained victim advocates. It's worth noting that you can call SafeCampus for any concern, not just suicidality, including sexual assault, relationship violence, stalking, or any other sort of violence. These victim advocates will help you determine what resources you would like to access and make sure you are put into contact with them.
SafeCampus staff know the challenges that can come from being a college student and dealing with a mental health condition at the same time. 
Wickwire described a hypothetical scenario in which a student has stayed up into the wee hours of the morning trying to study for an exam but has become overwhelmed by suicidal ideation and called SafeCampus.
"Sometimes [we'll say] just something as simple as 'stop studying for the test," Wickwire said. "We're going to connect you with somebody at UW who can write something to that professor and say you were unable. Just giving someone permission, because … almost every caller we get who is experiencing suicidal thoughts, their biggest concern is their class."
SafeCampus can put you into contact with the student support specialist at LiveWell who can schedule a meeting with you to help you determine how you can manage your mental health and coursework during a challenging episode. For some students, this may look like a hardship withdrawal for a quarter, where their GPA is no longer affected by the quarter. For others, it may be making professors aware of their mental health struggles to make coursework and deadlines more accessible and manageable.
Wherever, if ever, you decide to call, it's important to remember that you will be connected to a human being who genuinely cares. Sure, the situation is a little contrived, and it may be awkward at points, but you're speaking to a volunteer or employee who genuinely wants to be there and to help you get through rock bottom.
"I personally don't walk in with the idea that I am that different from people who are calling," Mukherjee said. "I'm a human being, they're human beings. I've had ups and downs in my life when I've needed support. For me, it's just that [at that] moment in time, I'm there to provide support."
And this does sound hokey, I know, but from one potential patient of a crisis clinic to another, you are not alone. Staying alive is always worth it. And everyone in your life — no joke — would rather have burdensome, snivelly, useless you (to paraphrase my own inner monologue at my worst points) than dead you. It's true.
So, how do you know if you should call?
"A crisis is defined by the person who's calling," Mukherjee said. "For some, it may be I'm suicidal and I have a gun in front of me; for some it might be, my cat is up a tree and I can't get it down … Whatever reason you need to talk to a friendly human being is a good enough reason to call the crisis line."
For me, having a crisis is a lot like throwing up. I typically know, vaguely, that I will have to throw up about twenty minutes before it actually happens. In a mournful attempt to ward this off, I will sit down and think intently about my stomach for a while, trying to suss out if it'sreally going to happen. Then I will know it's going to happen and have about thirty seconds to act on this. My point? By the time you know it's going to happen, you want to already be in the bathroom. By the time you know you're slipping into a full-scale crisis, you want to already have your phone in your hand.
There are people out there who want to talk to you. You are always welcome to give them a call.
Crisis Connections Crisis Line: 866-427-4747
Teen Link: Call 866-833-6546, chat, or text between 6 p.m. and 9:30 p.m.
National Suicide Prevention Lifeline: 1-800-273-8255
UW SafeCampus: 206-685-7233
TrevorLifeline (LGBTQIA+ crisis line): 1-866-488-7386; chat or text also available on website
Trans Lifeline: 877-565-8860, available from 7 a.m. to 1 p.m. PST 
RAINN (Rape, Abuse and Incest National Network): 1-800-656-4673 (24/7); Live Chat with RAINN (24/7)
Reach Health & Wellness Editor McKenzie Murray at wellness@dailyuw.com. Twitter: @merqto
Like what you're reading? Support high-quality student journalism by donating here.