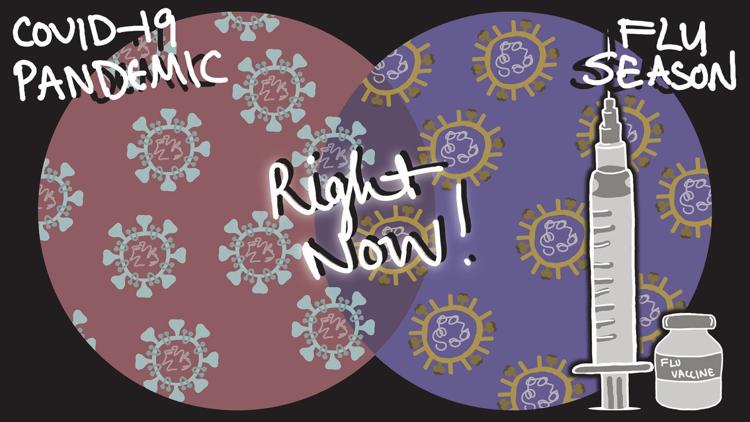 In "normal" years, getting the flu shot is important; this year, it is critical. As cases of COVID-19 continue to rise, especially in the UW community, high rates of influenza transmission this season could make managing the pandemic that much more difficult for health care workers.
There are several symptoms that overlap between COVID-19 and the flu, so it might be difficult for a patient to decipher between the two should they start developing symptoms. This could put a strain on healthcare systems as people with the flu seek tests and treatment assuming they have COVID-19. High rates of the flu could also increase hospitalizations and divert resources away from COVID-19 patients for a virus that could have been avoided by getting a vaccine.
The solution seems simple: If everyone gets their flu shots this year, we can help avoid worsening a public health crisis. So why do many people elect not to receive the flu shot?
There are several common misconceptions about the flu shot that deter people from getting it, according to Dr. Seth A. Cohen of the UW School of Medicine.
One misconception is that you can get the flu from the vaccine itself. According to Cohen, the vaccine contains an inactivated form of the virus, so it cannot cause infection. 
It is also not uncommon for people to think that they can still get the flu after getting vaccinated, and they might cite the year they got the vaccine as the only year they got sick. In reality, you cannot become sick with the same strain of influenza that you have been vaccinated for, according to Cohen.
"There are many respiratory viruses other than the flu that circulate during this time of year," Cohen said in an email. "It's common for folks to catch the common cold or another virus and blame it on the shot, but this is just a coincidence."
Additionally, individuals who are allergic to eggs often think it is unsafe for them to get the flu shot, though Cohen indicates it is still safe for them to do so if they inform their providers about their allergies. 
Similar to misconceptions about other types of vaccinations, some believe that flu shots can exacerbate chronic neurological diseases or can cause autism, both of which have been thoroughly debunked. 
Misconceptions about the flu shot have become common excuses for not getting vaccinated, and this is especially problematic this flu season. During any year, getting the flu shot has numerous individual and population-level health benefits.
"Firstly, flu shots prevent you from getting the flu," Cohen said in an email. "Secondly, if you do get [a different strain of] the flu, they help prevent you from developing a severe infection or complications from the flu, and thirdly, they help reduce the strain on our healthcare system by keeping people out of emergency departments and the hospital."
As we approach this year's flu season amid an ongoing pandemic, reducing the strain on healthcare systems is of crucial importance. The anticipated surge in COVID-19 infections and hospitalizations in the coming months will impact public health resources; a high prevalence of the flu will further impact healthcare systems and divert resources away from those infected with COVID-19.
By getting flu shots, we avoid straining health care systems while helping to protect individuals with compromised immune systems. As Cohen noted, "safeguarding the health of our community means keeping our vaccination rates high."
The UW offers a number of flu shot clinics around campus to encourage students and staff to get their vaccine this year. 
Reach writer Jax Morgan at wellness@dailyuw.com. Twitter: @jaxbmorgan
Like what you're reading? Support high-quality student journalism by donating here.