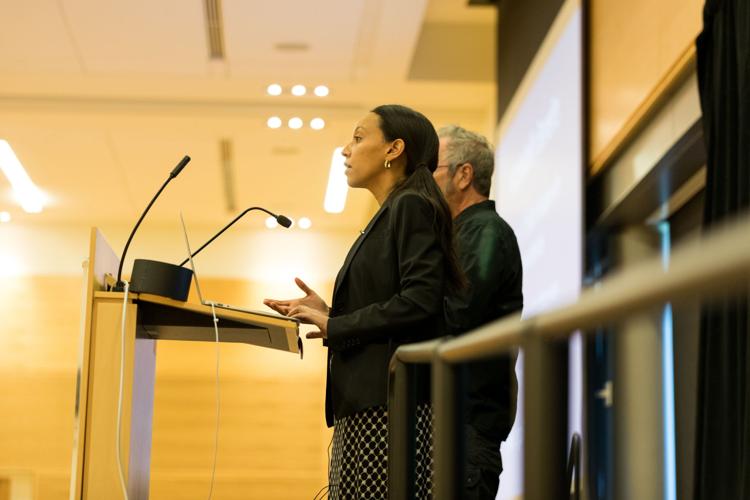 Editor's Note: This article references terms relating to accessibility that may be unfamiliar to some. The National Association of the Deaf defines deaf with a lowercase "d" as the audiological condition of not hearing. Deaf with a capital "D" refers to people who share the culture of being deaf. Using "D/deaf" is used to discuss both. These are different from hard of hearing, which typically refers to someone with mild-to-moderate hearing loss. Neuroatypical refers to an individual with neural, cognitive, or psychiatric disabilities. This is used to shift away from the medicalization of differences in neural structures and trying to cure them. This definition is currently evolving to encompass groups beyond the autistic community that founded it. These terms may become outdated with time.
The D Center hosted "Disability is an Asset: An Evening with Haben Girma" in the grand HUB North Ballroom on May 7. Haben Girma (she/her) is the first Deafblind person to graduate from Harvard Law School, was named a White House Champion of Change by President Obama, received the Helen Keller Achievement Award, and been listed on the Forbes 30 Under 30 list. She is an avid disability activist and fighting for inclusive design.
"The dominant story about disability is [that it's] a burden on society," Girma said. "I define disability as an opportunity for innovation. If one thing doesn't work, come up with another solution."
Of her time as an undergraduate at Lewis and Clark College in Portland, Girma recalls the lack of accessibility of the cafeteria menu. The cafeteria provided print menus for students that would guide them to different lines serving different foods. Because the format of the menus was inaccessible to Girma, she would spend up to 20 minutes at a time waiting in a line only to find out she could not eat there because she was vegetarian and they were serving hamburgers. When she raised her concerns to the cafeteria manager, he told her that she should stop complaining and be more grateful of all the other things the college was during for her.
"If there's chocolate cake at station four and no one tells me, I'm not feeling appreciative," Girma humorously said.
With the college already providing the rest of her studies in Braille, Girma questioned whether she was right to argue for the menus, wondering if she should simply accept what she was fortunate to have. She remembered thinking she at least had food when there are other people around the world who struggle to eat. Or how she was getting an education, but numerous blind students in the United States struggle for access to materials in Braille.
"I talked to my friends and they reminded me it's my choice," Girma said. "It's our choice to accept unfairness or advocate for justice."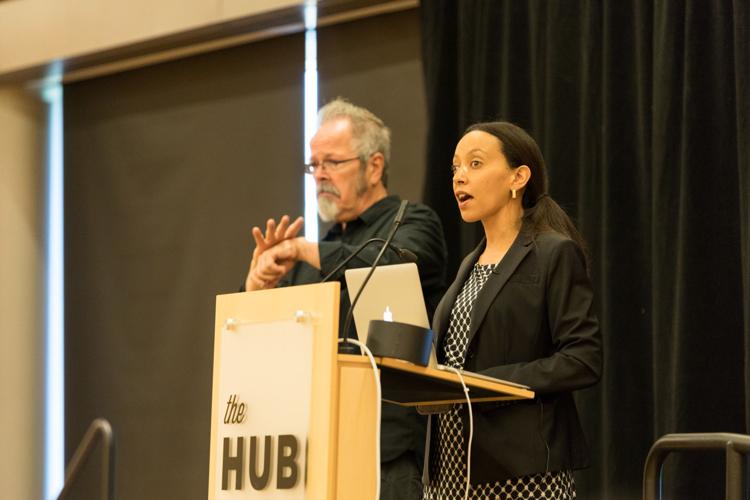 After researching what she could do, Girma threatened to sue the school if they refused to provide access because the Americans with Disabilities Act (ADA) prohibits discrimination based on disability. Although she had no idea how to even file a lawsuit, they were terrified by the notion.
The next day, the manager provided her with menus in Braille.
"There are lots of small barriers in our community and sometimes we choose to just tolerate them," Girma said. "If we take the time to address the small barriers, we develop the skill to tackle the larger ones."
–––––
In the ballroom, Girma shared with the audience many personal and historical stories of living in a hearing-seeing world that often considers disabilities as an afterthought. She shared how dancing can be haptical, or communicated through touch, instead of listening to the sounds of the music.
The first working typewriter was developed as a touch typewriter in 1808 Italy by an inventor for his blind lover wanting to keep their letters secret, without dictating to another person. Vinton Cerf, one of the founders of the modern internet who was D/deaf and hard of hearing, designed one of the first email protocols to help D/deaf people communicate with one another over long distances.
Beyond email and typing, Girma mentions how, in addition to providing access for D/deaf individuals, video captions can help hearing people who may be situationally disabled, such as when a room may be too loud to hear a video's audio.
Technology that increases access can vastly increase the number of people who reach published content. Girma cited how there are 1.3 billion people with disabilities worldwide, and 57 million alone in the United States. She emphasizes this point with the inclusion of image descriptions and screen readable content on the internet. Image descriptions not only provide alternatives to visual comprehension of images, but also increase the words associated with that published content, optimizing search engines and making the content more likely to come up when people search for it.
Girma also mentioned that, if increasing reach, content discoverability, and sparking innovation is not enough to persuade companies and organizations as to why including people with disabilities is important, the ADA prohibits discrimination against people with disabilities, and lawsuits are expensive.
"When communities choose to make something accessible, it can be made accessible," Girma said. The important part is not that there is an immediate solution to provide accessibility, Girma noted, but that the community is willing to work with people to find ways to provide accessibility.
"Inclusion is a choice," Girma said in recalling how President Obama switched from speaking to typing on her keyboard that relays messages to her by Braille when they met. "When you choose inclusion, you [become a] role model for others around you."
–––––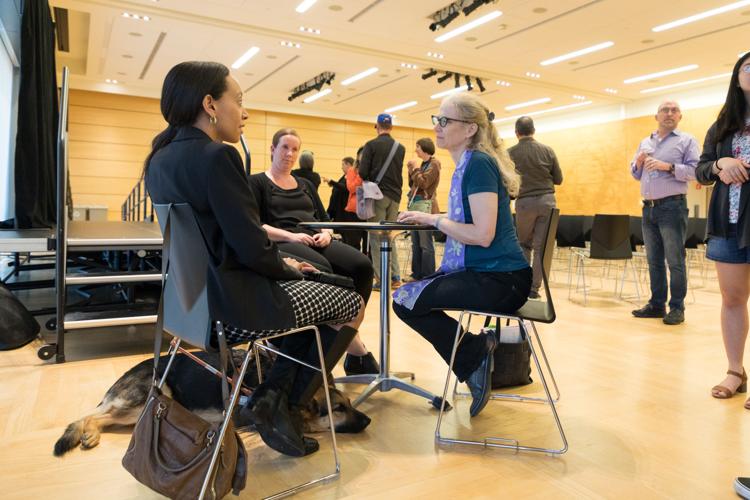 When it began snowing last quarter and the campus became icy, the D Center had to cancel hosting Girma because the campus was not safely accessible. Had they chosen to proceed regardless, they would be failing to include the very people they represent and advocate for.
The D Center advocates for students and faculty accessibility and is an educational space to learn more about disabilities. On the lowest floor of Mary Gates Hall lies the quiet, dimly lit room staffed by Lesley Ellis (she/her), Lily Zimmerman (she/her/they/them), and Arden Weaver (they/them). The atmosphere they create is not far from a small town coffee shop in the early morning, designed to provide low sensory stimulation that increases the space's accessibility.
"The D Center works to challenge narratives of disability that denigrate and devalue the lives and contributions of disabled people, at the UW and beyond," Ellis said.
Weaver elaborated on the difference between the medical and social models of disability. Whereas the medical model considers disability to be a problem with an individual's body, the social model denounces this approach and argues that it is actually society that creates problems for people with disabilities, that society is the force restricting how people can exist in the world.
Weaver knew they were neuroatypical for most of their life, but it wasn't until their senior year of high school that they were diagnosed with ADHD. Although they had been actively involved at a queer youth center with LGBTQIA+ activism, they never considered disability activism. Trying to find their place in the disability community was initially a struggle.
"It was very weird, because your preconceived [notion] of disability typically is the image of someone in a wheelchair, and that is just how society describes disability," Weaver said. Often disabled people are only stereotypically "classified" by others as disabled if their disability is physically apparent. "And so as someone with an invisible disability and multiple mental illnesses … when people look at me, they don't initially think, 'Oh, this person is disabled.' It kind of made me feel like I didn't belong in the community."
Their experience, although unique in how they engage with their own disability, is filled with feelings many people in the disabled community have.
"It's not right to expect every disabled person to experience the exact same oppression as other ones do," Weaver said.
–––––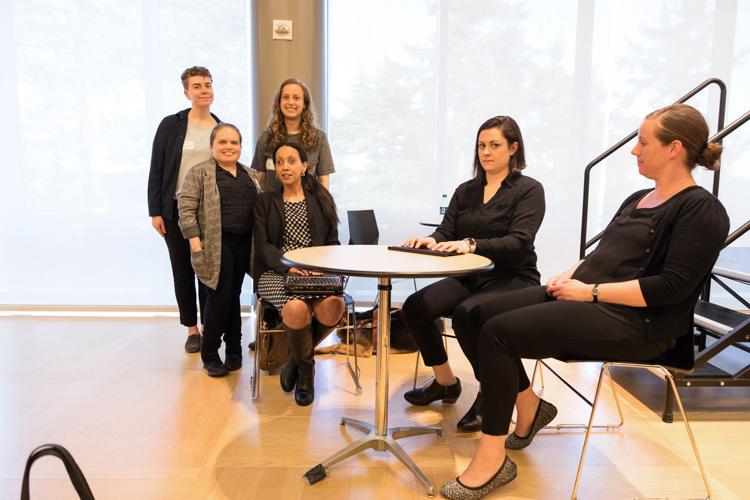 Zimmerman wanted to increase the D Center's inclusivity and public presence as an organization that deconstructs stereotypes like those Weaver and theirself face. With her social media skills, Zimmerman worked to make the D Center more active on Twitter, engaging in conversations with other activists online. They began following numerous disability activists on Twitter using the D Center account, eventually finding Girma and inviting her to come speak at the UW. She recognizes that dismantling harmful narratives about disabilities not only requires empowering people with disabilities, but also educating people without them.
In the student body, stigma surrounds identifying as disabled or neuroatypical because it is often taught as abnormal by education systems that prioritize time efficiency and neurotypical approaches to learning. Zimmerman and Weaver are striving to increase representation of disabilities by inviting activists to the UW to challenge how people view disability.
Similarly, Girma detests the usage of the word 'grit' as a means for disabled people to be applauded, that their struggle to fit in a society that constantly disadvantages them is romanticized as heroic.
"Working hard is not enough if society won't remove the barriers," Girma said, meaning: it doesn't matter how fast you run at a wall you have no power to move. It will still be there every time you run into it. "[Removing] the small barriers matters, [be]cause they remove small barriers for other people that come after you."
Girma's first book, "Haben: The Deafblind Woman Who Conquered Harvard Law," will be coming out August 6.
The D Center is located in the basement of Mary Gates Hall and can be followed on Facebook and Twitter (@UWDCenter).
Reach reporter Adi Stein at wellness@dailyuw.com. Twitter: @Adi_O_S
Like what you're reading? Support high-quality student journalism by donating here.