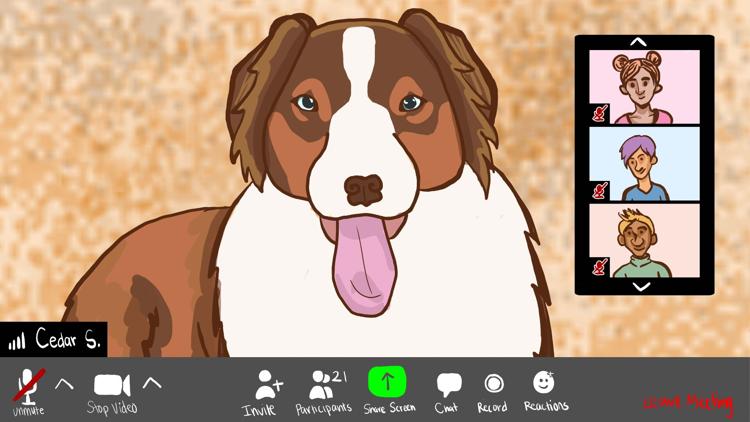 If there's something that we could all take solace in right now, perhaps it's the calming embrace of an animal that increases dopamine and is impervious to hate. 
Unless you're quarantining with such an animal right now, you probably aren't getting that kind of action. Social distancing has kept many of us away from our beloved animals for months now, be they at home with parents or with friends living miles away. Due to Washington's stay-at-home order, animal-based services like the volunteer group College Dogs have had to get creative with their work.
College Dogs is an organization founded at the UW that brings comforting dogs to stressed-out groups of people. Around midterms and finals, smiling therapy dogs being mobbed by hordes of students is a common sight at the HUB and in some dorms on campus. However, without a functional campus to work on, College Dogs founder and animal-assisted therapist Laurie Hardman has tried bringing the experience online, with some interesting results.
"We did four Zoom therapy visits for the Polyclinic staff, and we also did a couple of compilation videos for fun," Hardman said over a Zoom call surrounded by her canine staff.
When asked about the viability of animal therapy over Zoom compared to meeting in person, Hardman stressed that online sessions serve an important purpose during a time as stressful as this, even if they don't have quite the same effect.
"I think that a psychological element is absolutely going to be lost if we can't figure out a way to do some live visits," Hardman said. "I can tell you, it's an absolutely scientific fact that petting a dog lowers your heart rate and blood pressure." 
Unfortunately, with the coronavirus being as unpredictable as it is, Hardman, like many workers, doesn't have any idea as to when College Dogs can get back to work in person. 
"I can't get any response from people like the CDC because they're really not thinking about this sort of thing," Hardman said.
This is unfortunate for several reasons. Therapy dogs are important right now; they're utilized more often than you might think. According to Hardman, College Dogs alone typically makes visitations around five days a week, and to more places than just colleges. 
K-12 schools, businesses, hospitals, senior centers, trauma centers, and prisons all regularly book events with College Dogs, which coordinates more than 35 certified therapy dog teams, all on a volunteer basis.
Moving to an all-online platform for pet therapy has brought a whole new set of challenges for College Dogs as well. Having a person interact with a dog over a video feed is one thing, but having a dog interact with a person in the same way is an entirely different story. 
Hardman explained that her teams have had to think of new ways to engage dogs with a person on screen, oftentimes putting treats next to monitors. 
Still, Hardman stated how proud she is of the work her teams have done with online visits. 
"I think it's successful because everybody needs a pet," Hardman said. "They all need to see the animals, and seeing them over Zoom is better than not seeing them at all."
To learn how you can volunteer for College Dogs, contact Laurie Hardman here. 
Reach contributing writer Luke Schaefer at wellness@dailyuw.com. Twitter @lookassschaefer
Like what you're reading? Support high-quality student journalism by donating here.