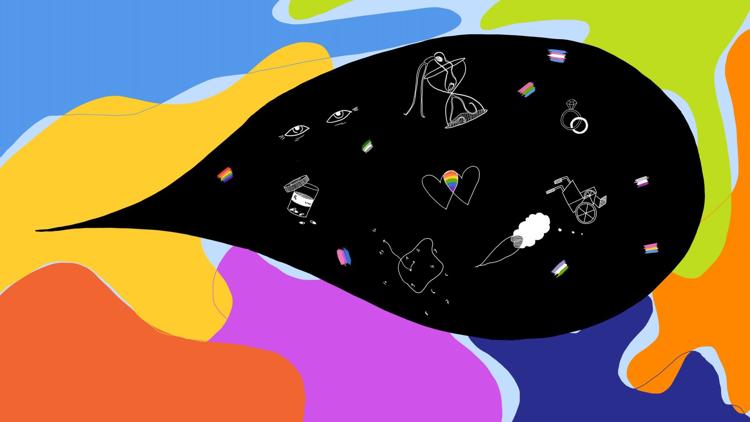 "It's a lot of work getting older," Steven Knipp, the executive director of Seattle's GenPRIDE center for LGBTQ elders, said with a chuckle.
Knipp spoke to me over the phone about the unique challenges facing the aging LGBTQ community and how the GenPRIDE center is supporting them. One of the first organizations of its kind, GenPRIDE offers community-building resources and workshops specifically for LGBTQ elders and their caregivers and families — a service that is sorely needed for this community. 
LGBTQ elders are more likely to be socially isolated than their straight cisgender counterparts, and this social isolation can lead to physical and mental health problems. Also worrying for this community is new research from the University of California San Francisco concluding that LGBTQ elders are 29% more likely to develop memory loss and confusion, both often precursors to dementia, than their straight cisgender counterparts.
Between developing health issues, managing living and income situations, and adjusting to new lifestyles, it's a lot of work getting older for anyone. But a host of factors make this community especially vulnerable. While the UC San Francisco study did not identify a definitive cause for the disparity, the long-term health impacts of psychological trauma are increasingly being documented.
"They've got their own trauma from growing up 40 years ago and having a very different world to grow up in," Knipp said of the senior LGBTQ community.
In addition to the psychological stresses of living in a queerphobic society and potentially losing relationships with family members, LGBTQ elders in the United States all lived through the most devastating American health crisis in living memory — the AIDS epidemic — which particularly decimated queer communities and hit queer communities of color the hardest.
"It was a trauma," Knipp said. "When you lose 80% of your community, that's trauma. And then the [HIV prevention and treatment] drugs came out, and we were expected to just shake it off and move on, but it still affects us."
The GenPRIDE center strives to create opportunities for LGBTQ elders to process pain and tell their own stories. They regularly host memoir writer Ingrid Ricks, who facilitates a writer's workshop providing one-on-one coaching to help elders write their own life stories.
They have also recently piloted the GenFriends program, which pairs homebound or isolated seniors with someone who will check in on them regularly via phone calls or in-person visits.
"We have stories we want to share," Knipp said. "We've had these amazing lives and very significant things happen to us."
One of the founders of the GenPRIDE center, Dr. Karen Fredriksen Goldsen, is a researcher and professor in the UW School of Social Work. In 2017, Fredriksen Goldsen, along with nursing professor Dr. Linda Teri, pioneered the Aging with Pride: IDEA (Innovations in Dementia Empowerment and Activism) project. IDEA focuses on older adults with memory loss who are LGBTQ or have an LGBTQ caregiver, providing them with cognition coaching designed to help reduce memory loss.
Dr. Diane Biray Gregorio, a research consultant on the IDEA project, spoke to me over the phone about the IDEA project, the UCSF study, and how we as a community can better support our LGBTQ elders. Unfortunately, she said, the heightened risk of developing memory loss issues and dementia that the UCSF study identified is consistent with the project's work in this community.
The IDEA project provides six weeks of free coaching — sharing strategies about problem-solving, communication, and low-impact exercise — to a person with memory loss and their care partner.
The objective of the study is to see whether the program, which is based on a protocol that has been proved effective in many past studies, can be adapted to the unique needs and strengths of the LGBTQ population. It represents a groundbreaking look into how elder mental health care can be adapted to historically disadvantaged populations.
IDEA is also building on another program spearheaded by Fredriksen Goldsen, the National Health, Aging and Sexuality/Gender Study (NHAS). A landmark, federally funded national study, it has identified significant health disparities between LGB older adults and the general elder population: disparities that researchers are attempting to address through projects like IDEA.
"What this study [IDEA] symbolizes is a longer vision," Gregorio said. "Every time we have a finding that comes out of the National Health, Aging and Sexuality/Gender Study … let's try to translate that research into programs that can actually help the community."
With studies like the NHAS and IDEA and community support services like GenPRIDE, the UW and Seattle communities are working hard to address and alleviate the mental health disparities faced by LGBTQ seniors. And on a research level, they're trying to conclusively identify the causes of these disparities.
"What we would like to do in our study is to really [answer] the next question, which is, why?" Gregorio said. "We need to go deeper in the analysis of the data to really know why."
Until the root causes can be identified, we as a community can support and respect our LGBTQ elders by deepening our understanding of the gravity of these issues and volunteering with them through programs like GenFriends. Millennials often report feeling lonely and disconnected, Gregorio pointed out — and so do seniors. Making intergenerational connections is a natural and rewarding way to fight both problems.
"There has to be mutual respect," Gregorio said. "We have to respect the young people for new ideas and fresh energy, and we have to respect the older generations for the fights and struggles that came before us."
To learn more about the IDEA study and check eligibility, reach out to ageIDEA@uw.edu or visit ageIDEA.org.
Reach writer McKenzie Murray at wellness@dailyuw.com. Twitter: @merqto
Like what you're reading? Support high-quality student journalism by donating here.