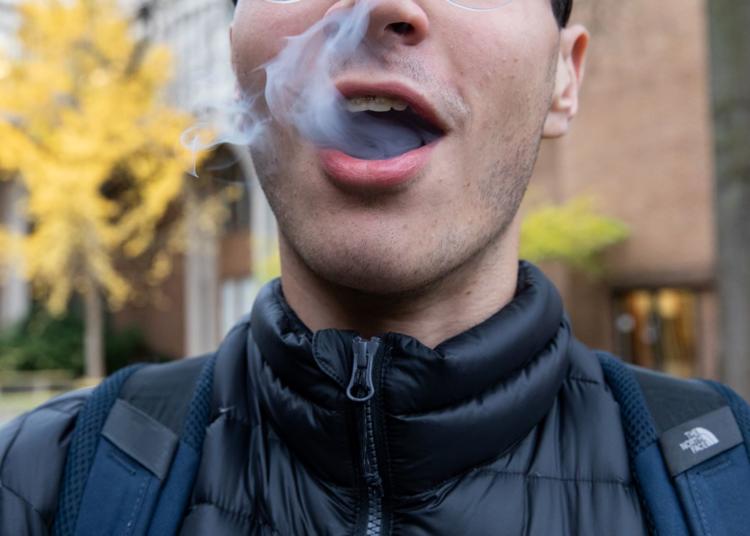 Winter quarter will be the first time the UW offers NURS 210, a class about current public health events and informed consumption of health media created by three UW nursing faculty members. 
Officially titled Science, Evidence and Health: Mastering Health Information and Personal Health Technologies, the class has been nicknamed "the vape class," but it's more about using current health events to teach students how to find and evaluate health information.  
The class was created and will be taught by associate professor Kerryn Reding, Ph.D., M.P.H., R.N; professor Bill Lober, M.D., M.S.; and research assistant professor Erin Blakeney, Ph.D., R.N. All three are in the department of biobehavioral nursing and health informatics in the School of Nursing.
"Our framing was to tackle a series of practical problems that people encounter as they start to learn about health care," Lober said.
Vaping is one of the class topics because vaping-related health issues are happening right now: The Centers for Disease Control and Prevention updates once a week on the number of vape-related deaths and illnesses nationwide. Washington state has issued an emergency temporary ban on flavored vapes, and Seattle Public Schools is suing Juul. 
"When we first started I was thinking Zika," Reding said. "So probably as the course goes on, we'll just keep updating it to current events."
So don't expect a 10-weeklong look at vaping. The class will cover multiple different current events and is split into modules. The modules include health technology, health disparities, and taking action. 
"Spoiler alert, we're probably going to talk about goop [Gwyneth Paltrow's modern lifestyle brand], and whether or not goop is evidence-based in the claims that it makes," Reding said. "I'm really excited to use that as an example." 
The class is offered through the School of Nursing, but it is not just for nurses or pre-nursing students. Half of the students already signed up are non-declared majors, and only a quarter are pre-nursing. 
"We are welcoming of people who have no science background or interest in pursuing anything in science or health," Blakeney said. "We're really hoping to help foster a welcoming, fun, creative, curious community of learners." 
The class is offered at four and five credits. The optional one-credit class will be held once a week for 50 minutes, like a quiz section. This class will be a deeper look into a personal health exploration or goal. It will be graded on reflections, not project success.
The larger, four-credit, two-hour class will have little lecturing and will mostly be group discussions and projects. The founders wanted this class to emphasize critical thinking and active engagement. 
Both the lecture and the optional one-credit class will be held in the Odegaard Learning Commons. 
"We specifically sought out one of the active learning classrooms in Odegaard," Blakeney said. "We want to give people space to actually discuss these things with each other in a way that is likely to be useful to them." 
The class is set at a capacity of 60 students, but as of Wednesday, spaces are still available. 
Reach writer Miranda Milton at wellness@dailyuw.com. Twitter: @mirandamilton99 
Like what you're reading? Support high-quality student journalism by donating here.