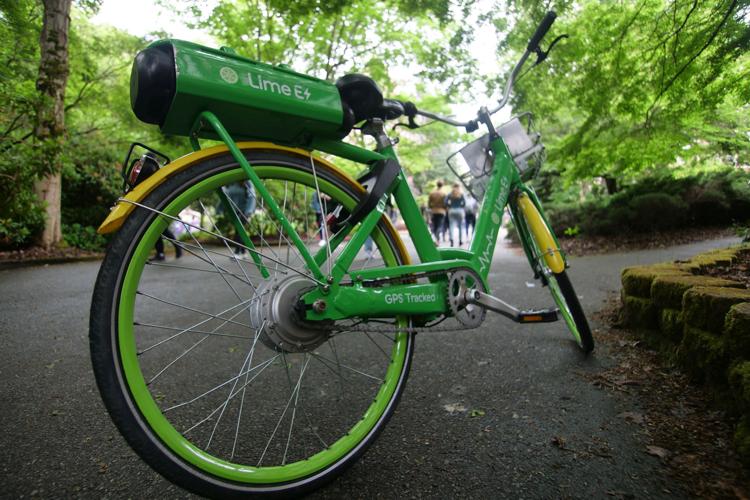 You've probably seen the vibrantly colored ride-share bikes strewn around campus: in Drumheller Fountain, in trees, and even under the 520 bridge. These sights are an affirmation to the increasing use of bike-share services, like LimeBikes and JUMP Bikes. With the simplicity of riding and leaving the borrowed bike anywhere, many students opt to ride instead of walk.
But this new mode of travel has some worried about public safety.
"I am concerned over bike-sharing services. People are not wearing helmets like they used to," Dr. Fred Rivara, former founding director of the Harborview Injury and Research Center, said.
This concern is supported by a 2018 study finding that only 20% of bike-share riders in Seattle wore helmets, compared to 91% of those who rode their own bikes.
The most commonly seen bike-share company on campus, perhaps due to its characteristic color choice, is Lime. Lime not only advises its riders to wear a helmet, but has its riders agree to comply with the regional law regarding helmet use. For students at the UW, the requirement to wear a helmet falls under the county health code.
"There is a regulation that anyone who is riding a bike in King County must be wearing a helmet," Dahmar Smiles, UWPD community engagement officer, said.
This means that not wearing a helmet counts as a civil infraction and could result in a $30 ticket. But Smiles explains that he would rather educate than give a fine.
"We don't want to monetarily penalize our students and our community for something that's relatively minor," Smiles said. "But at the same time, you're talking about your own safety and your personal health. It's actually huge."
This health code, however, does not require a helmet for riding a scooter. Scooter sharing may be in the future for Seattle, as Everett just launched its own pilot program of scooter sharing.
Scooters are just as, if not more, dangerous than bikes. A study of Los Angeles emergency rooms from 2017 to 2018 found that more people were sent to the emergency room due to accidents while riding scooters than while riding bikes or walking. Forty percent of these accidents resulted in head injuries, and only 4% of electric scooter riders wore helmets.
"Head injuries can be serious, they can cause death, disabilities … even minor head injuries can have lasting consequences," Rivara said. "Wearing a helmet can prevent 85% of head injuries."
As ride-share use continues and expands within Seattle, officer Smiles offered this advice to students: "Just wear a helmet. I know it may seem kind of annoying but you know, it won't seem annoying if … you get into some kind of accident and that helmet saves your life, I guarantee you that."
Reach contributing writer Dana Kamenz at development@dailyuw.com. Twitter: @danakamenzzz
Like what you're reading? Support high-quality student journalism by donating here.