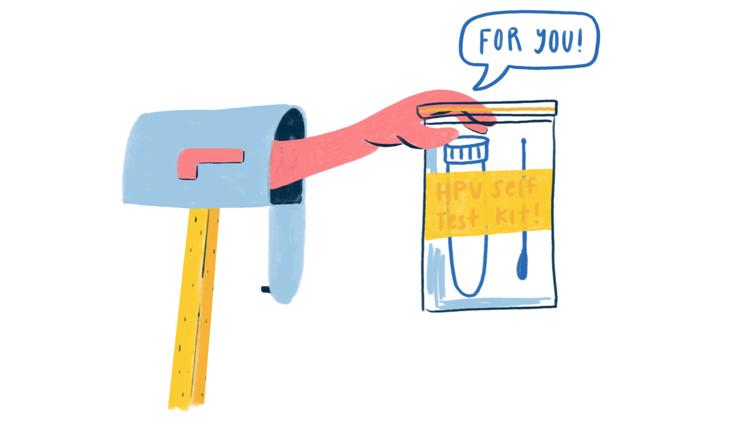 Early screening and detection can be a critical part of cervical cancer treatment. Yet in the United States, 25% of women do not participate in recommended screening. Fifty percent of all cervical cancer diagnoses are made in women who are overdue for screening.
To improve prevention of cervical cancer, an increase in screening is needed. There are many reasons that women forgo typical cervical cancer screening: some women don't have time, some don't think that they are at risk, and some are put off by the idea of a pelvic exam.
The "home-based options to make cervical cancer screening easy," or HOME, trial explored a possible solution to this problem. The trial was built into the Kaiser Permanente Washington health care program. It compared rates of precancer detection and treatment between women who received Kaiser Permanente's regular care reminders, like a birthday card, and those who additionally received an at-home human papillomavirus (HPV) testing kit.
The original test to detect cervical cancer was the pap smear. One of its downfalls is that it doesn't always detect cancerous lesions. Its sensitivity is in the range of 50 to 60%, Dr. Constance Mao says. 
Mao is an associate professor in the UW department of obstetrics and gynecology. She primarily does research in the areas of cervical cancer screening, HPV vaccines, and treatments of genital dysplasias.
For a pap smear, cell samples are collected from the surface of the cervix and then examined under a microscope. According to Mao, the reason this method has been extremely successful in detecting cervical cancers, even with its lower sensitivity, is because it is performed often. 
"If you have a test that doesn't pick things up all the time, but you do it often enough, after two or three tests you're much closer to 90% in terms of sensitivity," Mao said.
But in a world where 25% of women do not participate in recommended screening, this can lead to many undiagnosed cases.
As HPV testing becomes a more common way to screen for cervical cancer, mail-in tests could help remedy this problem.
In the past 15 years, co-testing — testing samples with both an HPV and pap test — has become quite common, and in 2018, the US Preventive Services Task Force recommended primary HPV-only screening.
Samples from the cervix that are tested for HPV detect disease at a rate of about 95%, according to Mao. This means that a single HPV test can achieve a sensitivity that, with pap smears, typically takes several years.
"[With an] HPV test you're actually testing for the presence of the virus, you're picking up the DNA," Rachel Winer, the principal investigator of the HOME trial, said. "A pap test is looking for changes in cervical cells."
Winer co-authored the paper discussing the HOME trial's main results, titled "Effect of Mailed Human Papillomavirus Test Kits vs Usual Care Reminders on Cervical Cancer Screening Uptake, Precancer Detection, and Treatment: A Randomized Clinical Trial."
As HPV-only testing becomes commonplace, it opens up this opportunity for at-home mail-in HPV tests. 
With an at-home HPV test, Winer explained, patients are able to use a swab to collect a sample of vaginal cells and then mail it back to the lab for testing. They can then meet with their primary care provider to discuss the results and whether or not further testing is needed.
The mail-in tests are not quite as accurate as HPV tests performed in the lab because people at home are not able to collect samples from their cervix, but the vaginal cells can provide a good approximation.
"It's going to pick up the HPV that's on your cervix maybe 85% of the time," Mao said. "So you can see there's a slight drop in its ability to detect disease, but it's still a good test, and a home HPV test is much better than a single pap smear."
The mail-in test can be a great alternative to in-clinic testing because it makes the process much easier. The HOME trial found that when women received a mail-in kit, they were more likely to participate in screening. 26.3% of women who received an HPV self-test kit in the mail participated in screening of some kind, versus 17.4% of the women who just received regular reminders.
At-home test kits won't completely solve the issue of under-screening for cervical cancer on their own. According to Winer, they still need to be accompanied by increased education and awareness surrounding cervical cancer and HPV, but they are a good first step — one that can make testing more accessible and easier.
Reach contributing writer Teresa Bonilla at wellness@dailyuw.com. Twitter: @toomuchteresa
Like what you're reading? Support high-quality student journalism by donating here.