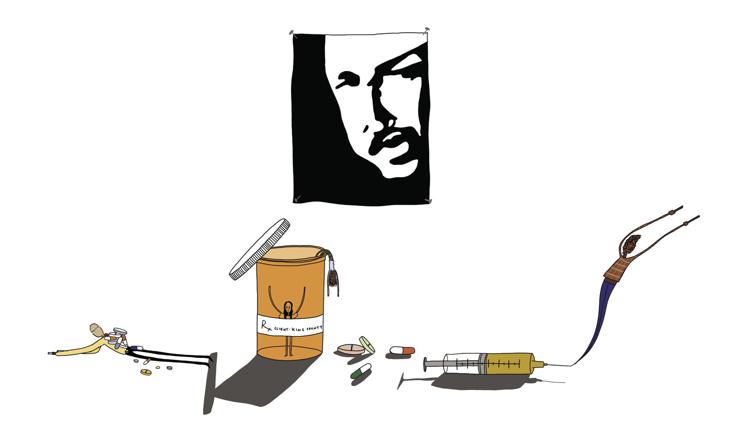 According to the Seattle & King County Public Health 2018 Overdose Death Report, the number of confirmed drug and alcohol deaths examined by the King County Medical Examiner's Office has increased from 265 in 2009 to 415 in 2018, marking a 156% uptick in the death tolls resulting from drug and alcohol overdoses in just short of a decade. Over the past 7 years, 67% of all King County drug overdose deaths involved opioid usage, while 54% involved a stimulant. 
The vast dangers that come with strong narcotics abuse alone are well documented; King County emergency department visits resulting from the misuse or abuse of alcohol and opioids — heroin in particular — have spiked upward dramatically between 2014 to 2018. Adding alcohol into the mix in combination with opioids greatly increases that risk, as well as the risk for overdose death.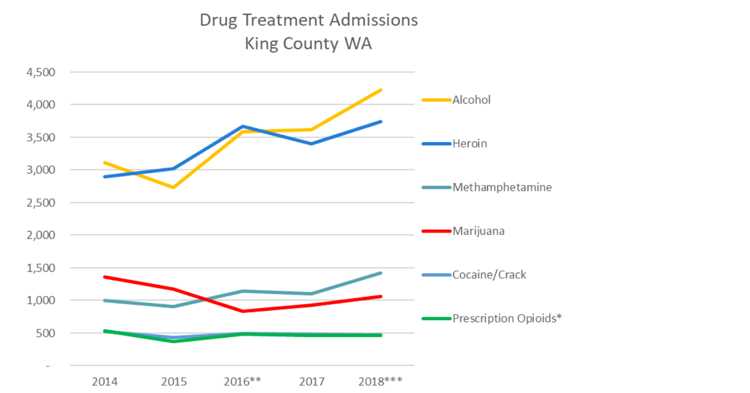 Opioids are a class of drugs that includes prescription painkillers (e.g. codeine, oxycodone), synthetic opioids (e.g. fentanyl, methadone), and illegal substances such as heroin. Heroin is synthesized from morphine, a natural opioid (meaning that it is directly derived from the opium poppy). Synthetic opioids, which include fentanyl and carfentanil, are produced in labs. 
The data collected on opioid overdose deaths by the Centers for Disease Control & Prevention uncovered an alarming statistic: Every day, more than 130 people in the United States die after overdosing on opioids. Although opioid-related overdoses have been escalating since the 1990s, those numbers have started to jump even higher in recent years, effectively making it the worst drug epidemic of the past two decades.
Even more worrying are the coinciding upward trends of overdose deaths involving fentanyl and heroin. Fentanyl, a synthetic opioid, has been increasingly cut into other substances such as heroin, cocaine, and methamphetamines due to its relative ease of production and immense potency — it is up to 50-100 times more potent than heroin.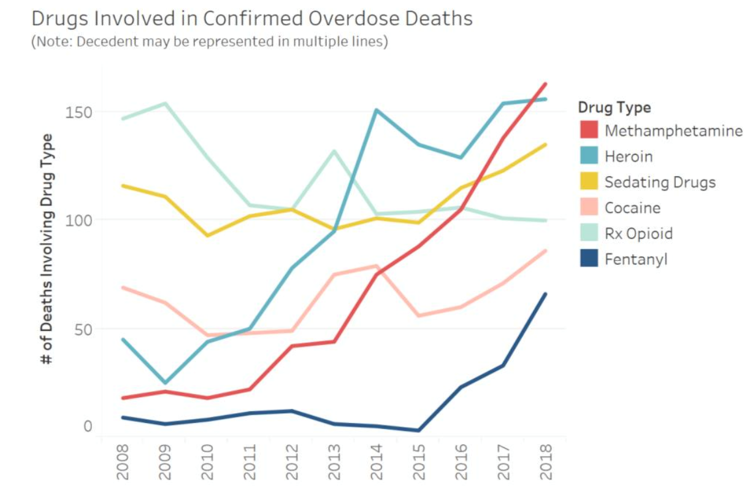 As reported by the National Vital Statistics Report by the Centers for Disease Control and Prevention, the total number of drug overdose deaths involving fentanyl in the United States was relatively stable from 2011 to 2012, but from 2013 through 2016, the number of deaths approximately doubled each year. From 1,663 deaths in 2011 to a staggering 18,335 deaths in 2016, there can be no question as to the need for national concern.
Despite the fact that the most recent trend of fentanyl-related deaths already marks the third wave in a decades-long opioid epidemic, the epidemic seems to be a public health crisis that nobody is talking about.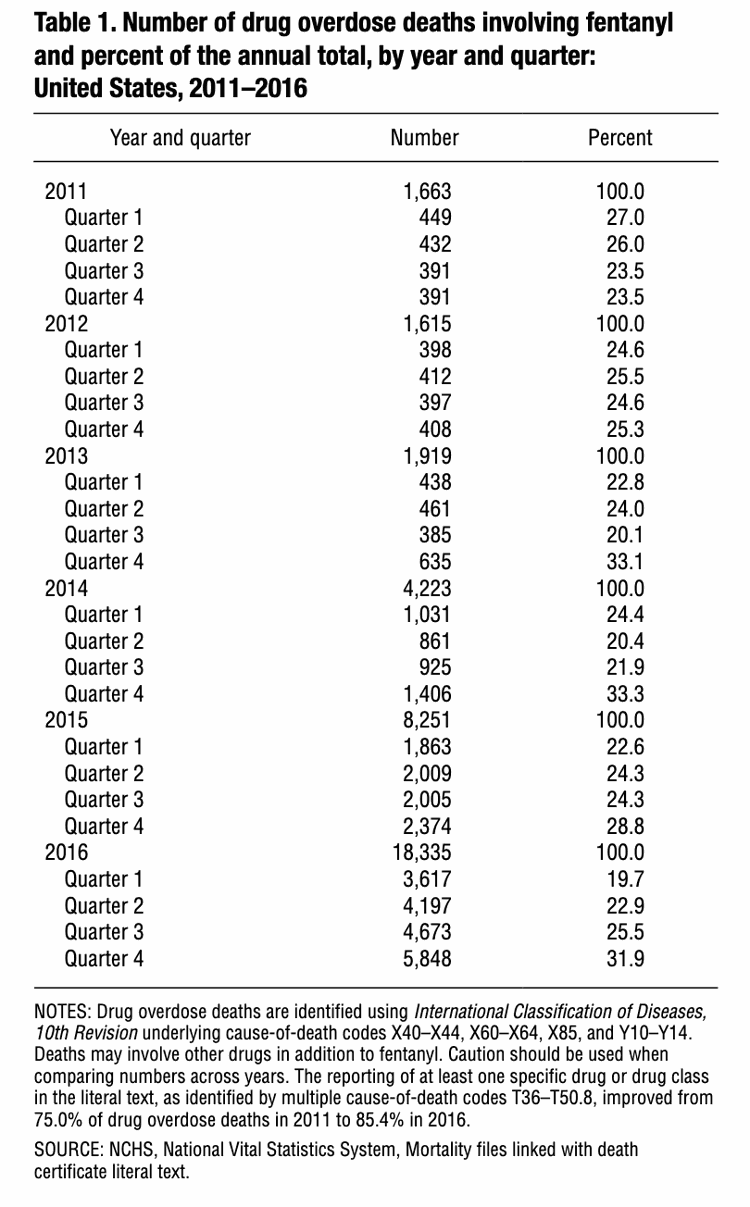 While treatment for substance abuse is shown to be associated with positive outcomes across many cases, entering into treatment has proven to be difficult due to the barriers that substance abusers experience in seeking it. 
Strategic advisor and drug policy expert Brad Finegood of Seattle & King County Public Health, who helps to create and advise policy on issues and programs related to providing care for drug abuse victims (particularly opioid users), spoke on social stigmatization as being the key barrier to those seeking treatment. 
"Financial barriers are not actually the biggest barriers; the stigma that is associated with treatment and people that use drugs is usually often the biggest barrier," Finegood said. "People feel like they're weak by seeking treatment and they end up hiding in shame due to the association." 
Talking about barriers to treatment, Finegood touched upon the fact that severe substance abusers may not even want to get clean in the first place. In situations such as these, a forced period of abstinence may not be the best solution, and in fact may even cause greater risk for overdose death due to the lowered tolerance. 
Opioid cessation medications such as methadone or buprenorphine can greatly reduce this risk by allowing patients to gradually taper off of opioids. The National Institutes of Health states that "compared to those not receiving medication assisted treatment, opioid overdose deaths decreased by 59 percent for those receiving methadone and 38 percent for those receiving buprenorphine over the 12 month follow-up period."
With regard to health communications revolving around opioid usage, Finegood emphasized the need to make light of the potential positive outcomes rather than just the negative ones. One such positive outcome is that overdose prevention is always a possibility; even in the event of an overdose, there are ways to prevent a worst-case scenario.
"Opioid overdose is reversible," Finegood said. "There's a miracle drug called Narcan, which brings people back from overdoses. If somebody recognizes signs of an overdose, then they can do something about it if they have Narcan on hand. In addition, there's a Washington state law called 'Good Samaritan' law, which protects whoever calls 911 and the overdose victim from drug-possession charges." 
Another medication that can counteract an opioid overdose is naloxone, which anyone is permitted to carry in Washington state. In fact, the U.S. surgeon general released a public health advisory advising any and all able persons to carry naloxone so as to be prepared to respond to opioid overdose and possibly even prevent death. Washington State law HB1671 provides that Naloxone can be prescribed by any prescriber and that prescription can be filled at any approved pharmacy. Naloxone may also be administered directly by approved organizations such as police departments, homeless shelters, and social service agencies.
Finegood stressed the importance of being able to perceive treatment in a different light so as to help mitigate the barrier of stigmatization. 
"The public should know that treatment is available and it works; if they want, they can get into treatment pretty easily," Finegood said. "Treatment comes in other forms, too. It doesn't have to be detoxification or residential treatment — treatment could just be counseling, or it could be working with a medical provider. Treatment works, and people just have to be able to ask. There is no shame in that and there should be no stigma with it." 
Finegood also cautioned that unused drugs lying around the household were potential hazards to any and all who had access to them. Most prescription medicines can be safely disposed by state-sponsored medicine take-back programs. 
To get more information out about the opioid epidemic and what Seattle & King County Public Health is doing to address the opioid issue, King County's Heroin and Prescription Opiate Task Force has put together a comprehensive report detailing strategies that focuses on opioid abuse prevention and increased availability of treatment methods.
The ADAI (Alcohol and Drug Abuse Institute) at the University of Washington offers a list of resources for Washington state residents experiencing hardships with mental health and addiction.
Reach reporter Daniel Ko at wellness@dailyuw.com. Twitter: @__danielko
Like what you're reading? Support high-quality student journalism by donating here.