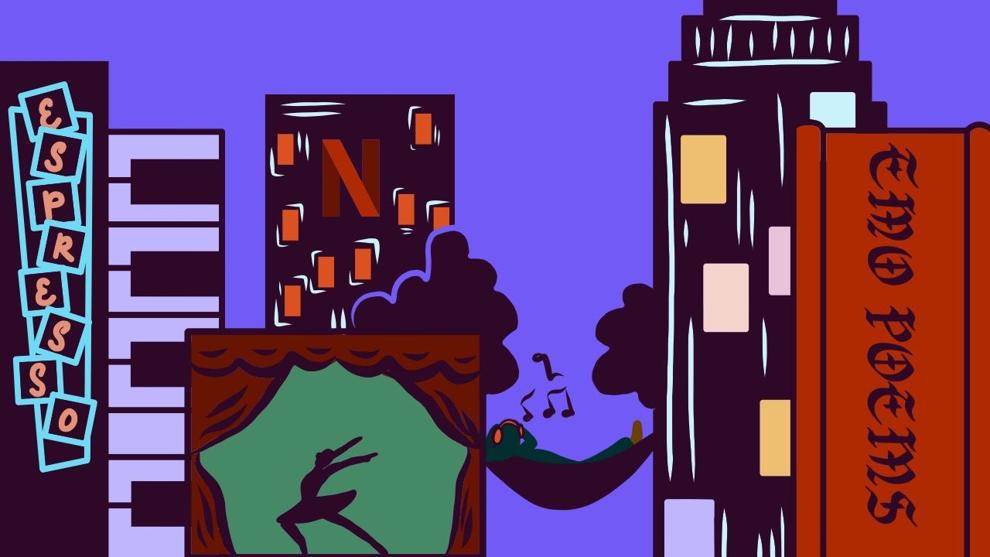 What we're watching
Niv Joshi, writer (@niveditajoshii) 
This past week, I have been deep into the Marvel Cinematic Universe. With the release of "Shang Chi and the Legend of the Ten Rings" in theaters and "Black Widow" on Disney+, as well as the trailer for "Spider-Man: No Way Home," I have been lying in peace and satisfaction. 
I have since watched all three of these releases and have read a little too much about what these movies mean for the Marvel Cinematic Universe itself. My thoughts for them are slightly biased, but I will try my best to not let that overpower my words.
If you have never watched any Marvel movies, or have even watched a random "Avengers" movie, I would surely recommend you watch "Shang Chi and the Legend of the Ten Rings." Although fans like myself noticed some notable references from previous movies, this movie can definitely be watched without past knowledge.
"Black Widow," on the other hand, can get a little complicated, especially in terms of the time frame of the events in the movie. I found the movie's storyline a little confusing at first, but if you have even the slightest background of Scarlett Johansson's character Natasha Romanoff, this movie is worth the watch.
What we're listening to
Irika Sinha, Co-Illustrations Editor (@irikasinha)
For the first 18 or so years of my life, I spent quite a bit of time on planes flying to and from India to visit family. Even now, I dread the claustrophobic environment of the airplane cabin and do my utmost to spend most of the 16-hour international flight sleeping. Domestic planes, tiny as they are, are even more stress-inducing. I know that planes are supposed to be the safest form of travel, but that doesn't help me believe it.
Cue the "Black Box Down" podcast, created by Rooster Teeth Productions and hosted by Gustavo Sorola and Chris Demarais. The podcast is focused on airplane accidents and the subsequent changes in the aviation industry implemented to make flying safer. My boyfriend introduced me to the podcast when I mentioned my flight-related anxiety. 
It's funny — you would think that a podcast about plane crashes would be about as good for my anxiety as a dozen cups of coffee. However, listening to the podcast highlights the sheer amount of things which need to go wrong before a plane goes down. I've enjoyed hearing about how these incidents unfold and amazed to hear how certain crews turned an otherwise terrifying situation around. It is also incredibly reassuring to learn how aviation has changed to prevent future incidents.
This podcast has been a fantastic way of alleviating some of my discomfort with flying, while still teaching me a ton of interesting history. The hosts are fun to listen to and I've learned a lot about why many of the things I take for granted on a plane exist. For example, lights on the floor were installed after a dangerous incident involving a fire that filled a plane with smoke (from the episode, "Hidden Fire On a Plane"). All in all, I would highly recommend a listen.
What we're reading
Andy Chia, writer (@GreatBaconBaron)
When I was first learning how to "write," one of my first influences was Joseph Mitchell. Mitchell was a writer for the New Yorker who chronicled the everyday person, from the fishmonger down by the piers to his landlady three floors up. He was immensely gifted in spinning these profiles into wonderfully informative tapestries about life through a style that is part ethnography, part window into the soul of a city. 
One of my favorite anthologies of his is "Up in the Old Hotel." When I want to spice up my own writing, I look toward his prose about 93-year-old pescatarians. His work is a masterclass in understanding how someone can reflect bygone eras, but also sculpt a clear idea of somebody's humanity. No one is treated as secondary in his narratives, as he used the fringes of society as the catalyst to tell the stories of people oft-overlooked. 
A similarly inspirational writer that I have been returning to is Hunter S. Thompson. Thompson is in a league of his own, notorious for his nonfiction prose fused with his overt opinions. Though "Fear and Loathing in Las Vegas" is what people know him for, I think his novel "The Rum Diary" is a better introduction to his work. The novel's content about Central American politics is intriguing, but so is the length of time Thompson took to finish his manuscript. He first wrote it at age 22, but didn't publish it until he was a well-established writer.
Both Thompson and Mitchell are amazing inspirations across the spectrum of journalism, and I'll be coming back to them again and again. 
What we're up to
Joshua Lee, General Sections Editor (@creativeperhaps)
There was a time in my life when I wanted to write the next great American novel. I hoped my legacy would be 20 or so Joshua Lee paperbacks in every high school classroom in the country. It's hard, however, to write good prose when you seldom have the time to read or write.
This year, and specifically this summer, has given me that much-needed time. Perhaps not to strive for the great American heights that high school me once did, but to return to the genre that initially spurred my love of writing: science fiction. The idea for the story was born from a myriad of books, shows, and video games I've been absorbing lately.
All artists know: Projects can start and end on a whim, especially if you're the sole creator. Whenever I have an idea, I sometimes lose interest or I just don't have enough life experience to flesh it out to a satisfactory level. I knew that my current story was different when I finished a 27-page chapter one, hanging at around 12,500 words. Now, I'm at the start of chapter three, with 23,095 words down. 
With 10 planned chapters, that would net the story around 100,000 words — an amount that I can't even begin to fathom. It's been a dream of mine to edit, revise, rework, and release a finished novel, but I do have to finish it first. Hopefully before I graduate. 
Reach writers Niv Joshi and Andy Chia, Co-Illustrations Editor Irika Sinha, and General Sections Editor Joshua Lee at arts@dailyuw.com. 
Like what you're reading? Support high-quality student journalism by donating here.