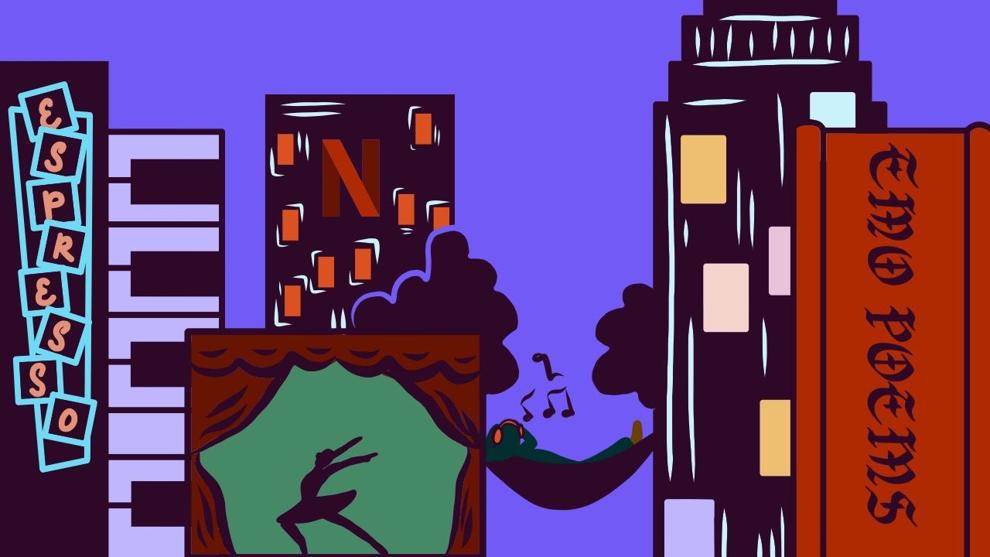 What we're watching
Andy Chia, writer (@GreatBaconBaron)
Although I hate to admit it, one of my guilty pleasures is watching dating shows with kitschy premises. I was never a fan of "The Bachelor," but I'd passively watch shows like "Love Island" or "Terrace House" while writing. For the uninitiated, I think the appeal of dating shows like these are that they look at the bizarreness of human behavior, while tempering those interactions with a dose of secondhand embarrassment.
Recently, I found a show called "Fboy Island," which centers around the "nice guy" and "F boy" phenomena. In the show there are 24 male suitors courting three female contestants; half of the suitors are "nice guys," and the other half are "F boys." That premise alone sounds cliche, but the interesting twist is that the female contestants are trying to vote out the "F boys." 
The host, comedian Nikki Glaser, is a gem in every on-screen moment she has. For instance, Glaser has "therapy sessions" with dismissed suitors, and one-liners such as "F-boy, F-bye." The tone of the show is framed as a post-dating app experience, and the writers and host revel in the irony of having a dating show produced by HBO. 
There is something oddly refreshing about this approach. Even though "Fboy Island" is a far cry from other HBO shows like "The Sopranos," it is enjoyable as popcorn fodder. Don't watch the show with the expectation that it is going to be life-changing; hopefully, the self-effacing nature of the show will make it a fun experience nonetheless.
What we're listening to
Joshua Lee, General Sections Editor (@creativeperhaps)
Returning to in-person classes has me nostalgic for my first two quarters of college and for the John Mayer album that got me through them. 
"Continuum," Mayer's third album, was released in 2006 and served as a departure from the pop acoustic guitar of his prior albums. Past the outwardly poppy "Waiting on the World to Change," Mayer launches into the soulful "I Don't Trust Myself (With Loving You)" and the fast-paced "Belief." His lyricism, ever-evolving up to this point, is shown through these songs, with lines like "Who do you love; me or the thought of me?" and "What puts the folded flag inside his mother's hand? / Belief can, belief can."
"Gravity" is up next, a slow blues-rock banger with melodies that still creep into my soul, even after all these years. Mayer's guitar tone on that iconic opening lick still stands out in my mind as the ideal electric guitar sound. There are good life lessons in the words he sings as well: "Oh, twice as much ain't twice as good / And can't sustain like one half could / It's wanting more that's gonna send me to my knees."
Other highlights include the heartbreaking "Stop This Train," a heartfelt lament on the passage of time, and "Slow Dancing in a Burning Room," which is Mayer's depiction of a doomed relationship. After an impressive cover of Jimi Hendrix's "Bold as Love," the album closes with "I'm Gonna Find Another You," an optimistic send off that launches Mayer into brighter days. 
Even after 15 years, no other studio album from Mayer has topped "Continuum" in terms of songwriting, creativity, and guitar virtuosity. Give it a listen, maybe it can keep you sane through the in-person chaos soon to come. 
What we're reading
Kalina Mladenova, writer (@kalinamm_)
A few weeks ago I was doing my usual TikTok scrolling when something caught my attention — a book recommended for readers who loved the "Percy Jackson" series when they were younger. As someone who was absolutely obsessed with "Percy Jackson'' in my middle school years, I immediately bought "The Song of Achilles" by Madeline Miller.
"Percy Jackson" was such a lovable series that followed characters navigating normal teenage struggles such as friendship, sexuality, and growing up, but while also being the children of Greek gods and having to carry out their demigod duties. "The Song of Achilles" similarly blends elements of Greek mythology — main characters who are hopelessly human doing their best to live up to heroic expectations while also being playful kids.
The book is an adaptation of "The Iliad" by Homer, and follows the main character Patroclus, who was the child of a Greek king. After Patroclus is exiled from his kingdom, he is sent to the Kingdom of Phthia, where many exiled boys are sent to train as soldiers. There, he becomes fast friends with Achilles, who is the prince of Phthia and the son of the Greek goddess Thetis. The book is written from Patroclus' perspective, and his struggles and thoughts are revealed to the reader throughout. The book takes place over several years, and as Patroclus and Achilles age, several conflicts are presented — from the pull Achilles feels to become a hero to the hatred that Thetis has for Patroclus.
Miller gives strong commentary on gender roles, masculinity, and sexuality, while setting the book in a time period where these topics are often neglected. The mythological elements and relatable main characters make the story incredibly engaging and truly reminiscent of "Percy Jackson." Miller also wrote "Circe," which is an adaptation of "The Odyssey," and is next on my to-read list after how much I enjoyed "The Song of Achilles."
What we're up to
Niv Joshi, writer (@niveditajoshii)
I am Indian; I celebrate a lot of festivals. And a few days ago I traveled more than 7,000 miles to celebrate one such festival: Raksha Bandhan.
Raksha Bandhan is like a friendship day for brothers and sisters. Fundamentally, this festival is a celebration of the bond that a brother and a sister share. And like all other Indian festivals, there are a lot of sweets involved. 
Sisters tie Rakhi — a friendship belt kind of thing made of thread — to their brothers' wrists in return for a promise of protection from the brothers. My cousins and I have extended this Rakhi-tying ceremony to sisters too, as sisters are protectors as well.
Over the years, this promise of protection has taken many forms, my favorite of which is cash; some of my brothers do put in a bit of an effort and buy me little presents on top of that. 
My family is serial celebrators; we hardly need occasions to get together and have fun. Raksha Bandhan is one festival where we always meet, and every year I look forward to dressing up, meeting my cousins, having good food, and just laughing our hearts out. 
It is times like these that I truly feel a part of a tradition that is centuries old but still so close to me. Every Raksha Bandhan my cousins and I have a group picture taken at a certain place. These are the memories I forever wish to cherish. 
Raksha Bandhan for me is a festival of togetherness, unity, and of course, desserts. 
Reach writers Andy Chia, Kalina Mladenova, Niv Joshi, and General Sections Editor Joshua Lee at arts@dailyuw.com. 
Like what you're reading? Support high-quality student journalism by donating here.