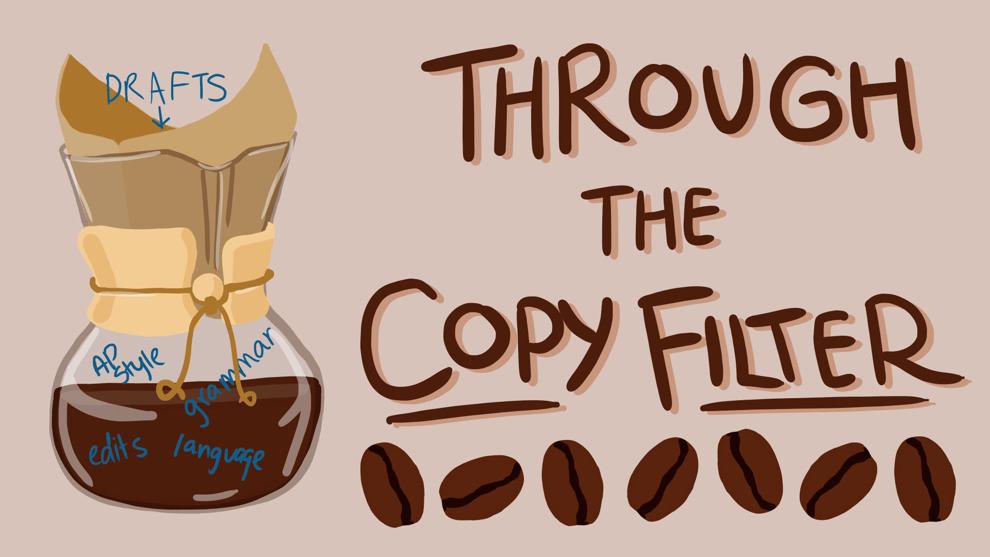 Editor's note: Through the Copy Filter is a column from the Copy Desk addressing topics relating to grammar, style, and language (occasionally relating to current events).
Much of 2020 — for me at least — has involved extensive scrolling through Twitter every day. Some of the viral tweets that have dominated my (mostly English) feed include: "how it started, how it's going"; riffs on Kim Kardashian vacationing on a private island where she could "pretend things were normal just for a brief point in time"; telling a story that starts with "b----es be like" and ends with "I'm b----es"; and, as I'm writing this, a tweet format that mimics the disinformation notice often found on President Donald Trump's tweets since the presidential election.
If you were on Twitter at all within the past two weeks, you probably encountered at least one tweet that looks something like this:
I noticed these tweets all over my feed, and naturally got curious as to where the idea came from. I wondered what the variation of the verb usage means, if anything, and generally what people are trying to convey with these tweets.
I couldn't find anyone at UW to talk to me about this topic, so, naturally, I turned to Twitter. Linguists gave me a variety of suggestions: investigate intertextuality, entextualization, enregisterment, humor as social critique, and written work by internet linguist Gretchen McCulloch. One dropped a link to a book called "Distributed Blackness: African American Cybercultures."
Memes can come in many forms: images, videos, text, and other media. One of the key components of a meme — besides the often humorous nature — is that it is proliferated and modified. According to scholars Bradley Wiggins and Bret Bowers, that's what makes it a meme.
The "what feels like, but isn't" meme isn't any different. The original tweet, according to Know Your Meme, was sent by Rebecca (@abcdrih on Twitter) on Nov. 9 and reads: "what's something that ISN'T racist but still FEELS racist to you?" What was at first just a question that Rebecca, a Black woman, posed became something people not only answered, but also modified to make their own.
Just a few days later, Sam Sanders, host of the NPR show "It's Been a Minute," tweeted "What's something that ISN'T Black but FEELS Black to you?" Sanders does a couple things in this tweet: He modifies the original tweet slightly, but pays homage to Rebecca's tweet by conserving the intentional capitalizations of "isn't" and "feels." 
Even though Sanders maintained the same structure and only substituted a couple of words, most people I saw who copied this tweet format did not keep the capitalization and sometimes substituted the verb "feels" for "seems" or "sounds," two other middle-voice perception verbs. In some cases, the capitalization was on the adjective in question, rather than the verb — for example, Joseph Mellors tweeted "What sounds like a COMPLIMENT to you but really isn't a COMPLIMENT?"
These questions are fairly open-ended, and can lend themselves to humorous or satirical answers, often with embedded social critique. The question itself can take on any of these forms; and the malleability of the tweet is fascinating to witness.
According to McCulloch, sharing and modifying a meme can be a way of claiming that someone is part of internet culture, or they're in on the trend. A decent number of my Twitter mutuals tweeted something in this format; and I'd assume they wanted to be part of internet culture in that moment as well.
But it wasn't just people I knew through the internet; celebrities and entertainment accounts also participated in the trend.
What's something that isn't The Bad Place but still FEELS like The Bad Place.

— The Good Place is taking it sleazy (@nbcthegoodplace) November 12, 2020
What FEELS like food justice but isn't?

We'll start: means tested free school meals

— National Food Service (@national_food) November 12, 2020
As time progressed, it became clear to see that not only single lexical changes were made, but changes to word order as well. This is the meme taking on new forms, as it naturally does when distributed widely across the internet.
Now, more than ever, due to the proliferative nature of social media, Black digital content is being consumed and modified by others, according to André Brock, author of "Distributed Blackness: African American Cybercultures."
"Accordingly, Black digital practice has become hypervisible to mainstream white culture and the world through positive, negative, and political performances of Black cultural aesthetics and, more recently, social media activism," Brock writes. 
With time, different populations create their own iterations of the tweet and the origin of the tweet is lost. In so many aspects of American culture and politics, Black women are leading change and innovation, but not receiving credit for it. Trends and memes on social media are no exception.
Erin Floyd referenced this point in a quote tweet where music reviewer Wearthony Masktano used the same tweet format. In a thread, Floyd's subsequent quote tweets answer other people's "what feels like, but isn't" tweets by crediting Rebecca for igniting the trend and offering important critiques:
You might have tweeted with African American English (AAE) and not known it, due to its use in viral tweets. Linguists Jack Grieve and Andrea Nini and geographer Diansheng Guo conducted a study analyzing millions of tweets to determine the origins of words that seemingly come from nowhere and become prominent on Twitter in a short period of time. The study found more tweet innovations came from areas with a higher percentage of African Americans and that "African American English is a main source of lexical innovation on American Twitter."
I guess the TLDR of this article is: Much of online — and offline — cultural innovation and trend-setting comes from Black culture and AAE. Don't forget that.
Reach Co-Copy Chief Diana Davidson at arts@dailyuw.com. Twitter: @dianavdavidson
Like what you're reading? Support high-quality student journalism by donating here.