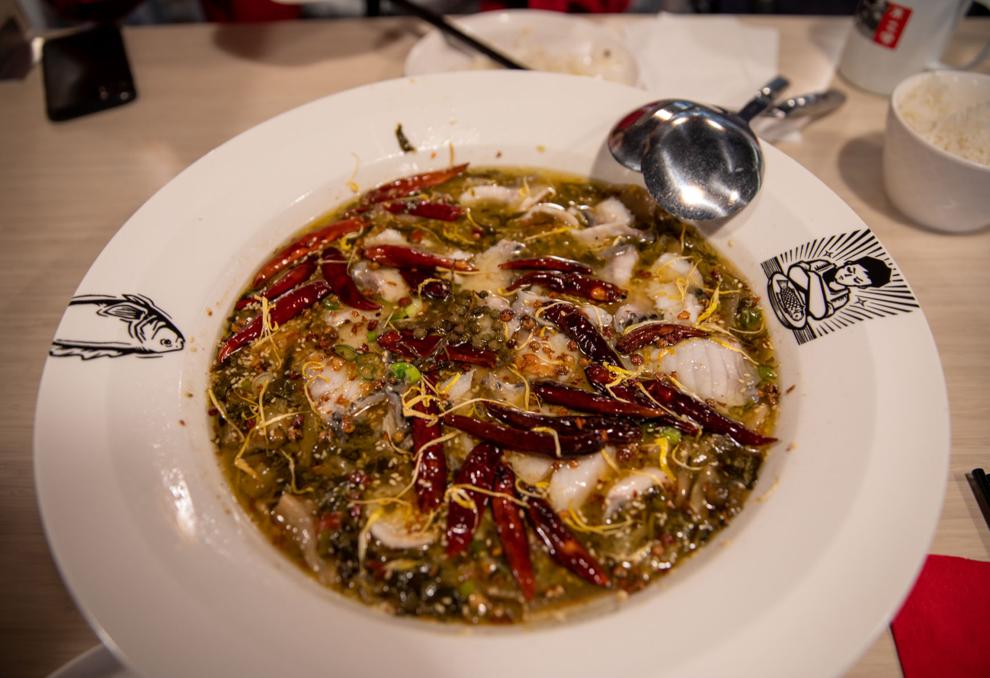 Alright, the time has come. I know many of us here at the UW have walked past the location which used to be that more expensive yet far worse version of In-N-Out and seen the sleek red letters that read "Chinese," "Sauerkraut," and "Fish." The first reaction is confusion: "Is it, like, German and Chinese fusion?", "Do they only sell Sauerkraut and fish?", "How did CaliBurger stay in business so long being the worst burger on the Ave?"
Buerjia Chinese Sauerkraut Fish is a growing chain in Seattle and the Bay area which serves Chinese sauerkraut fish, a popular dish consisting of Sichuan hot and sour fish soup, as well as some hot and cold appetizers. The sauerkraut refers to pickled whole cabbage leaves included in the soup, rather than the shredded pickled cabbage that accompanies a German brat. As the name suggests, the fish soup is the only main dish on the menu. 
In other words, when you go to Chinese Sauerkraut Fish, you are going to eat Chinese sauerkraut fish. If you don't want that and would like to get a different dish, hop, skip, and jump on over to any other restaurant. 
In the restaurant, the Godforsaken CaliBurger's large television now plays the hype-video of the Buerjia Chinese Sauerkraut Fish, which between close-ups of China, fish, and sauerkraut, offers some back story, as noted in a Seattle Times feature on the restaurant chain. The tilapia fish used for the soup comes in every week from a farm in Idaho that, due to its placement on a geothermal vent, can easily farm the warm water fish. Because they're shipped alive, it ensures each bowl has amazingly fresh fish. Other than the fish, everything else is shipped in from China to ensure authenticity. In a pond of forgettable Ave restaurants, it's nice to see one place become the big fish — the big Chinese sauerkraut fish, that is. 
The slightly more upscale atmosphere is understandable considering the smallest soup, which serves one to two people, will run you back $36. Although I never trust serving sizes, you can be confident that the small is more than enough for two, which will lighten the hit to your wallet. 
The staff is friendly and energetic, and will guide you through the process of wrapping your head around the titular dish and all of its components if you are nervous because it is your first time and you usually wouldn't do something like this on a first date.
So, before I get into the actual taste of the food I would like to make some clarification for those who have not had this type of cuisine before. The best way to enjoy the dish's full flavor profile is with all its original components, including chiles and Sichuan peppercorns. 
If you have never had Sichuan peppercorns, you may notice a strange tingly sensation on your tongue as you eat the soup; that is called numbing spice. Due to a molecule in the peppercorns called hydroxy-α-sanshool, this numbing sensation is used in order to enhance the aromatic properties of hot spices without overpowering other flavors. Could CaliBurger ever dream of doing that? No.
So, what's all this hoopla about some soup in a bowl? What's the deal with focusing your whole restaurant on one dish? Can the dish really be good enough to sustain rent in an area of ever increasing frequencies of closure among inferior businesses? Yes. The soup is that good. Right off the bat, the broth is oily, warm, and sour. It's not so sour, however, that you have to tap out after a few bites.
As mentioned above, a bite with the Sichuan peppercorns, which are quite liberally applied throughout the dish, chiles, and a piece of fish, made me the happiest I've been since I dropped my STEM degree as a senior. The French boast about subtlety of flavor, having notes create the picture rather than sweeping brush strokes. It is the depth in which the art of cooking resides. 
Nope. Not today baguette boi.
These flavors jump at you; they lash out while the silky smooth consistency of the fish holds this circus together. The heat, numbing, sweet, and sour flavors are constantly punching each other in the jaw. No single component is subpar, and with all of them together, each bite awards you the opportunity to choose your primary focus. You even forget that on the big screen there is a Chinese sword swallower on fire. That is the power of this soup.
There are a number of possible add-ons, but they are relatively pricey so I would stick with one or two add-ons max. I get the mushrooms for that extra kick of umami chewiness and the thick starch noodle. 
When you start slowing down and the sun is setting on your meal, you may feel contemplative. Perhaps quizzical. You may ask yourself "how is everyone not coming here?" or "why was I so scared initially?" or even "remember that time CaliBurger charged me $9 for an over salted burger and never apologized?" 
Well, now you too can join the movement.
Yes, these powerful flavors are not everyday eating fare. But, in the back of your mind, you now know that when life feels dull or winter has you down, when you need some excitement, there is one place in town. It's some fish soup for the soul. That is all. 
Reach writer Charlie Kappes at arts@dailyuw.com. Twitter: @cjkapp
Like what you're reading? Support high-quality student journalism by donating here.