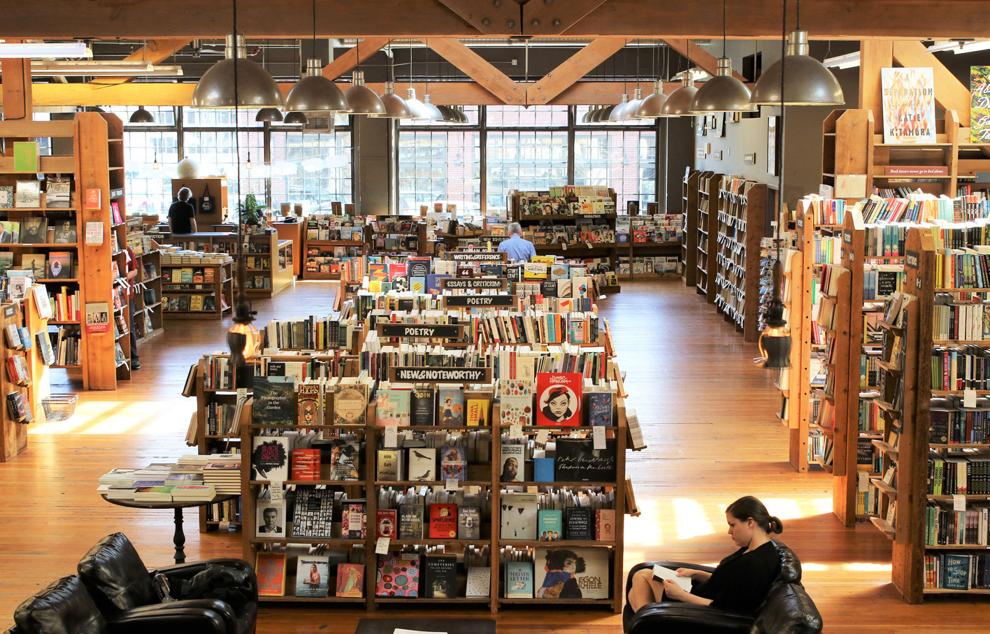 Saturday, April 28 will mark the fifth annual Independent Bookstore Day, a national event celebrating thousands of booksellers across the country. 
While once brimming with customers, bookstores, especially independently-owned and managed stores, are often at risk of going under in the face of online shopping giants, most notably Seattle-based Amazon. 
"It's basically like we're manufacturing buggies in the time of the Model T," Jamie Lutton, owner of Twice Sold Tales, explained how it feels to run an independent bookstore in the 2010s. 
Lutton highlighted how independent bookstores today often deal with "showrooming," a practice where customers browse and photograph appealing books at stores before turning to the internet in search of said books for lower prices.
"We'll have people out here waving books around yelling 'Harold! Look! We can find this for way cheaper on Amazon!'" Lutton said. 
Despite the challenges faced by independent bookstores, events such as Independent Bookstore Day serve to grant these unique institutions the recognition and customer base they deserve.
In honor of Independent Bookstore Day, The Daily has compiled a list highlighting a few of the independent bookstores, in the University District or a quick light rail ride away in Capitol Hill, which contribute to Seattle's unique and thriving literary scene. 
Twice Sold Tales
1833 Harvard Ave. Seattle
Twice Sold Tales has been a staple of the Seattle used book scene for 30 years. 
"It was best in the '90s," Lutton said. "Back then we'd stay open past midnight and have people wandering in, buying books after hitting up the bars." 
Indeed, with its messy piles and four very friendly cats, this eclectic haven speaks to an era which feels quite distant from the fast-paced, technology-ruled Seattle of today. That being said, Twice Sold Tales remains an icon and crucial feature of the Seattle landscape, with its overflowing shelves of paperbacks, history, literature, poetry, and pretty much any other genre imaginable. It even features a rather extensive collection on the occult in addition to several locked shelves featuring rare and signed first editions. 
Elliott Bay Book Company
1521 10th Ave. Seattle 
In 2010, when Elliott Bay Book Company was forced to relocate from its iconic Pioneer Square location, many feared the beloved independent bookstore would lose its soul. Seattleites need not have worried, however, as Elliott Bay remains a beacon in the Pacific Northwest's independent book scene eight years later at its current Capitol Hill location. Now in its 45th year, Elliott Bay continues to draw customers into its airy and welcoming interior, for both the store's vast array of books and the many community events it holds. 
Horizon Books
1423 10th Ave. Seattle
Horizon Books was established in 1971 and feels like it. This basement business in Capitol Hill, featuring an entry hall framed by Douglas fir branches, art by Seattle legend Henry, and an array of Cascadia memorabilia, is homely and strange all at once, in the best of ways. Pick a book on Buddhism, maybe the Rolling Stones, or Plato, and sink into one of the shop's inviting afghan-clad chairs for some reading. 
If you're lucky, you may even get to meet the store's owner, Don Glover, who still avidly collects books for sale at this whimsical bookstore after 47 years. 
For Independent Bookstore Day, Horizon Books will be hosting Wesley Irwin and Ryan Henry Ward, who will be signing copies and reading their children's book "King Tiny Hands."
Magus Books
1408 NE 42nd St. Seattle
Behind an ivy-covered facade just off the Ave, this gem of a used bookstore is currently celebrating its 40th year in business. Browse narrow aisles framed by shelves extending well above eye level and peruse piles of records, postcards, and notebooks, all under the watchful eye of this quaint shop's iconic crow statue, perched atop a shelf. Make sure to also check out Magus' collection of foreign language books.
University Book Store
4326 University Way NE Seattle
While regarded by many students as the lair visited thrice yearly in search of outrageously expensive textbooks, the University Book Store, with its three floors of books, art supplies, and technology, has proved an integral feature in the Seattle community for over 100 years.
Opened initially as a small student store in 1900 and having occupied its current address since 1924, the University Book Store truly is a historic Seattle institution. According to its website, the U Book Store "leads all college stores in the sale of books and supplies" and "is one of only a few that are organized as independent, tax paying corporations with direct student involvement on the board of directors."
The U Book Store boasts an extensive children's section and several fully-stocked shelves dedicated to the latest and greatest YA fiction. 
The event schedule for Independent Bookstore Day at the University Book Store can be found on their website.
The full list of Independent Bookstore Day participants in the Seattle area can be found in the Seattle Time's article on Indie Bookstore Day.
Reach writer Sophie Aanerud at arts@dailyuw.com.
Twitter: @thesraanerud