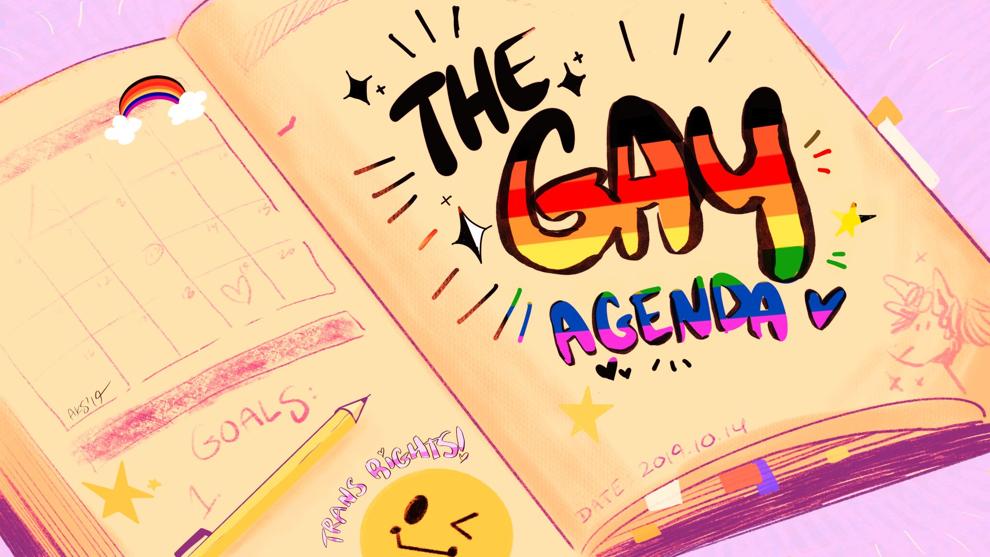 Editor's note: The Gay Agenda is a column about LGBTQ experiences and issues. 
Modern interpretations of witches often depict them with cats. And who else stereotypically has lots of cats? Lesbians. 
There are actually deep historical and cultural ties between witchcraft and lesbianism. 
Witches defy gender norms. They work for themselves, wear odd clothing, and aren't traditionally feminine. A large part of lesbianism, especially for butch lesbians, is shirking the stereotypical images and ideals of womanhood. 
In a recent Reddit survey on r/udub, 39 people responded that yes, witchcraft is inherently gay, 17 replied no, and 51 respondents had no opinion. 
"[I've] never met a straight witch," Reddit user threetiredbicycle commented. 
Historical cases of witches, like those in Salem, were women accused of witchcraft because they were different from Protestant women. Women of color, women practicing sexual deviance (e.g., lesbianism), and women who rebelled against gender norms were targeted. 
Possibly due to this history and the desire for female power, witchcraft was popular in second-wave feminism, as seen in the formation of W.I.T.C.H, the Women's International Terrorist Conspiracy from Hell. The second wave of feminism focused on growing beyond the housewife image of the 1950s. Witchcraft was a source of control, freedom, and expression for people in the '60s and '70s. 
Today, witchcraft is still used as a form of resistance. Witches have cast spells against President Donald Trump and Brett Kavaunagh in recent years. This power and resistance can be an appeal to LGBTQIA+ people, who have been facing discrimination and attacks under the current presidency. 
The tie, however subtle, between lesbianism and witchcraft has also been present in the media. 
In the recent Netflix film "The Old Guard," two female characters are accused of witchcraft during a witch hunt in England. While captured, they share tender looks and words that some viewers took as signifying a romantic relationship. While not overtly gay (and the characters weren't even really witches), situating this moment in a time and setting of witchcraft was a deliberate choice by the creators, one that linked lesbianism and witchcraft in the audience's mind. 
"Buffy the Vampire Slayer" used witchcraft to show and build the relationship between Willow and Tara when up against restrictions on how intimate the characters could be with each other. 
In "The Little Hours," a convent of nuns routinely have sex with each other. It is later revealed that some of the nuns are actually witches. 
The UW club Gal Palz even has a witchcraft channel on their Discord server. It is a space for practitioners of all levels to share experiences, discuss astrology, and be gay for witches. Witchcraft is a place of inclusion and accepting uniqueness, making it a welcoming place for LGBTQIA+ people. 
And, however depressing, there is a connection of a history of persecution between witches and lesbians. This isn't to say that other LGBTQIA+ people don't experience persecution, but people were accused of witchcraft for defying gender norms, sleeping with women, and being heretics. Pretty lesbian. 
But what about bi and pan witches, as Reddit user threetiredbicycle reminded me. Witchcraft can hold importance and connection to bi and pan people as well, but the fundamentals of it are more closely linked with lesbianism. 
Witchcraft, of course, isn't just for lesbians. It's for people of all genders and orientations, but its aesthetic, history, and representation are rooted in lesbianism. 
Reach columnist Eddie Milton at wellness@dailyuw.com. Twitter: @eddiemilton253 
Like what you're reading? Support high-quality journalism by donating here.