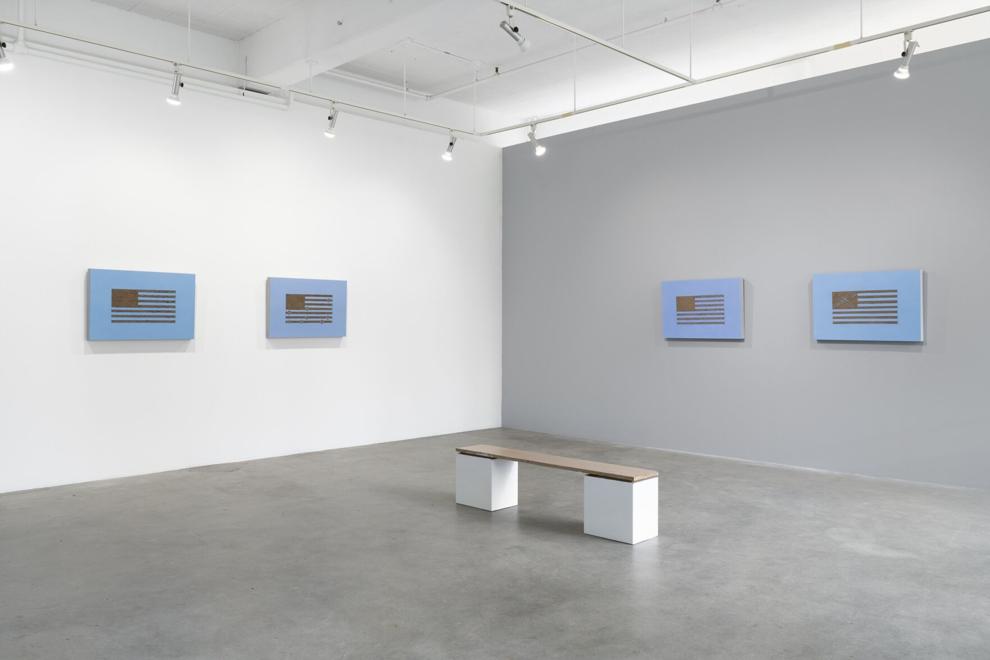 As a drone hovers over the empty pool behind the George Washington Carver Museum in Austin, Ariel René Jackson and Michael J. Love interact with an American flag stenciled with soil. The 5-minute performance called "Descendance," in which Love tap dances and Jackson follows with brush strokes, is overlayed with an original score by jazz musician Joe Dyson Jr.
According to a press release from the UW School of Art + Art History + Design, Jackson is a 2021 Jacob Lawrence Legacy Residency and film-based multidisciplinary artist whose work "explores ideas of lineage and generational change." 
The video, accompanied by two-dimensional panels, is on display at the Jacob Lawrence Gallery (JLG) through Feb. 23 for appointment-only viewings, as a part of Jackson's residency.
"It's nice to have funding, especially whenever you're working with an institution," Jackson said.
Jackson briefly spoke on the benefits that come with residency — albeit a remote one — though the conversation soon shifted to a discussion on the process that went into creating the piece with Love, an interdisciplinary tap dance artist.
According to Jackson, they created "Descendance" as a dissection of embodied experiences and the relationship Black people have with the United States, asking the question, "How do you think about your country that enslaved your ancestors?"
Jackson and Love consider themselves "descendant[s] of this really fraught, violent, and toxic relationship with a country that thinks we are better off as dead, or enslaved," Jackson said, hence the title of the work.However, the play on words within the title isn't as simple as it may seem.
In the video, the artists question what they have inherited from this generational trauma that extends into every aspect of their culture. Jackson and Love said they are opening the door for conversation and examination surrounding Black people's identity in America.
The aerial drone footage aids Jackson's vision of using the American flag to symbolically represent the harmful culture in the United States, which they and Love are metaphorically redefining and recreating through tap dance and brush strokes.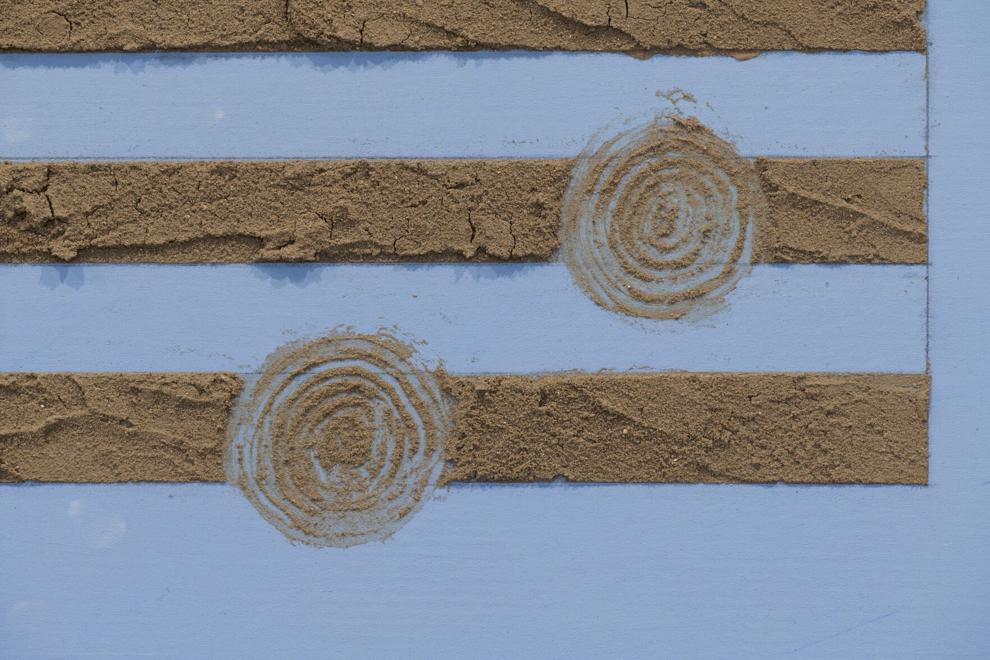 Despite tackling topics that may be viewed as objectively damaging to a culture, Jackson clarified that their work is "always an exploration of a complicated understanding of joy." 
"I do believe in having a level of play, and a level of references," Jackson said, explaining how they approach their work with a fairly "heady mindset," leaving room for the desired conversation on broader themes to transpire after the piece is made.
Although the piece is largely improvisational, extensive planning ensured the performance flowed well.
"Each time we do a project, there are parameters that we set," Jackson said. "For Michael, it's getting from point A to point B … for me, it's … creating a pathway for Michael and creating these points for Michael to hit visually. It's like we're putting together a composition, and then we're playing a score."
This style of work is evident as Love prances and slides along the stripes of the American flag while Jackson follows closely behind, making circular shapes with a broom-like tool.
"The play is where all of the connections just kind of present themselves, like one of them being ... the pool — I mean, there's a legacy of Black people not being allowed to be in a pool, having acid thrown into the pool," Jackson said. "It's historically and forever a symbol of death, a symbol of disruption, a symbol of severing, [and] also a symbol of birth."
An example that Love gave was the gentrification of East Austin, which he described as a historically Black part of the city.
"Most of the Black population in Austin has been pushed out, basically up to the northern suburbs of the city," Love said, noting that the Carver Museum happens to be in East Austin.
Although these connections weren't entirely intentional in their planning and aren't fully discernible through the pixels of the video, the broader themes and ideas that arise as a result of the viewing experience are exactly what Jackson and Love sought to achieve.
This is not Jackson and Love's first project together, and it shows. "Descendance"existsin conversation with some of their earlier collaborative pieces, such as "Carver's Message in Blue," in which Jackson and Love again perform atop a soil-made American flag, but this time to a recording of George Washington Carver reciting his favorite poem "Equipment."
Jackson and Love will be participating in a panel discussion Feb. 23, in which they will reflect on and consider the themes present in "Descendance."
Reach contributing writer Grace McGuire at arts@dailyuw.com. Twitter @grace__mcguire.
Like what you're reading? Support high-quality student journalism by donating here.