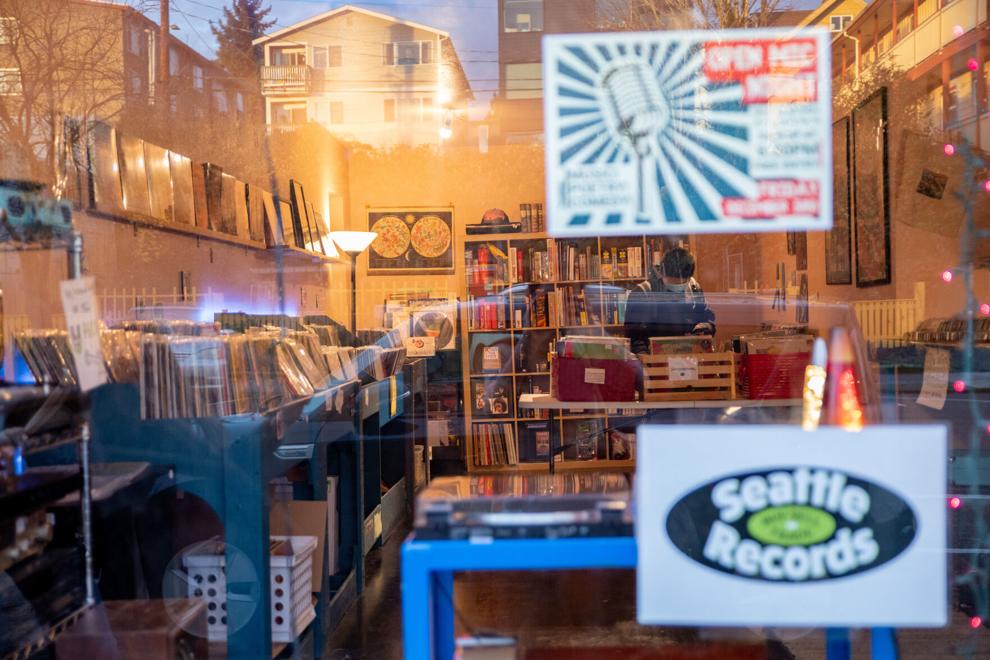 In January, vinyl collector and business owner Ken Tomkins moved into a space on the north end of the Ave that would soon become Seattle Records, a store specializing in vinyl and multilingual books. 
With only a fraction of students living on campus during the 2020-21 school year and the continued digitization of so many aspects of life, businesses in the U-District were hurting. However, aided by the recent vinyl revival and a massive collection of inventory, Tomkins took to the Ave in search of a space that would spur community gathering.
Prior to opening the storefront, Tomkins sold records and books online via e-commerce sites like Amazon. Among his concerns were the isolation and high fees associated with online sales. After six years, Tomkins made the transition to a physical store, hoping to create a space that could serve as a meeting place instead of just a retail shop. 
"It's good to have physical places," Tomkins said. "People need physical reality, not just online."
When Tomkins first got the space, he used it as an office, then eventually transitioned it to a storefront. Initially, the store was only open on Saturdays during the University District Farmers Market, but after receiving positive feedback from the community, he chose to expand even further. 
On Oct. 19, the store moved to a larger space on the Ave in order to accommodate their growing inventory. The store carries vinyl, CDs, cassette tapes, multilingual books, clothing, record equipment, and assorted collectibles. In the new space, Tomkins plans to increase the store's apparel, which starts with printing Seattle Records T-shirts and tote bags. 
The store specializes in used records, allowing it to keep a unique selection on hand and to easily coexist with other retailers in the neighborhood. Seattle Records is the U-District's third record store, joining Neptune Music Co. and Al's Music, Video, & Games.
Hans Fluegel, co-owner of the newly opened Royal Records, noted the resurgence of physical records as well. 
"Within the last 10-15 years, vinyl has come back and it just keeps coming back," Fluegel said. "We haven't hit a peak yet."
With vinyl sales still on the rise and in-store performances starting up once again, new record stores like these are taking advantage of the increased demand. 
While their old space was only built to fit small performances from DJs, the new Seattle Records setup is conducive to hosting more substantial events. Tomkins gestured to an open space behind racks of clothing.
"We want to let people know the space is available for collaborations," Tomkins said. "They can sing here, read poetry here, [do] comedy." 
Just as the store offers a variety of products, it also hopes to facilitate a variety of events and performances. Tentative plans include art classes for kids, chess lessons hosted by the store's owner, and in-store performances by local bands, DJs, and comedians. 
The former space sported an understated exterior, but the new and improved one makes the shop hard to miss. The storefront is a deep yellow covered with electric blue doodles of invented characters, complementing the fence of Shiga's Community Garden across the street. 
The art outside the store was a collaborative effort led and executed by Ben Root, a musician and employee at Seattle Records. He orchestrated the store painting and made sure it was a community event. Root pointed out different characters on the wall and their inspirations: a drawing of a ghost recommended by a friend, a frog from a coworker, and a character inspired by the sketches of a child who had stopped by the store. 
With its prime location in the heart of the U-District, Seattle Records is hoping to cater to a student demographic. Tomkins is aided by his two full-time staff members, Root and Katrin Kjeell, vinyl collector and current fourth-year at UW. 
"I think this has the potential to be one of the most inclusive, well-rounded creative spaces in the city," Root said. "Especially since we're right near UW." 
Though the team at Seattle Records is small, they demonstrate a commitment to the future of the store. 
"We really value customer experience and want to get people good music," Kjeell said. "I'm looking forward to seeing this place flourish."
This sense of community with other retailers, combined with a passionate staff, a massive vinyl collection, and a series of upcoming events, spells a bright future for the U-District's newest gathering place. 
Reach contributing writer Caroline Carr at arts@dailyuw.com. Twitter: @carolinejcarr
Like what you're reading? Support high-quality student journalism by donating here.