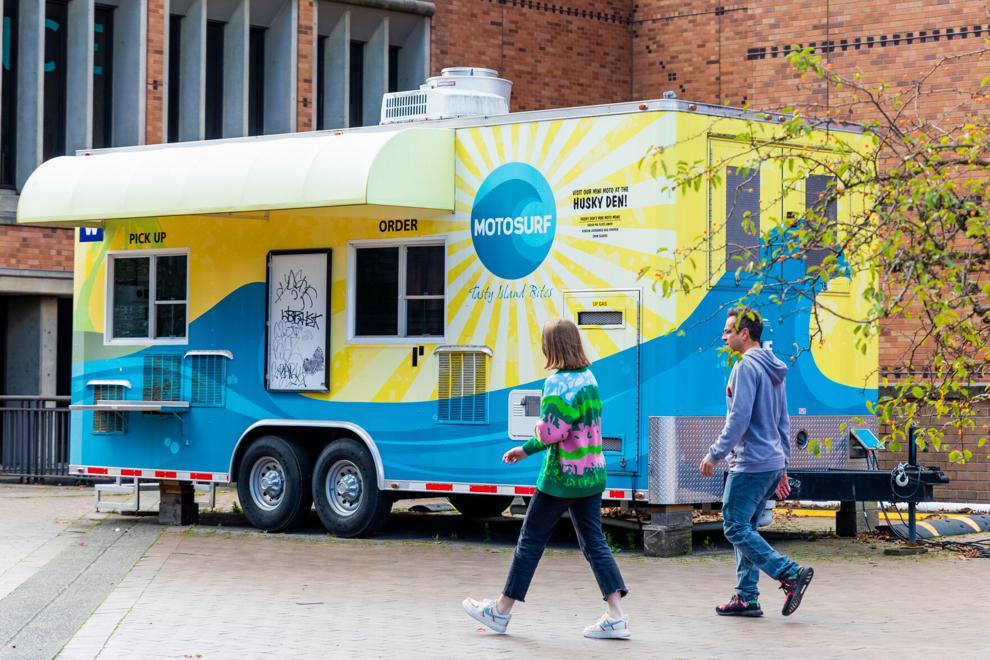 For those who have been on campus before, several options are noticeably missing from UW's gastronomic scene.
Though students, staff, and faculty were welcomed back on campus this fall, UW Dining's food trucks and their long lunchtime Red Square queues did not return with the rest of us.
The food trucks, which have been a campus staple since 2011, were once parked in Red Square, the HUB Lawn, and other culinarily-underserved areas on campus.
"We brought the food trucks/trailers online when the first remodel of the Husky Union Building was underway," Tracey MacRae, UW campus executive chef, wrote in an email.
MacRae said the food trucks were brought to campus to give students dining options while the Husky Den was closed.
However, the trucks remained even after the HUB reopened.
"Once the HUB reopened in [f]all of 2012, the food trucks were such a hit with students we opted to keep them in Red Square where some of them remain today," MacRae said.
Before the pandemic, UW Dining's food trucks included Hot Dawgs, a hot dog cart; Sunrise Griddle, which served breakfast foods; and Motosurf, a Hawaiian-inspired plate lunch trailer with a food court counterpart in the Husky Den.
Previous concepts included a barbecue truck and a taco truck, which were closed due to a lack of popularity.
Housing & Food Services (HFS) is taking this time to introduce new food concepts to the food trucks, and is in the process of rebranding the Sunrise Griddle mobile truck.
"We have currently rebranded the Sunrise Griddle to a Mobile Dining Unit which will offer a quarterly rotational menu," MacRae said. "We are tremendously excited about offering this new concept."
In addition, HFS decided to close their Hot Dawgs cart, citing poor sales.
"We have tried to make hot dogs as appealing as possible with fun toppings and different size choices," MacRae said. "They have never taken off as a popular choice."
The food trucks offer different menus than their dining hall and Husky Den counterparts, due in part to the limitations of cooking in a truck.
"On a food truck/trailer there is limited space and capability in terms of cooking, which varies greatly from our large commercial kitchens," MacRae said. "Additionally, there are constraints on what can actually safely be heated and served from a food truck/trailer, per Environmental Health & Safety."
Because of these constraints, the two Motosurf locations, though branded the same, have totally different menus.
Currently, HFS does not have a specific timeline for when the food trucks will return, but says they are committed to bringing them back.
"Ideally all of the food trucks will resume operations once our labor shortages have been resolved," Dan Faires, HFS assistant director of retail, said. "We are actively working to find adequate staffing."
That being said, HFS has a long list of alternatives, including fine dining establishments like Local Point or Orin's Place, if Lander Hall and Paccar Hall are your vibe.
Reach writer Timothy Phung at arts@dailyuw.com. Twitter: @TimPhung
Like what you're reading? Support high-quality student journalism by donating here.