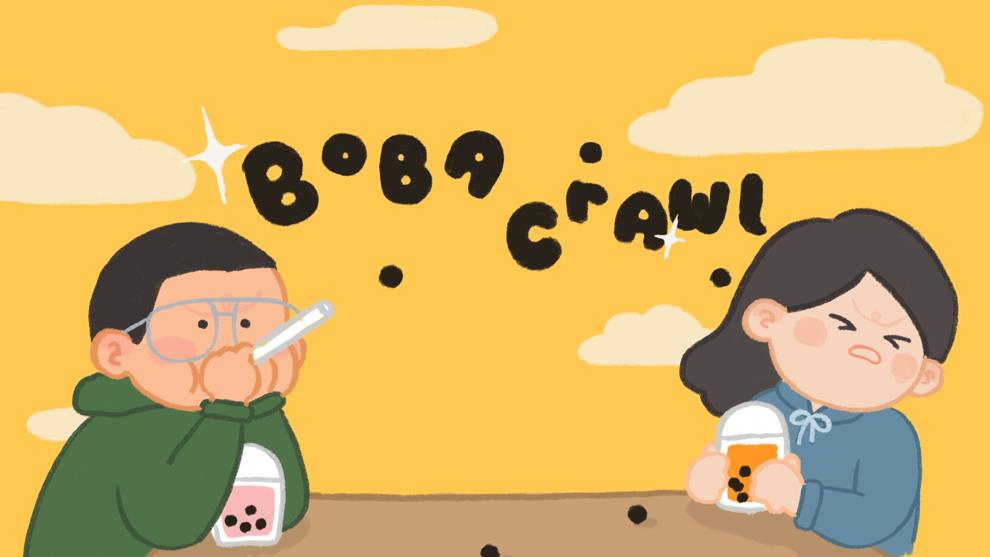 Editor's note: "Boba Crawl" is a series that reviews the many boba haunts on the Ave.
There's one really big issue that comes with trying and reviewing every boba place on the Ave: the Type 2 diabetes that runs through my mom's side of the family. But it is significantly more important that you and the greater UW population know which boba place is the best as we return to campus. So as always, I am charged with suffering for the benefit of the masses.
Ground Rules
Before we get started with the actual review, let's lay out some ground rules, so that my review of each place will be consistent. 
First, I'm going to get the same drink each time: a black milk tea with half sugar, less ice, and boba. While some places may call this a traditional or classic milk tea, they are all made with black tea, creamer or milk, and boba.
Second, I'll be going to each boba place at around the same time of day and the same day of the week — Thursdays at around 6 p.m.
Lastly, I'll be rating each boba place on a 1 to 10 scale based on four factors: tea quality, boba quality, price, and ambiance. 
For this week, we'll be covering two solid picks — Sharetea and Ding Tea, both located on the Ave near 50th and across the way from each other. 
Sharetea
Let's start with Sharetea, one of my personal go-tos for boba. While I normally enjoy their green milk tea with less ice, 30% sugar, and a scoop of ice cream, I was relatively disappointed by their black milk tea. It tasted more like cold milk and brown sugar than it did tea. The boba quality was fairly average as well. It wasn't too hard or too squishy, and it was just sweet enough from soaking in the brown sugar. 
While I didn't like the black milk tea, Annie Xu, a sophomore at the UW, prefers it at most places she goes to for boba.
"Definitely [my go-to] is just a classic milk tea with boba," Xu said. "Today I got an Okinawa brown sugar milk tea, so it's a little different."
Besides that, Sharetea's price and ambiance were both solid. The price was average, just $6 and change for my drink, but the store ambiance was really nice. With tons of seating, a bathroom available for customers, and an aesthetically pleasing wall meant specifically for taking pictures with your boba, Sharetea hits the mark everywhere else. 
Overall, I'd give Sharetea a 7/10 for their boba, 5/10 for their tea, 7/10 for their price, and an 8/10 for their ambiance, for an average score of 6.75/10.
Ding Tea
Let's move on to Ding Tea. While this place isn't exactly my go-to for boba, I've never been dissatisfied by what they have to offer. Normally I'd grab an Oolong milk tea with half sugar, half ice, and boba, but I was quite pleased by their black milk tea. Compared to Sharetea I could actually taste the black tea in the drink. The tea mixed well with their quality boba that's golden-colored compared to the standard black pearls, and nothing about the drink was disappointing. It's also important to note that Ding Tea offers different sizes, something that's rare for boba places, and also really helps out with the price point.
Gustavo Hernandez, a senior at the UW, would agree with Ding Tea's quality.
"I really like black tea, so for me, out of all the boba places that I've gone to, [Ding Tea] is the place where it's the best quality or the best taste for my personal tastes," Hernandez said. 
I enjoyed Ding Tea. While you can't stay in the store after you receive your drink, the tea makes it worth it.
Overall, I'd give Ding Tea a 7/10 for their boba, 8/10 for their tea, 7/10 for their price, and 6/10 for their ambiance for an average score of 7/10.
Reach Development Editor Kyle Bender at arts@dailyuw.com. Twitter: @avatar_kyle 
Like what you're reading? Support high-quality student journalism by donating here.