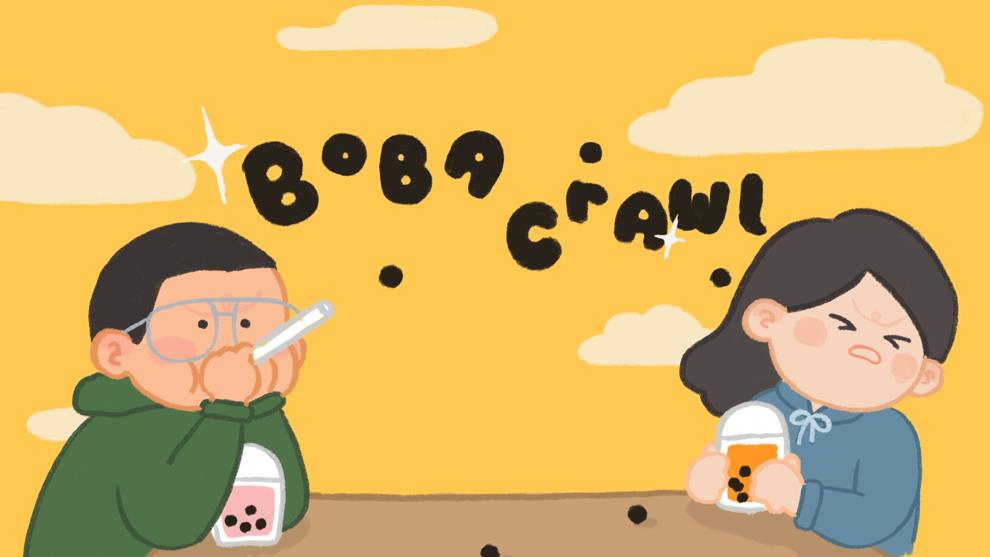 Editor's note: "Boba Crawl" is a series that reviews the many boba haunts on the Ave.
Alright you boba fiends, it's time to break all the rules.
I know that the beginning of last week's boba crawl was dedicated to establishing the stringent, steadfast rules that this entire series would adhere to, lending a scientific nature to my reviews of each boba joint, but why have rules if you're not going to break them right after establishing them? 
While I do feel guilty for not visiting either boba place on a Thursday around 6 p.m. or not getting the required black milk tea at one of this week's spots, at least the rating system is the same.
So for this week, my sweet little tapioca balls soaked in brown sugar, we'll be covering the freshman year classic spots, Boba Up and Oasis.
Boba Up
Boba Up holds a very strange spot in my heart. Back in high school, I used to work at the local Lynwood boba shop, where making my weird monster of a drink at the end of a Friday night closing shift was always a comfort. 
While Boba Up, one of the few joints that allow you to build customized drinks, brings me that same sweet comfort of creating a monster of a drink, those monster drinks also remind me of high school, something I wish to avoid at all costs.
Despite this one minor gripe I have with Boba Up, I was oddly surprised by what they had to offer. First off, Boba Up's drinks can be heavily customized, allowing you to pick your drink size, what kind of toppings you get, and what teas or slushies you put in your cup. For second-year student Liese Watson, the ability to mix flavors and put your own spin on a drink was a huge plus.
"I'm a really big fruit tea person, so I love lychee jelly or popping boba," Watson said. "Today I got the strawberry cumquat, which was really good. So any fruity, strawberry, lychee, or peach [flavor] is really good."
Boba Up offers three different sizes: small, regular, and jumbo, which really helps with the price point, with a small starting at about $4.50 and the regular adding another dollar on top of that.
On top of the great price point, Boba Up's tea was surprisingly good. While I was there, I got a regular sized taro smoothie with a splash of green tea in it with regular boba. Though I found the taro smoothie to add a bit too much creaminess to my drink, it's totally something that I can change on my next visit by adjusting the ratio of taro to green tea. Along with their multiple options for toppings and really solid boba, I was not disappointed with my drink.
However, the most impressive aspect of Boba Up was the store's ambiance. With plenty of seating, board games available for customers, a banger playlist that isn't too distracting, and oddly nice lighting, Boba Up's ambiance takes the cake. It's fun, but doesn't distract you from the conversation you're having with friends.
Overall, I'd give Boba Up an 8/10 for its boba, 7/10 for its tea, 9/10 for its price, and a 10/10 for the store's ambiance for an average score of 8.5/10.
Oasis
Next up, let's take a look at another classic, and the first boba place I ever went to: Oasis. While Oasis isn't really a place that I frequent, they surprised me in multiple ways.
Though Oasis doesn't offer self-serve custom boba like Boba Up, they do offer different sizes to pick from — a new addition since I visited them last, which is a huge help for the price point. 
Luckily when I visited Oasis, I got the Boba-Crawl-required black milk tea with half sugar, half ice, and boba, and was extremely impressed by their tea. It was flavorful and didn't taste too much like plain milk.
Along with their excellent tea, Oasis had particularly good boba. It was chewy, not too soft to fall apart, and the brown sugar flavor from the boba really helped round out the drink without getting in the way of the tea flavor.
Oasis' strongest aspect, much like Boba Up's, was its ambiance. Oasis has a ton of seating, with a balcony above the kitchen and a view that lets you look at the entire store, along with a wide variety of board games for customers to choose from. 
Second-year student Penelope Grimaldi best summarized the pluses of Oasis.
"The atmosphere is groovy, everything on the menu sounds good, and the boba is top tier," Grimaldi said.
Overall, I'd give Oasis a 7/10 for its boba, 8/10 for its tea, 8/10 for its price, and 10/10 for its ambiance for an average score of 8.25/10
Reach Development Editor Kyle Bender at arts@dailyuw.com. Twitter: @avatar_kyle 
Like what you're reading? Support high-quality student journalism by donating here.