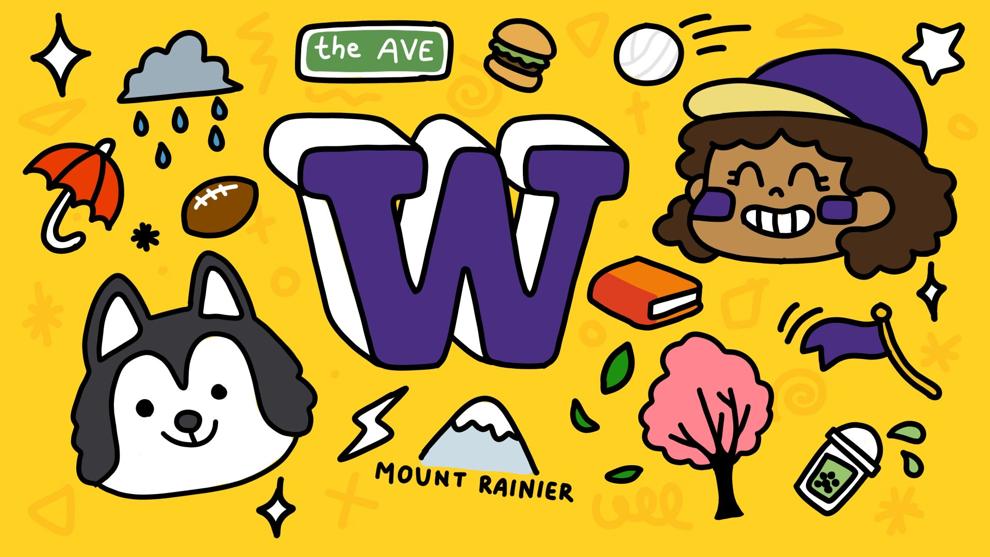 Editor's note: "College-ology" is a weekly column discussing the sociology behind college-related activities.
Walking around campus on any given day you are bound to see numerous students wearing Husky merch, and maybe some parents and alumni too. But why is this? What makes repping a college more appealing than, say, repping a high school?
Clothing, in general, is an important part of self-expression.
"Clothing is a classic identity-signaling product," Mark Forehand, a professor of marketing in the Foster School of Business, said. "What we choose to wear sends an overt signal to people about who we are, what we think is important, and our attitudes."
According to Forehand, college merchandise signals membership within a group, which can provide psychological value to students, alumni, and parents. It incorporates college students into the larger campus community.
This sentiment was echoed by Zachary Banken, a third-year student, when asked why he was wearing Husky merch. 
"I saw this at Costco when I was shopping with my parents and I was like 'Oh, I'm going to the University of Washington, so I should get some merch so I look like a student,'" Banken said.
There's a second part to this logic: if college merch is so popular because it signals membership in a group, why isn't it common for people to wear merch from their high school or middle school?
"The reason for that is likely that colleges and universities are known beyond the immediate set of people who attended them," Forehand said. "If you wear something that says you went to Harvard or you went to UW or you went to any particular university, other individuals are going to know something about you that's meaningful."
Another possible factor in this phenomenon is that colleges typically take more work and investment to get into than high schools — at least public high schools.
"By and large, we aren't admitted to high schools in a competitive process like people are admitted into colleges and universities, and so there's a sense of achievement that many people have in simply having been accepted to a college or university, and they don't have that same connection to a high school," Forehand said.
Banken agreed that students often have a fondness for their college.
"They're proud of the school they're going to and they want to represent the school," Banken said.
Parents often wear merchandise from the college their children attend for similar reasons.
"With parents, you have another factor there which is the extended self — individuals and brands that we self-affiliate with, that we derive some perceived social status from — and so with parents, if their children are successful, that reflects well on them as parents," Forehand said.
Banken also mentioned football, citing the Washington football team as a reason for the popularity of UW merch. Forehand, likewise, referenced a study by a group of researchers including psychologist Robert Cialdini to demonstrate this concept. The study addresses a phenomenon called "basking in reflected glory." 
"The basic idea is that when an institution is held in a positive regard, people are more likely to wear things [that represent that institution] than they are if it is less held in high regard," Forehand said.
In the study, Cialdini evaluates how many students on a college campus wore college merch after the football team won or lost. Unsurprisingly, students were more likely to rep their school if the football team had just won. 
Given the many emails that UW students receive from the bookstore, I was also curious about how marketing plays a role in the popularity of college merchandise. Forehand provided an unexpected answer.
"I'm sure there are numerous cases of clever marketing of college merchandise, but the bottom line is if someone doesn't want to signal that identity, no amount of clever marketing is going to get them to do it, and if they very much want to signal that identity to others, very little clever marketing is necessary to get them to purchase it," Forehand said.
Reach columnist Samantha Ahlhorn at arts@dailyuw.com. Twitter: @samahlhorn
Like what you're reading? Support high-quality student journalism by donating here.