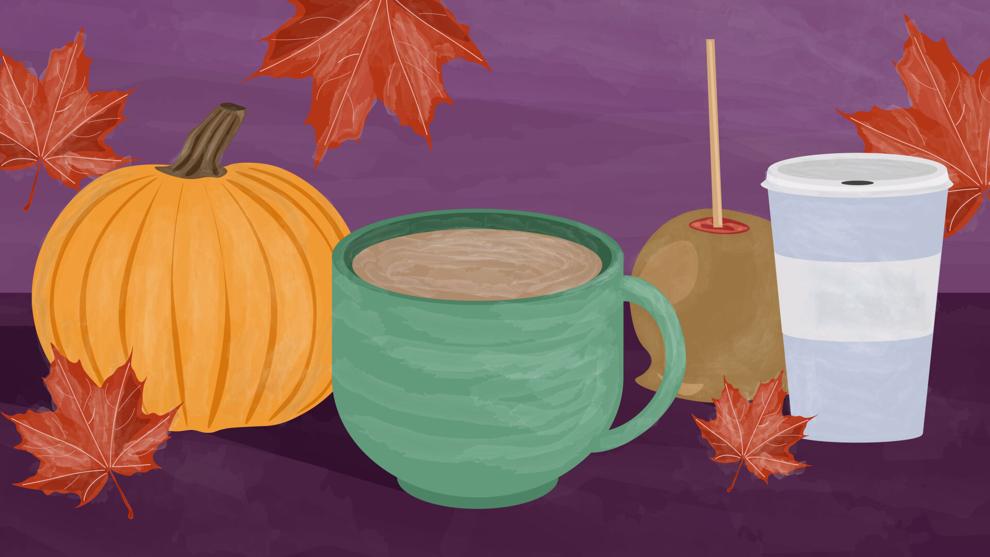 With the fall season fully in motion, it's time to turn towards the important things in life: seasonal drinks. So, I spent a week trying as many fall drinks on the Ave as I could handle to provide you with my honest critique.
I would like to mention that I normally drink my coffee with oat milk because dairy and I don't always agree with each other. However, in order to get the most accurate results on my reviews, I sacrificed my own well-being and refrained from ordering my drinks with alternative milk. I hope you all appreciate my commitment to the task. 
Now let's get into it. 
My personal favorite place is Café Allegro, partially because of their spacious upstairs seating area, but mainly because they use two espresso shots in almost all of their coffee drinks. Naturally, I was excited to try their current specials.
I started off with a fall classic: the pumpkin spice latte with housemade sauce. It has a nice amount of spice to it, though the actual pumpkin flavor is subtle. The drink isn't overly sugary, so if you're not usually into flavored syrup coffee, this one might be a good starting point. I then tried the Mexican mocha with housemade spiced chocolate. I'm usually not a huge mocha fan, but this one really impressed me. The chocolate flavor is rich and slightly sweet and balances well with the coffee. The seasonal spice in the chocolate gives the mocha a lot of depth.
On the other hand, their brown sugar cream cold brew is the perfect autumn drink for iced coffee lovers. It is a bit sweeter than the other coffees here, but the coffee flavor is still apparent. Brown sugar is a cozy flavor for autumn, so I wish there was more of it. Be that as it may, if what you're looking for is a nicely sweetened drink to keep you awake during study sessions, this could be the ideal drink.
The last special drink at Allegro is their chaider, which is a hot apple cider with chai and a wonderful alternative to coffee. It tastes autumnal. It's semi-sweet, but I think that works well with the spice coming from the chai and the slight acidity from the cider. 
Cafe on the Ave is next. They offer a seasonal latte with four different flavor options.
Their pumpkin spice latte is much more sugary than at Allegro, but it captures a nice balance between the actual pumpkin flavor and the typical spices. Even though the latte is fairly sweet, the coffee flavor comes through enough for me to really feel the caffeine working.
Next, they have a gingerbread latte, which, again, is very sweet while still well-balanced. It's fairly rich and you can taste all the typical gingerbread spices in every sip. 
Their salted caramel latte, which is a classic fall flavor for good reason, is nicely flavored with warm caramel and a hint of saltiness. That being said, I think the flavors slightly overpower the coffee itself.
Their last seasonal drink is a cozy maple, which, and I mean this in the best way possible, tastes like the inside of a tree. It is not as sugary as their other flavors, but there is a very distinct maple flavor to it that makes you feel super cozy on the inside. 
I initially only wanted to review the drinks of local businesses, but I figured that I shouldn't exclude good ol' Starbucks from this list. 
Their world-famous pumpkin spice latte (which I actually tried for the very first time this year) really does live up to the hype. Its distinct pumpkin flavor paired with the spices and a nice sweetness blend into the bitterness of the coffee really smoothly. And topped with whipped cream? That's a plus for me.
Next up is their pumpkin cream cold brew, which is fairly syrupy, but it has a nice amount of pumpkin and cinnamon flavor. So, if you're looking for a sweeter alternative to Allegro's brown sugar cream cold brew, this one might be it.
If you're wanting to switch it up even more, try this tip from UW third-year student and frequent Starbucks visitor Aayushi Modi. 
"I like the pumpkin cold foam, and I like to get it on a white mocha or a vanilla latte," Modi said.
Lastly, Starbucks has its new flavor, the apple crisp macchiato, which is available hot or iced. It tastes like a liquidated apple pie mixed with coffee, which I find fantastic.
I would like to give an honorable mention to Cafe Solstice. While they don't have any seasonal drinks, you can add pumpkin spice flavor to any of their drinks for an additional 40 cents. While it doesn't taste much of actual pumpkin, the spices come through really well, and of course, their beautiful foam art adds to the whole experience.
Reach writer Lilli Trompke at arts@dailyuw.com. Twitter: @LilliTrompke
Like what you're reading? Support high-quality student journalism by donating here.