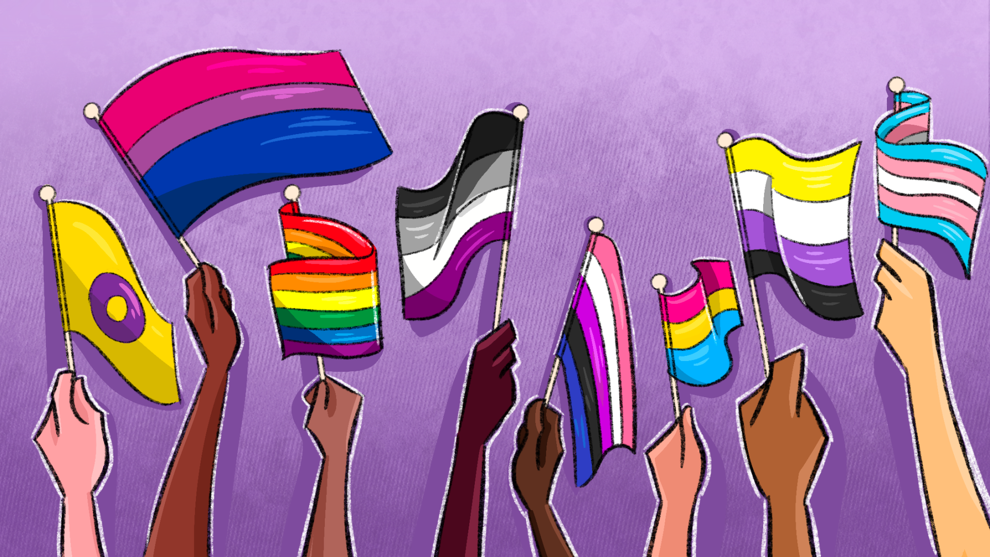 UW is recognized as one of the best colleges for queer students; it is also home to nearly 8,000 international students. Susan Hou, an international Ph.D. student studying learning sciences, recognized that. Despite how welcoming UW is to queer and international students, there are few services that address both identities. 
"I definitely wanted to move to the U.S., because I thought it was a freer place for me to explore my identity," Hou said. "I knew that [my identity] was queer while I was in Taiwan, and I didn't feel safe to continue exploring myself in Taiwan."
Taiwan is one of the only countries in East Asia to have legalized same-sex marriage, and is often portrayed as a welcoming place for the LGBTQIA+ community. Hou's experience, however, showed that the reality of queer acceptance was far more nuanced than the legal code. 
Outside of major cities like Taipei, same-sex marriage and being a part of the queer community are not widely accepted. Queer individuals have spoken out about surveillance over their body and choices. This motivated Hou to create a community space.  
International Pride was established by Hou and other Ph.D. students in spring 2021. Most support groups are siloed off for international students, and queer student organizations often focus on the U.S. queer experience rather than the challenges international students from countries like Taiwan face. These issues are amplified further for graduate students like Hou, where it is rare to interact with peers outside of your degree program. 
"My hopes and dreams for International Pride is that it wouldn't just be a community," Hou said. "It'd be a way to advocate for things,and [I'm] hoping that we can expand to other university campuses, because actually we're the only organization like this in the U.S. that I know of." 
Hou wanted to create a space for international students to share their struggles, describing the experience of being from a country where the language does not have a word for queerness or gendered languages. 
"We have folks who come in who are trying to figure out how they want to express themselves, how they want to describe themselves," Hou said. "A huge issue is language — how do we use language to describe ourselves … there's a lot of words that are just directly translated from English and there's a lot of words that we don't have to describe queerness."
Margaret Tu, a second-year Ph.D. student studying law, discussed how International Pride helped her discover her identity as an Indigenous person from Taiwan. 
"I think [International Pride] is really a super helpful resource for international students like me or … as an Indigenous person from Taiwan," Tu said. "I think the question of knowing who I am is really important, and I think International Pride is really a very supportive place on this journey." 
As someone who is outspoken about her identity, Tu received criticism for blog posts she wrote about being an Indigenous person in Taiwan; during these difficult times, Tu found support in International Pride. 
"People are willing to talk about topics that we don't usually share with our friends," Tu said. 
International Pride also has an educational component for individuals who have not had the opportunity to explore their identity before coming to the United States. 
"I've heard many stories — and I have stories — around dating, and then relationships where, because of our incongruent understanding of culture and nationality and then gender and sexuality, it can create a lot of risk, especially when you're thinking about somebody who's perhaps come to this country to try and explore their own sexuality and gender," Hou said. "Not having the language in their own home context, and then also not really knowing the context here that creates so much risk and danger in some ways."
Hou also collaborated with the Q Center to host a panel on language and queerness called "Speaking Ourselves into Existence."
International Pride meets Thursday mornings on Zoom, and quarterly registration for new members ends during week four of the quarter. Hou said this deadline is because they wanted to facilitate community-building within a cohort. Hou also stressed that members are allowed to remain anonymous. 
International Pride is seeking leadership for the next academic year. Leaders will be responsible for helping facilitate conversations and arranging meetup locations, rather than a strict hierarchy of roles. 
Reach writer Julie Emory at arts@dailyuw.com. Twitter: @JulieEmory2
Like what you're reading? Support high-quality student journalism by donating here.