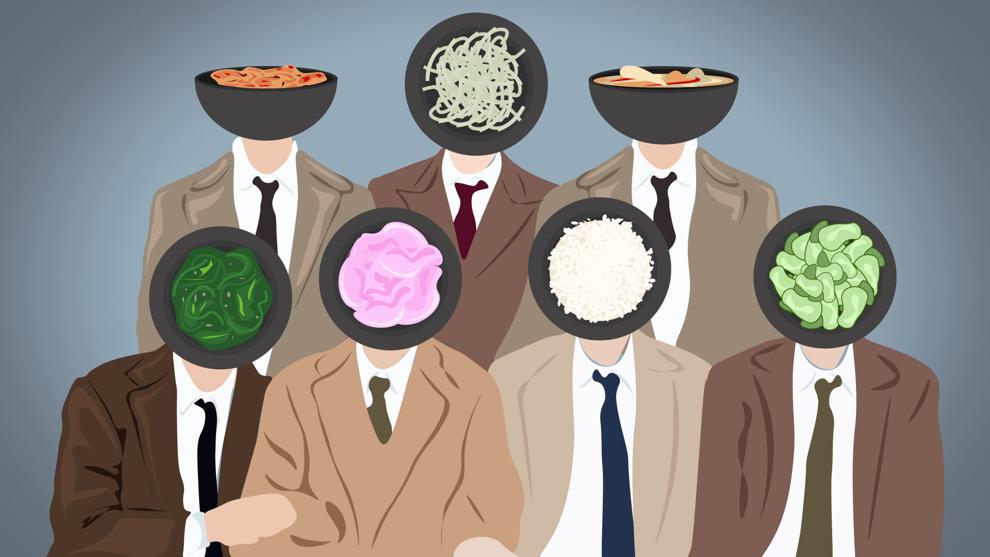 Editor's note: Banchan Boyz is a bi-weekly column dedicated to exploring the food of Deborah Kwon's childhood and turning Kyle Bender into a Koreaboo. 
Bender: OK, I want to preface this entire column with the fact that I'm not actually a Koreaboo. A good chunk of the other editors know and/or are learning Korean so they just started teaching me 한글 (Hangul, the written Korean language invented by Sejong the Great in 1443).
Kwon: Kyle, you are valid. It's OK to just say you want to be Oli London.
B: This is bullying — also, we have to get on track with the article. 
K: Yes, let's get Banchan Boyz moving, bestie. So for the few non-Koreaboos, I feel like "Banchan Boyz" as a column title needs an explanation: Banchan Boyz is a beautiful trifecta of 반찬 (banchan, aka side dishes), 방탄소년단 (Bangtan Sonyeondan, aka the beloved BTS), and delicious wordplay with Korean food.
B: It's important to note that Deb and I aren't just going to and reviewing every Korean place on the Ave — that would hurt our wallets too much. Banchan Boyz will also involve us trying to cook some of our own dishes, an attached Korean music playlist, and like every project that Kyle and Deb work on, praxis.
K: Amazing, so sexy! Korean food, music, and praxis — what more do you need out of life? I feel like Kyle and I are the perfect blend of unaware but very aware of what Korean food culture is, and I'm so excited to bring the non-basic Korean barbecue food vibes to The Daily. So naturally, we started with the very sexy Korean Tofu House. 
B: As always, we're going to have a rating system for the restaurants we review. We'll be evaluating two main dishes of our choice, their 반찬, the overall price, and the place's vibe, with scores out of 10. Jokingly, we will also be rating each place based on how much it reminds Deb of her childhood, and how much it reminds me of my idea of Deb's childhood.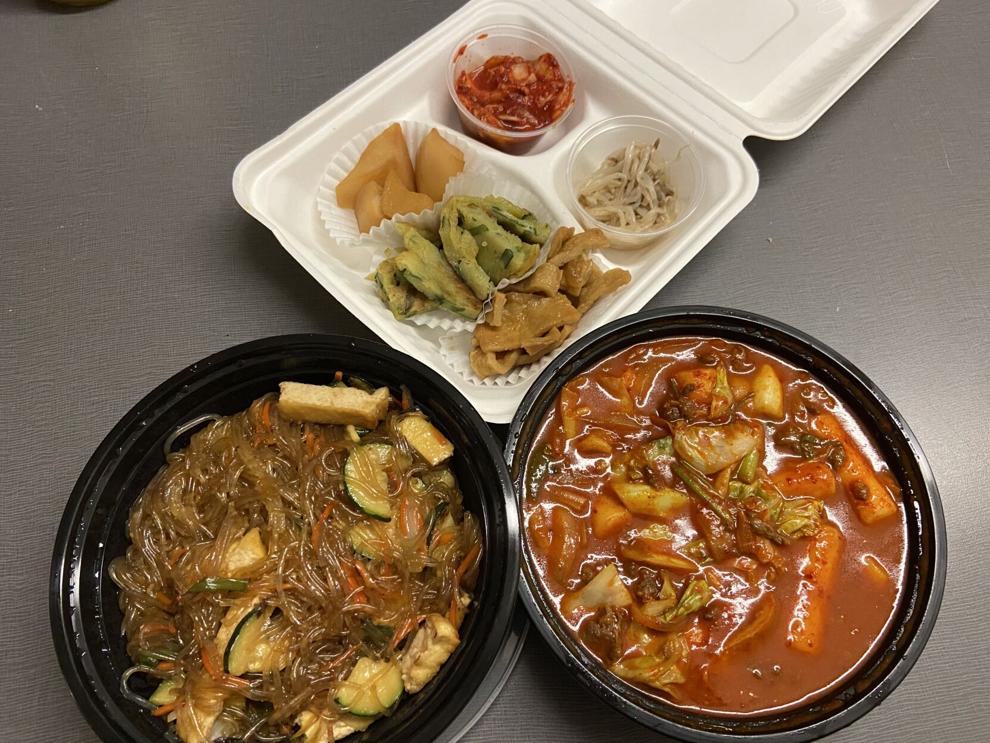 K: Let's get into it. For this first run, we ordered 잡채 (japchae, stir-fried glass noodles with vegetables) and 떡볶이 (tteokbokki, spicy rice cakes). First impression? Fantastic. I have to say that their 떡볶이 is my absolute favorite ever — including what I've had back in Korea. Along with the pillow-like rice cakes, the dish has a great mix of fishcakes, cabbage, beef, and onions (I suppose, as much as one can like onions).
B: I would totally agree with Deb on their 떡볶이. It was spicy, savory, and felt like my mom's cooking despite my mom being a Filipino woman. On the other hand, I wasn't the biggest fan of their 잡채. It wasn't bad, per se, but I wasn't impressed by it in any way. It tasted too much of sesame oil and the noodles were sticking together too much. We gave their 떡볶이 a 10/10 and their 잡채 a 7/10.
K: Oh for sure. The 잡채 was definitely strong with the sesame oil, but that was kind of a selling point for me, not going to lie. Still, it wasn't super impressive. At the same time, I feel like it's hard to mess up on 잡채, so it was still good, just not great. On the other hand, the 반찬 was very good and sexy. The marinated potatoes, fish cakes, bean sprouts, and 파전 (pajeon, scallion pancakes) were beautiful looking and tasting. However, the 김치 (kimchi) really fell off.
B: The 김치 was absolute dog. It was too sweet, the paste was too thick, and the cabbage didn't taste like it was fermented at all. It didn't have any of the funk, spice, or savory notes that 김치 is intended to have. 김치 is meant to cut through the heavy flavors of the dinner with some bright notes, but the 김치 from Korean Tofu House only made the main dish's taste heavier — so make sure to bring your own 김치.
K: Alas, our 반찬 score is an 8/10. It would've been a 10/10, no questions asked, but the 김치 brought it down a bit. Anyway, at the end of our meal, we were super full; Kyle was literally dead on the couch. Two meals, both of us full, for about $30? That's a sexy ass deal. We give the price a score of 8/10.
B: As Kyle's ghost, I can attest to how full I was. But anyway, my non-ghost friends, we want to mention how amazing Korean Tofu House's vibe was. We didn't eat in the store since it was packed and Ms. Cron is on the move — opting to order the food to-go and hit up H Mart while we waited. However, we didn't have to wait for long. They got our food to us in around 10 minutes with a packed dining room and we were both extremely impressed. So hats off to Korean Tofu House's vibe. We give them a 9/10 in this category, for an overall score of 8.4/10.
K: Now, for the category that actually matters: 'How much does Korean Tofu House remind me of my childhood?' The answer is yes. Did I actually eat a lot of 떡볶이 and 잡채 as a kid? Not really — these are definitely the Korean foods of the American imagination. But does it make sense in theory? Yes, that's praxis. What we're really looking for here, though, is whether Korean Tofu House reminded Kyle of my childhood.
B: And it really did. Not because I know anything about Deb's childhood, but mostly because eating the 떡볶이 reminded me of that one scene in the first episode of "Squid Game" where the dad is eating 떡볶이 with his daughter — something that I can guarantee every Korean child has experienced. 
K: Exactly; I'm really glad "Squid Game" allowed me and all Koreans a chance to truly exist. For the finale, our "Butter" playlist, in honor of the oily 잡채.
Reach Opinion Editor Deborah Kwon and Development Editor Kyle Bender at arts@dailyuw.com. Twitter: @scoobydeeby and @avatar_kyle. 
Like what you're reading? Support high-quality student journalism by donating here.