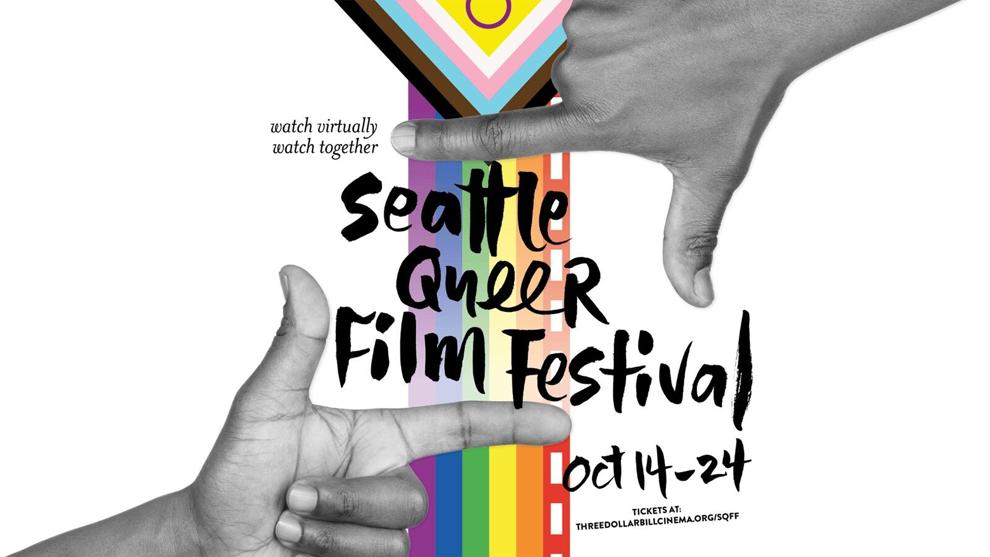 Before I delve too deeply, we need to get one thing straight: this cinema was not. From LGBTQIA+ coming-of-age to sci-fi to rom-com to Shakespeare, the Seattle Queer Film Festival (SQFF) 2021 had it all — save for the mainstream horrors of overused plotlines drenched in heteronormativity. 
And one thing is for sure: If the films didn't have you crying, they certainly had you laughing, or, at the very least, confronting your homophobic aunts and uncles. On Facebook. Or in your head. 
But think about it, if enough films are made by queer artists, queer love could become (more) normative. I mean, how do you unlearn a lifetime of drawing straight shapes and coloring in the lines? A good, slightly lopsided, slightly gay movie is a fair place to start.
SQFF, produced by Three Dollar Bill Cinema, was a mostly gay, mostly brilliant culmination of queer art, acceptance, and celebration contained in a 10-day exhibition. Featuring award-winning short films, documentaries, and feature-lengths, the festival had in-person screenings in Seattle theaters from the SIFF Egyptian to the Museum of Pop Culture and had online viewing options. 
Alanna Francis, development and outreach manager for Three Dollar Bill Cinema, said the accessibility of the festival is not just limited to virtual and in-person opportunities, but is also conscious of appealing to a spectrum of audiences and identities.
"There is something for everyone here," Francis said. "It's not about you being queer [or not]. No matter who you are, you would be impacted by these films, and I want other people to know this film festival exists because the first time I watched [a queer] film, I felt the power."
Francis describes the film festival as a powerful medium, an artistic space for those who wish to push back on preconceived notions of identity andthe status quo.
"How we feel normal is based on the media," Francis said. "In film, we have a lot of boundaries and languages we can go across. We're able to utilize media to normalize who we all are: that we are not normal, and therefore we are normal, because there isn't 'normal.'"
Maddy Szmidt, who was on the programming commitee for the science fiction short film exhibition, "Dreams of A Queer Future," drew from personal recollections of encountering queer films for the first time. Szmidt also described her favorite queer film.
"Lost in the sands of time … but still loved by audiences, because, since the beginning, queer art has been, and always will be, at the forefront of challenging accepted forms," Szmidt said.
The festival was centered not just around queer love, but queer expression. It depicted not just queer relationships, but the dynamics of everyone revolving around those relationships — family, friends, and the self included. 
Artistic exploration of sexuality makes space for social dialogue and personal introspection to go beyond the constructions set out for us by society. We can sink deeper into identity, but we can also discover new frontiers.
"It's a 'yes and' type of world," Francis said. "It's about recognizing that boxes have been put there, but it's a choice on whether we want to fit in them or not. And it's beautiful either way."
Queer film isn't just a genre of falling in love or drama and heartbreak, it's a lifestyle, a lived artform, and an identity integrated within a community of individuals who are unafraid to be unapologetic in who they are and how they show up in the world. It renders queer love a beautiful, normal thing.
"People just often don't know just how good the films are," Francis said. "And there is no perfect way of telling how epic these films are, that they are gonna be changed every year. That they are not gonna find these films anywhere else, at least not in a concentrated way."
Reach writer Sarah Pham at arts@dailyuw.com. Twitter: @sarpham
Like what you're reading? Support high-quality student journalism by donating here.