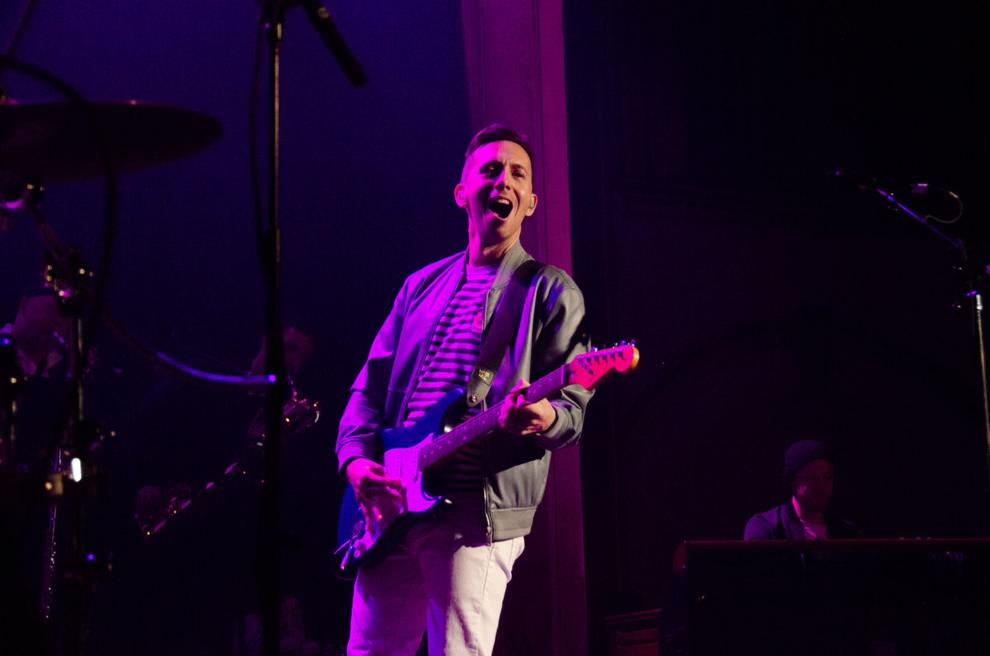 Weeknights aren't typically party nights, especially not Wednesdays. Amidst the smoky neon glow of the Neptune Theatre, however, the stage was set for the mostly-instrumental Cory Wong and his band. 
Cory Wong, the funk multi-instrumentalist well-known for his work in Vulfpeck and The Fearless Flyers, came with his own band Nov. 10, performing a high-intensity, two-hour-long set filled with anecdotes, comedy, and lots of guitar. 
Donning a classic striped shirt and strapped with his own signature Stratocaster, Wong and his band took to the stage to the sounds of the "Blue Danube," "Squid Game"-style, before launching into the song "Lunchtime." This kicked off Wong's first set, an explosive musical experience that managed to remain polished while holding onto a jam session-esque feel. Songs would frequently bounce their focus between drums, the five-piece woodwind, sax, and brass band, the keys, the bass, and, of course, Wong's furious guitar. I don't think I've ever seen anyone head bop to a flute solo as hard as this crowd did.
Wong himself was an amazing force to behold, maintaining 100% intensity the entire show. Through his many songs, Wong illustrated not only his amazing skills as a rhythm guitarist, but the power of his lead guitar, launching into ballad-like, heavy-progressive-funk guitar solos.
The band as a whole had an electrifying, spontaneous quality to them. Before the show, I heard an audience member describe the group as a modern-day big band, and frankly I can't think of a better way to put it. In a way, I felt like a fly on the wall of a masterclass improv session.
In the equally incendiary second set (following another comedic music cue: the title song to "Law & Order: SVU"), frequent collaborator and singer Antwuan Stanley joined the band on stage. While Stanley said he was struggling with his voice at the time, he still managed to electrify the crowd with the gruffer side of his vocal range. 
"Seeing this many people in this room just reaffirms the power of music," Stanley said on-stage, speaking on the impact of COVID-19 on live shows.
A surprise highlight was an instrumental rendition of Stevie Wonder's "Isn't She Lovely" from the band, leading into Wong and Stanley's "United." Again, the synergy of the band was on full display. The second set also had the "Meditation" medley, featuring Wong on one of his longest and most elaborate guitar solos yet. 
The show was a borderline spiritual experience that enthralled and enticed the crowd for the whole two-hour run time, featuring an act that I am so glad I got to experience. Wong and his band aren't just reviving funk — they're evolving it for the next generation, and I'm excited to see what he puts out next. 
"[It's] great," Michael Connolly, a Seattle resident and concert attendee, said. "I've been a big Vulfpeck and Cory Wong fan for a long time, so it's wild seeing this lineup and this band. The energy is crazy, and it's so great being at a live show after nothing for a couple years." 
Reach Arts + Culture Editor Joshua Lee at arts@dailyuw.com. Twitter: @theleejosh
Like what you're reading? Support high-quality student journalism by donating here.