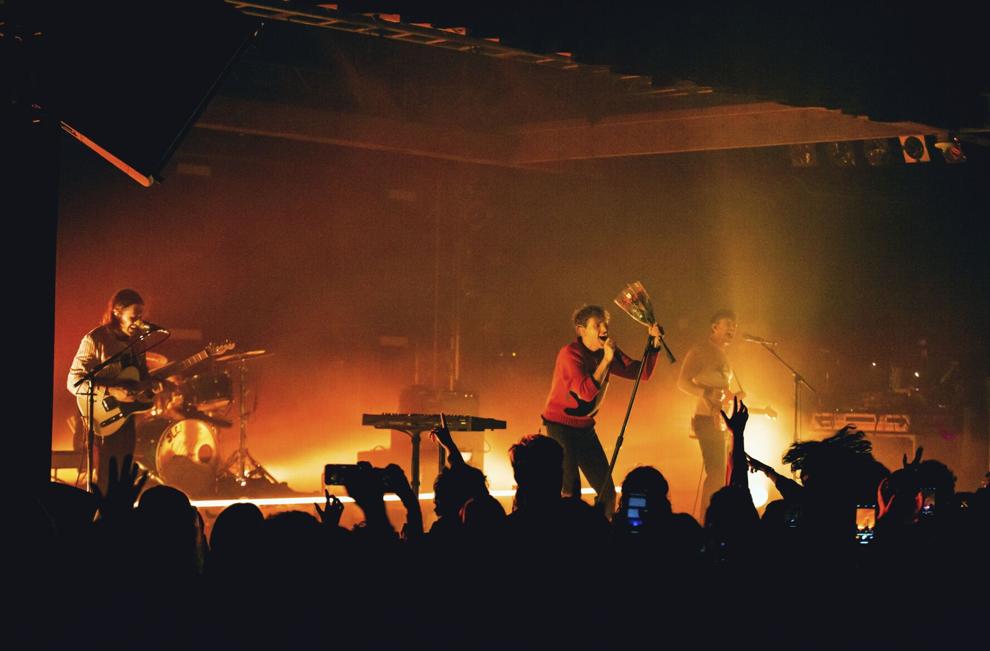 Despite the Seattle rain on their parade, fans of Coin were in high spirits waiting in line at the Showbox SoDo on Nov. 11. The block was buzzing in anticipation as the opener Valley took the stage inside. Girls posed in pink cowboy hats, boys flashed black nail polish — everyone seemed to sport a trademark Gen Z trend.
Packed like teen sardines, the crowd took an instant liking to the Toronto-based act, Valley. The synth rhythm underneath the indie vocal stylings of Rob Laskagot the crowd moving, especially when Laska started a call and response to their song, "Oh shit … are we in love?" 
New fans flocked to their merch table immediately after the set. Luckily, Valley will be back in Seattle on March 9 to headline a show at The Crocodile.
When it was time for Coin to take the stage, a restless crowd immediately hushed as the house lights dimmed. In a flash of color and nature-inspired imagery, Coin appeared in front of four projection panels without saying a word.
The use of projections turned the concert from a performance into an experience. The visuals added to the songs the band performed, creating a more immersive show for the audience.
After five high-energy songs, lead singer Chase Lawrence paused to chat with the crowd.
"We're Coin, by the way, I don't know if I mentioned it," Lawrence said. "We're really far away from home, so I just can't believe you guys know this music."
Coin is a collaboration between Belmont classmates Chase Lawrence, Ryan Winnen, Joe Memmel, and Zach Dyke. Their pop anthems are far outside of the traditional Nashville sound.
Coin's niche following has grown from exposure through TikTok. Coin's "Talk Too Much"became a popular sound bite on the app, driving a resurgence in popularity for this 2016 single.
"I've talked to a lot of people where they say that TikTok directly correlates to streaming," Becca Hamel, the touring photographer for Valley, said. "Like people who listen to a song on TikTok … If they hear a song that they like, they will go on Spotify, they will go on Apple music, and they will go find out more and listen to it."
Hamel's photos of Valley reflect their pop sensibilities. Through bright colors and playful edits, Hamel's photos capture the movement of the performances.
"Content creation is becoming more and more a crucial piece of a touring group now," Hamel said. "A photographer is almost as important as your sound guy, almost as important as your lighting guy … because if you're not posting about the fact you are on tour, did you even go on tour ... That's kind of the mentality."
TikTok and internet fame can change the way musicians distribute their music. Bedroom pop is on the rise. A self-recorded indie track can kick-start a career from a viral TikTok trend. 
Catchy lyrics and aesthetic videos grab listeners' attention, but that's not all there is to making music. Often, the pop genre avoids pushing boundaries in favor of being broadly likable. After all, you can't have pop without popularity. 
Right or wrong, the kids don't care as long as they know the words to sing along. Coin and Valley proved that by connecting with fans at the Showbox.
Reach contributing writer Sarah Green at arts@dailyuw.com. Twitter: @SarahAmyGreen
Like what you're reading? Support high-quality student journalism by donating here.