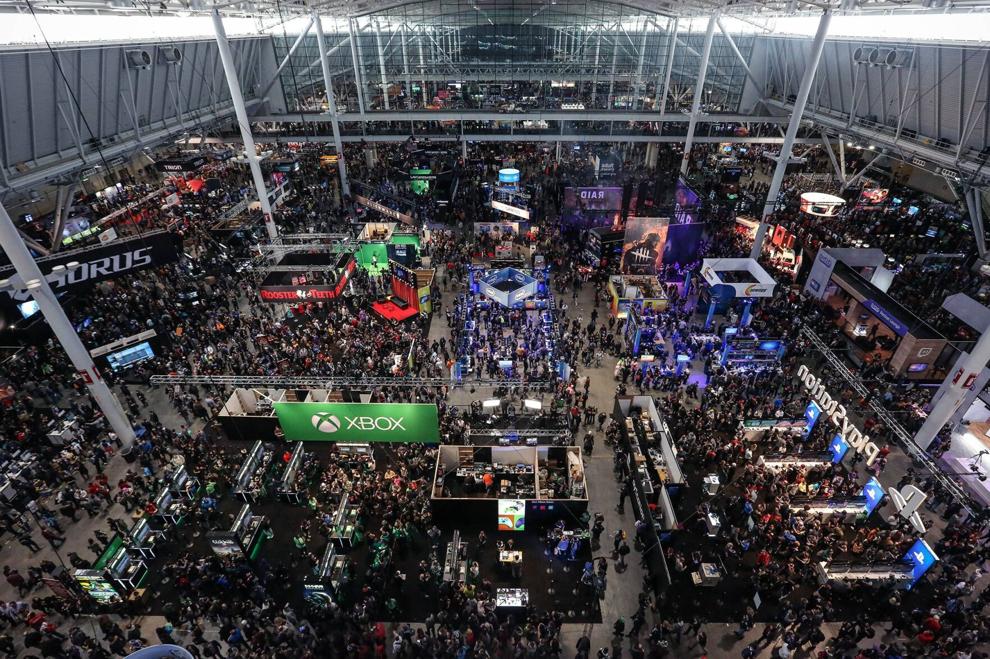 Last weekend marked the return of the largest video game convention in the greater Seattle area, PAX West. Since 2004, PAX West (formerly PAX Prime) has served as a congregation for all things nerd and geek-adjacent. 
This year, with major players PlayStation, Xbox, and Nintendo sitting out, the unattainable task of meeting consumer expectations fell upon the shoulders of Bandai Namco Entertainment and smaller indie companies, such as PM Studios and Schell Games.
While I hoped to see FromSoftware's highly-anticipated "Elden Ring," Bandai-Namco, the only well-known company at the show, showed off "Tales of Arise," the latest 3-D installment in the "Tales" series. 
The demo, which lasted anywhere from 10-20 minutes, allowed the player to select from a handful of characters, each with their own inert abilities, and fight random enemies in what seemed to be an opening level.
My time with "Arise" was rather lackluster, as I spent most of the time spamming one button over and over until the various, non-threatening enemies died. While the repetition made me want to leave, the PlayStation 5 DualSense controller's haptic feedback kept me engaged and enhanced my experience with the game. 
That being said, the demo I played crashed — while others around me got through the full demo (including a boss fight that I never saw), the game randomly sent me to the starting menu after five or so minutes. This was unfortunate, as I genuinely wanted to try and like the game, but its state was worrying.
Regardless, fans of the 3-D entries in the "Tales" series will most likely appreciate this new game, but as of now, I cannot recommend it to the general gaming community.
After finishing my time with the Bandai Namco booth, I ventured into the greater experience, hoping to find a game that would catch my eye.
I quickly latched onto two games, one from the Euphoric Brothers called "Human Apocalypse," and Gamious' recent release "Lake."
The former is a socially charged side-scroller about being an ex-zombie. For a game made by three young college students, it was impressive, in spite of the sometimes underwhelming writing. The latter — "Lake" — is an open-world story-driven game that focuses on a young woman returning to her hometown to escape her life in the city. While I appreciated the concept, the game focuses on you driving around town, delivering, and I'm not joking, mail.
As someone who loved the infamous walking-simulator "Death Stranding," I am unafraid to admit that "Lake" bored the hell out of me. Not to mention, the demo (and from what I've heard, the final, released product) was broken. At times, it wouldn't allow me to enter the mail truck, the main mode of transportation in the game, and the world often loaded in quite some time after the cutscene started.
After leaving a bad taste in my mouth, I moved on to try "No Longer Human" from 0801 LLC and PM Studios, and my faith was thankfully restored. The game, according to its Steam page, is a "high-energy cybergoth action fvck-em-up with expressive, freeform combat that incentivizes aggressive, stylish play." It is deliberately edgy, with a gritty soundtrack and rewarding gameplay, and I absolutely loved it. 
But as I walked around the show-floor — only one floor compared to the two to three of the past — only one word passed through my mind: sad.
In comparison to past years, the show-floor was barren, packed with random sponsors instead of games. Instead of Ubisoft or EA, attendees got the phone case company OtterBox and Gunnar Optiks promoting blue-light "gamer" glasses. 
With the pandemic guidelines in place and many heavy-hitters in the industry sitting out, my only major question is "why?" Why hold a major gaming convention in the middle of a pandemic knowing that you will not have the support of the industry? Was it to cash in on the company name, maintain a deal with the Washington State Convention Center, or simply to keep the PAX license?
As someone who has attended PAX in the past and had positive experiences, it's hard to defend a floor full of rip-offs, broken demos, and soulless money grabs. 
Video game conventions thrive off of hype and excitement for new video games. Patrons spend anywhere from $60-230 expecting to have a premiere experience during their time at the convention, which can last anywhere from one to four days — PAX West 2021 had a show floor that could be finished within an hour. In fact, I was done after 30 minutes, as the emphasis this year was on buying toys and board games instead of, you know, video games.
That's why I have no problem with stating that this year's PAX was not only a disappointment but a holistically depressing experience. Ultimately, an empty show floor, poorly designed demos, and a weird departure from games marked what could be the last PAX.
Reach Engagement Editor Jacob Renn at arts@dailyuw.com. Twitter: @jakemrenn
Like what you're reading? Support high-quality student journalism by donating here.