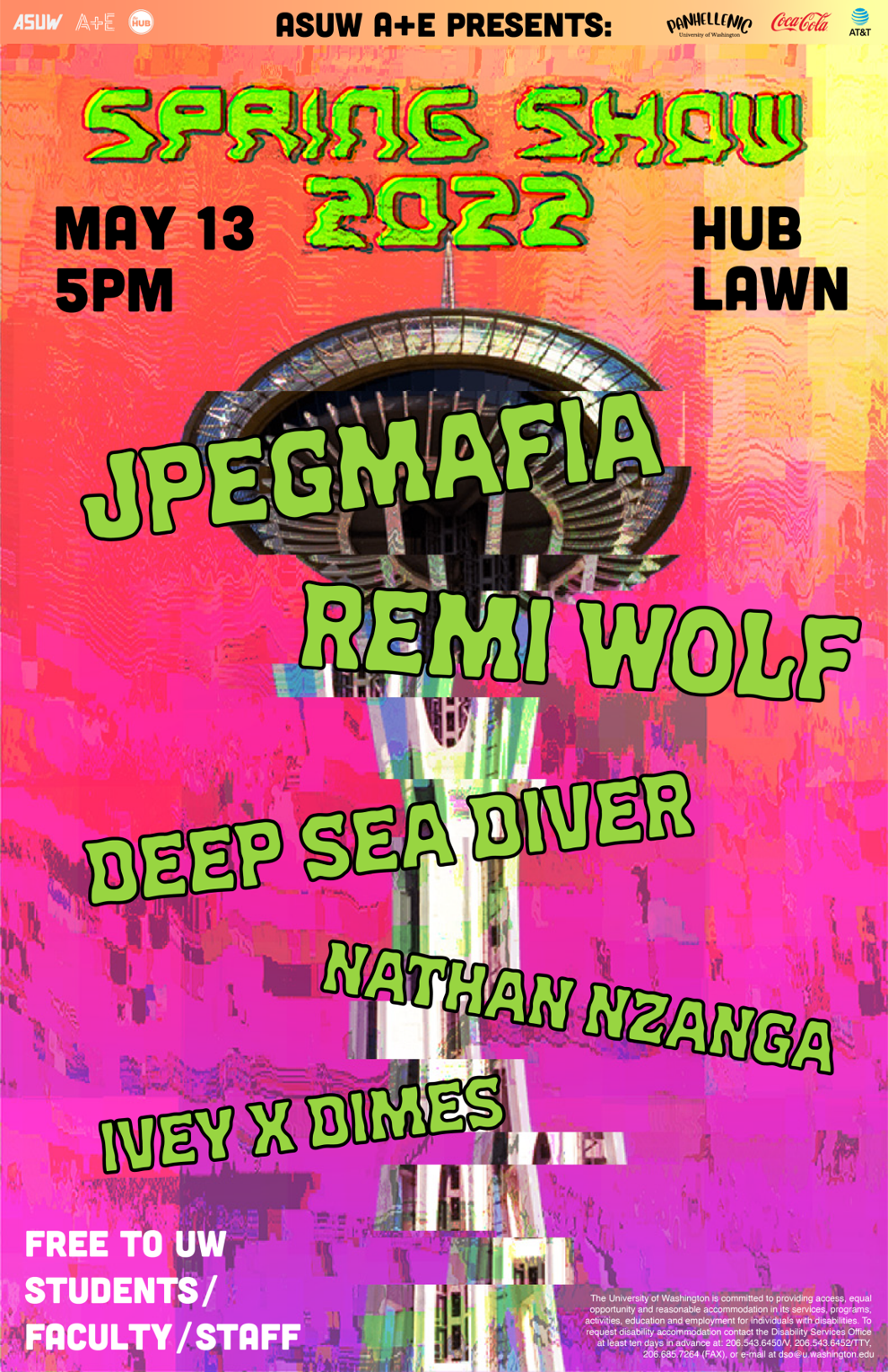 After a successful return to in-person festivities last fall, ASUW Arts + Entertainment (A+E) is bringing five artists to the Hub Lawn for an evening packed with performances. The Spring Show's full lineup includes: JPEGMAFIA, Remi Wolf, Deep Sea Diver, Nathan Nzanga, and Ivey x Dimes. The event has not been held in person since 2019, which featured Whethan and SOB x RBE. 
"The Arts + Entertainment team is overjoyed to be bringing back Spring Show to once again celebrate together as we approach the end of the academic term," A+E director Spencer Rex said. "We went absolutely all in with our lineup — top to bottom, the artists cover a huge range of tastes and styles, and all possess other-worldly energy on stage."
One of this year's headliners, JPEGMAFIA, is an effortlessly avant-garde hip hop artist, rapper, and producer who has been recognized as one of the most significant names in contemporary rap, as well as one of the genre's leading experimentalists. JPEGMAFIA played the Neptune Theatre last November during his LP! Tour, after which he released "OFFLINE!" a 5-song EP in February. 
Co-headliner, Remi Wolf, also appeared in Seattle recently, as her bright, youthful persona and zealous performance served as a precursor to Lorde on her Solar Power Tour on April 30. Wolf is a pop nonconformist who has been pairing lively funk beats with vibrant psychedelic visuals ever since she got her start on American Idol in 2014. Wolf's recent debut album "Juno" showcases the way she steps outside the domain of mainstream pop, intertwining candid discussions of sobriety and addiction with sunny, danceable soul. 
Deep Sea Diver is a Seattle-based pop rock group led by vocalist and multi-instrumentalist Jessica Dobson. Before forming the band, Dobson refined her guitar skills playing for artists like Beck, Conor Oberst, and The Shins. On their Spotify page, the group describe their latest album "Impossible Weight" as "a work of sublime highs and mesmerizing lows" that came to fruition after Dobson experienced a period of self-rediscovery. 
Preceding them will be Nathan Nzanga, another Seattle-based act and a first-generation Congolese-American and SoulPop storyteller. Nzanga is a member of Prodigy Camp, a local organization working to support young songwriters and filmmakers develop their storytelling skills. Nzanga's most recent release, "AFRICANA NZANGA EP," is the first chapter of the fourth installment of his "Welcome to Naytropolis!!!" series. This project — a chapter book series packaged in an EP format — was recorded in bedrooms and apartments; inspired by his Congolese roots, it is filled with "larger than life choirs and big sounds," according to a post by Nzanga on Instagram. 
The event will open with Ivey x Dimes, a DJ duo composed of UW second-year students Henry Gilchrist and Daniel Edmunds. The pair began as roommates, mixing music in their room starting in 2020. Since then, they have been soundtracking local parties and clubs, hoping to break into the business. 
"We're really trying to come up in the Seattle scene, and to get this experience under our belt means a lot to us," Edmunds said. 
This event will take place on the Hub Lawn on May 13 at 5 p.m. UW students and staff can attend for free and enjoy the music of the highly anticipated Spring Show revival.
Reach writer Caroline Carr at arts@dailyuw.com. Twitter: @carolinejcarr
Like what you're reading? Support high-quality student journalism by donating here.