"And That's Why We Drink" (ATWWD) is an award-winning true crime and paranormal activity podcast hosted by New York Times best sellers Em Schulz and Christine Schiefer. Each week, Schulz and Schiefer present their audience with both a paranormal ghost story and a true crime case. The podcast quickly rose to fame following its launch in 2017, winning three Webby Awards and amassing over 130 million downloads.
Schulz and Schiefer have just embarked on their second live tour — titled "On the Rocks" — which is coming to Seattle's very own Moore Theatre on Feb. 25.
Last week, I had the opportunity to interview Schulz and Schiefer about their path to podcast stardom and their upcoming live show. The two began their friendship after meeting in grad school, where they bonded over a charmed love of everything spooky.
They hadn't known each other for long before the inception of "ATWWD." Their friendship coincided with the rise of the podcast format in mass media and pop culture, and after some convincing from Schulz, Schiefer caved and agreed to give podcasting a shot.
"It was really just a post-work hobby," Schiefer said. "It really wasn't supposed to be anything more than that."
According to Schulz, the podcast's episodes showcase the growth of their friendship over the years.
"It was more like a diary of us becoming friends," Schulz said. "Because we were strangers who started a podcast together, people feel like they became friends along with us, and learned about us as we learned about each other."
The two describe their podcast as a "true-crime-paranormal podcast" presented through the lens of comedy. Schiefer explained that there are many true crime podcasts and many paranormal podcasts, but none that combined both. The structure of the podcast presents one story from each category every week.
"I come to the table with a true crime story that Em doesnt know in advance, and Em comes with a paranormal story that I don't know," Schiefer said. "We tell each other the stories and the audience learns alongside the other co-host."
Since the groundbreaking popularity of "Serial" in 2014, true crime has consistently been one of the largest and most dominant podcasting genres. This rise of true crime has recently been paralleled by criticism, calling out many podcasts for their insensitive and dangerous coverage of violent crime.
With this in mind, I asked Schulz and Schiefer about their podcasting practices and the ethics behind sharing true crimes stories.
"There have been times where we have just felt like a certain story — especially if we have found online that the victim isn't comfortable sharing this, and other podcasts have covered it — we just don't [cover it]," Schiefer said. "We try our best not to cross those lines. We're telling the story to lift up the victim, and not to glorify the criminal or the serial killer behind it."
Schulz echoed this sentiment.
"If there's any one main priority we have, it is to respect anyone in the stories, even though we consider ourselves and label ourselves a comedy show," Schulz said. "The comedy never comes from the actual story itself."
Both reiterated that they have had family members of victims reach out to the podcast before, and they are more than willing to take down any episodes that are received as unwanted by survivors or victims' loved ones. They take feedback seriously, and never want to come off as insensitive. However, many believe that the true crime industry as a whole is immoral, even if individuals within it take precautionary efforts.
On a similar note, the "On the Rocks" live shows feature very little true crime and have a strong focus on the paranormal side of the podcast. On their first tour — "Here for the Boos" — the two attempted to mimic their podcast format for all their live shows, but quickly realized that finding new stories for each performance was unsustainable.
"Our relationship was suffering, the podcast was suffering," Schulz said. "Listeners could tell we were tired all the time."
Their live show format has changed, and now features recordings of the two hosts visiting haunted locations in the area of each live show. This is similar to their book, which explores haunted locations across the country. Haunted locations are kept secret, so live show attendees are brought along the journey with Schulz and Schiefer.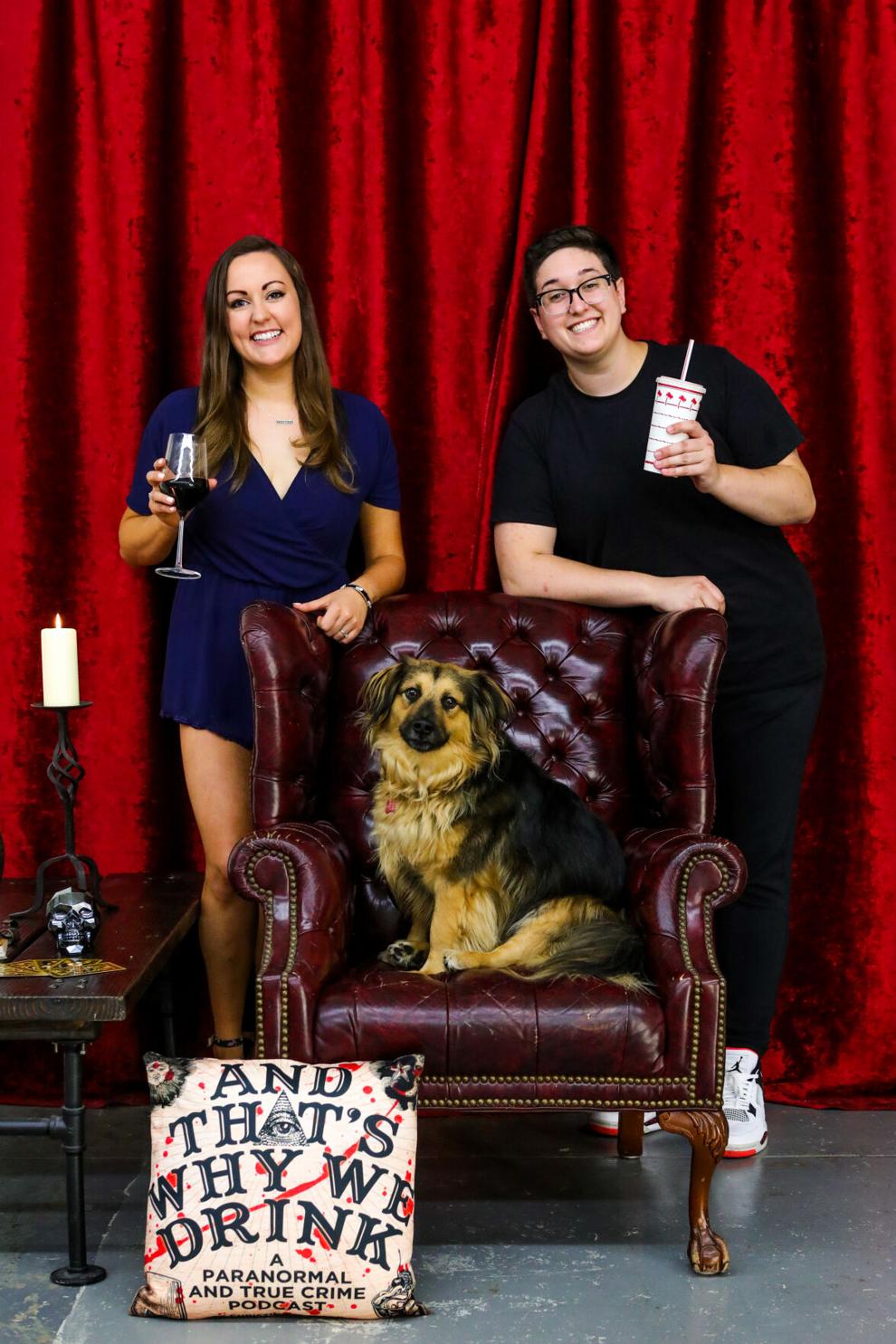 True crime isn't completely left out of the show. Schiefer often begins performances with an explanation of the stories and history behind supposed haunted locations, which often involve very real murders. The hosts encourage podcast listeners and non-listeners alike to check out the Seattle live show, especially if you are one to enjoy spooky experiences and jumpscares.
"Look forward to laughs, because it's a comedy show, but we genuinely put some very scary material in, so it's a fun combination," Schiefer said. "Even the skeptics can enjoy just the fun of it — there is always a drinking game."
While many of their shows have sold out, you can still get tickets for the Seattle performance on the live show's website. Schulz finished off our interview with a final call to anyone looking for something to do on Saturday night.
"Just come to get a little drunk, and maybe you'll get scared too, who knows?" Schulz said.
Reach writer Piper Davidson at arts@dailyuw.com. Twitter: @PiperDavs
Like what you're reading? Support high-quality student journalism by donating here.