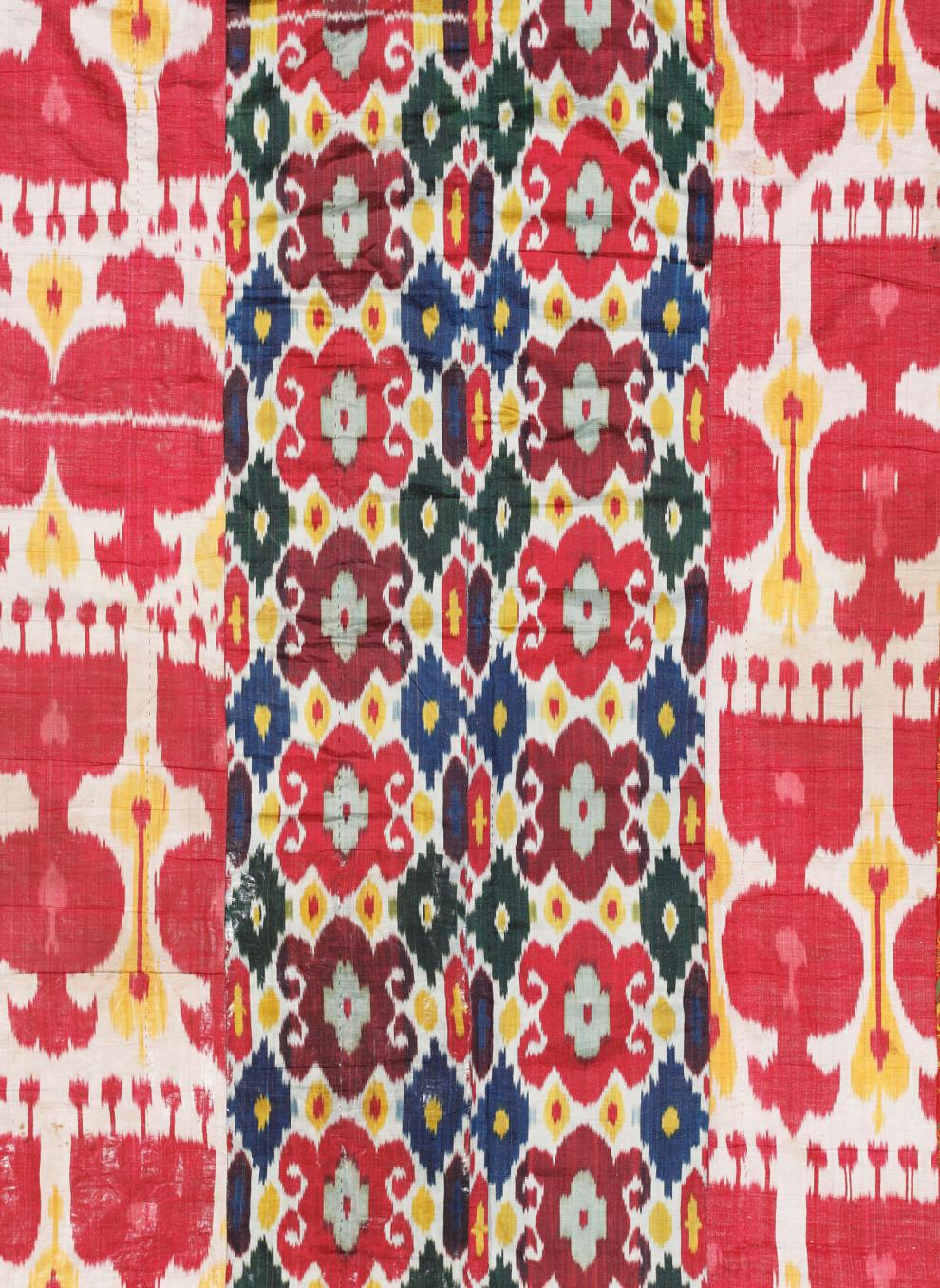 Many people have forgotten how creative cloth can be, and a new exhibit at the Seattle Art Museum hopes to change that. "Ikat: A World of Compelling Cloth" features over 100 textiles from around the globe, all of which were made by hand.
Ikat is a weaving technique in which threads are tied before the weaving process to ensure a set pattern. The threads are then woven into cloth that is used for clothing and furnishing.
The exhibit begins with the largest ikat in existence, a project created by Rowland and Chinami Ricketts. They used 1,008 skeins of cotton yarn that amounted to over 1.2 million yards of yarn — a total process that took between four and five months, according to Rowland Ricketts.
In some cases, before the yarns are bound on a loom, they're slipped a bit to create patterns, such as the rhombus shape on display.
"The more we thought about it, we wanted to lay the process bare and bring in the work that we do in our studios," Rowland Ricketts said. "So, when we're hanging something that's very long to dry, we do it like this."
As visitors progress into the exhibit, they first see the Japanese ikats. Futonji, which are traditional covers for beds, are placed up on one wall. The indigo and white textiles depict things such as castles, tigers in bamboo forests, and haired tortoises and cranes. There are also kimonos, with similar coloring.
"We know indigo is a color that can bring joy and cause reflection and deeper thinking," Pam McClusky, curator of Seattle Art Museum's African and Oceanic art, said.
The exhibit then progresses to ikats from Africa. Yoruba robes from Nigeria can be seen on a pedestal in the center, and cloths with a variety of stripes are hung nearby. While the cloths are shown as rectangles, they would traditionally be wrapped as a skirt, shirt, or headtie.
The next part of the exhibit features textiles from India, many of which use designs derived from architecture. In India, weavers would utilize silk as a way to enshrine the body, according to McClusky.
Further into the gallery are the ikats from Southeast Asia. Some of these involve a process of zone dying that creates a blockier look, while others create waves, diamonds, and arabesques.
The next ikats are from Central Asia's Uzbekistan.
"Uzbekistan, in the 19th century, became a hayday for ikat experimentation," McClusky said. "It was a time when the silk road had kind of faded, and there were all kinds of things going on in the world. Several of the oasis cities and communities of Uzbekistan decided to cultivate obscurity, so they could create their own culture."
These weavers utilized natural dyes sourced from insects, pomegranates, and indigo. The imagery is imaginative, and the colors are more vibrant than any other in the exhibit.
The next region, Indonesia, has a strong history of ikat. Some cloths were used as funeral cloths, providing a protective religious arch that was meant to interlock generations.
Some of the Indonesian works feature symbolism that goes back several centuries. One cloth features lobsters, which are points of the tradition to the underworld, and roosters, the symbol of the upper world, according to McClusky.
There is a small section for ikat from Europe, featuring one work that was painted on a loom. Due to industrialization, the practice faded rapidly in Europe.
There is also another section featuring work from the Americas, including contemporary works from North American artists. For South America, there are a variety of shawls from different countries that use ikat.
As part of an outpost, there is also a textile from Pottery Barn on display, proving that ikat patterns are still applicable and can be found in our world today.
Near the end of the exhibit's natural progression, there are contemporary Indonesian ikats, displayed as a partnership with Threads of Life.
Threads of Life is an organization trying to revive the endangered practice of ikats, collaborating with artists to ensure they get the recognition that they deserve and providing viewers with knowledge of the proper symbolism woven into each textile.
The exhibit is not just about traveling the world, it also serves as a glimpse into how much textiles can mean, how they help people form bonds, and how they can create alternatives to buying from clothing stores.
"Ikat: A World of Compelling Cloth" will be on exhibit at the Seattle Art Museum from March 9 to May 29.
Reach Development Editor Taylor Bruce at arts@dailyuw.com. Twitter: @Tay1or_marie9
Like what you're reading? Support high-quality student journalism by donating here.