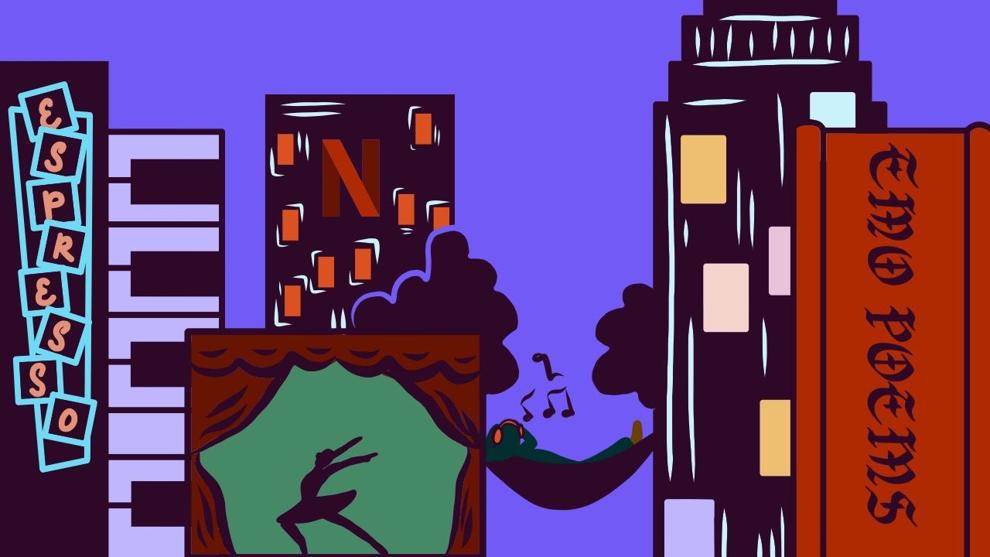 What we're watching
Samantha Ahlhorn, writer (@samahlhorn)
I was scrolling through Hulu looking for something new to watch while avoiding going to sleep when I stumbled upon a new show called "Reservation Dogs." I read the synopsis, got intrigued, and immediately fell in love.
"Reservation Dogs" is about a group of teenagers living on a reservation in Oklahoma with big dreams to move to California. In order to raise the funds to do so, they start a gang, doing things like stealing delivery trucks and selling their contents.
The show is revolutionary outside of its content, as the first series to be entirely filmed in Oklahoma and one of the only shows that features a majority Indigenous cast.
Every single character is a bright, vivid, and unique individual. The acting is stunning and full of life. The show covers some heavy topics, from grieving the loss of loved ones to being Indigenous in America, but it is never without a punch of well-timed humor.
One of my favorite parts of the show is how realistic and lovable the main characters are. As young teenagers with big dreams, their adventures down the path to adulthood are both relatable and endearing.
"Reservation Dogs" is, in my opinion, a huge step in the right direction. It is one of the only shows I've ever seen that features Indigenous characters who have depth beyond being the token Native character.
It is a masterfully created, wonderful show that will warm the hearts of any audience.
What we're listening to
Michele Rubinstein, writer (@michelehalleru)
A Saturn return is an astrological phenomena that occurs when Saturn reaches the same position it held at the time of a person's birth; it's supposed to mark a great turning point or change. 
The album "Saturn Return" details similar sentiments of upheaval. In its expression of everything from deep, personal sadness to nationwide frustration, "Saturn Return" both comforts and probes. 
Released in February 2020 by The Secret Sisters (Laura and Lydia Rogers) and produced by Brandi Carlile in her Maple Valley home studio, I associate it with the early days of the pandemic. It was never meant to be a quarantine album, but it has the traits of one, from its home studio production to the soul-mining that had to have gone into producing lyrics with such vulnerability. 
In the opening track "Silver," the sisters bring forth a necessary confrontation on society's treatment of aging women. "Late Bloomer" follows with harmonic vocals from both of the sisters that are gorgeously intertwined. Then comes a sudden, furious departure in "Cabin," which was inspired by the hearings that occurred after Justice Brett Kavanaugh's nomination. It is an almost painfully beautiful expression of deep-seated rage.
With clever turns of phrase and airy vocals, "Hand Over My Heart" is a welcome, uplifting relief written about learning to trust again after a damaging relationship. "Water Witch" is an ethereal celebration of the feminine; "Healer In The Sky" displays a moving acceptance of difficulty and mortality. 
From my perspective, there is one stand-out track: "Hold You Dear" is a love song from daughters to their parents and mothers to their children, most poignantly expressed with this self-sacrificial promise — "You will reach for me when my arms are full / And I will lay down the things I carry."
We would not be the people we are today if we didn't have to live through this pandemic. When the world shut down, it left a lot of time for reflection, and everything — from the way we see ourselves to our relationships and our society — has changed. "Saturn Return" is the ultimate reflection, and it's an album I'll continue to come back to long after COVID-19 has hopefully faded from view. 
What we're reading
Julia Park, writer (@thejuliastory)
I bought a used copy of Ernest Hemingway's "The Old Man and the Sea" for about $5 at my local bookstore. It's a slim volume — only 127 pages — and a classic perfect for a low-commitment summer read. 
Hemingway tells the story of an old Cuban fisherman who sets out one morning to try his luck, undaunted by the fact that he's caught no fish in the past 84 days. Poor and friendless except for a boy with whom he is very close to, the old fisherman seems to have come upon a dream come true when he realizes he has a beautiful giant marlin on his line. All he has to do is kill it, but the situation is precarious — he must pull the marlin close enough to drive in his harpoon without letting the line snap; this far out to sea, there is no one to help him.
The plot is simple, but Hemingway's way of describing the old man's measured, moment-by-moment determination is enthralling. It illuminates both mankind's fragile authority over nature and the struggle to grapple with success and defeat. As we ride out the COVID-19 pandemic, trying not to hope too much even as we live each day in uncertainty, it strikes me that "The Old Man and the Sea" may have a word for us today as well. 
What we're up to
Andy Chia, writer (@GreatBaconBaron)
Despite what I tell my friends, moving across the country for graduate school is something that I am glad I did, even if it's during a pandemic. 
Prior to moving, I was apprehensive about saying goodbye to Seattle. Moving meant packing up my life in a suitcase, but also having to say goodbye to friends, family, and the city. 
Seattle really is a wonderful place. I can't tell you how many times I've craved teriyaki or a good cup of coffee since I've arrived in Baltimore. Sometimes I reminisce about the many parks I've had the fortune of experiencing, or the days spent walking around Seattle taking in the breathtaking scenery.
But Baltimore has been good to me so far. 
School is still school, but it has provided me new opportunities to meet new people and try new things. Crab has recently become a staple in my diet, and Old Bay has won my heart over.
If you find yourself moving to a new place where you know nobody, keep in contact with the people back at home. It's been wonderful to call friends and family and reminisce about old memories while updating them on the new misadventures.
Likewise, make sure you connect with new people. 
It's been nice to go to the 32nd Street Farmers Market with new friends and experience some U-District Farmers Market nostalgia while munching on a croissant. 
If you have the chance to explore, go out and do it. 
You might have to worry about ticks and humidity, but seeing the reservoirs of Maryland all the way to the breathtaking beauty of Washington D.C. is well worth it.
Reach writers Samantha Ahlhorn, Michele Rubinstein, Julia Park, and Andy Chia at arts@dailyuw.com. 
Like what you're reading? Support high-quality student journalism by donating here.