Editor's note: "The Weekly Grind" is a weekly column reviewing the various coffee shops and study outlets in the U-District.
Welcome to The Weekly Grind: a weekly column for those who love coffee, studying, and puns. Each week, I will be visiting and reviewing a different coffee shop in the U-District.
Increasingly often, I hear my peers say that they would love to support more local coffee shops, but Starbucks is just so much more convenient. To combat this, the cafés I review will all be within walking distance of campus and will keep a student's budget in mind.
With that being said, every good review column needs some ground rules. For this series, I will be rating coffee shops on a five-point scale, with three core criteria:
Study-ability: How hard can you grind? I will assess each café's seating options, wall outlet accessibility, and overall ambience for studying and procrastinating, alike.
Affordability: Will it break the bank? I will start by comparing prices to the on-campus Starbucks equivalents, and will also compare the stores I review against each other. I will be assessing the price of the standard iced americano with oat milk, but I will also take note of the menu as a whole.
Quality: Is the coffee good? At each café I will be ordering an iced americano with oat milk. I determined that this is the best standardized drink for two reasons:
First, I chose a simple iced drink for the convenience of walking to and from classes.
Second, I am lactose intolerant. (Side note: if you are a coffee snob who believes that the only true way to appreciate coffee is through pure hot espresso or whatnot, this column is unfortunately not for you.)
When asking around and searching online for cafés in the area, one of the most consistently recommended is Cafe Allegro. In looking into the background of Cafe Allegro, one can easily see how it has cemented its reputation in the U-District. Allegro is home to the oldest espresso bar in Seattle, and was founded in 1975.
Over time, the café has not only built a strong cycle of regular customers, but has also developed into a community meeting space, with three different rooms for customers to enjoy. Not to mention, their front room is also used as a miniature art gallery, supporting local artists.
I had been to Allegro a few times before, so I knew exactly where to find it. For first-time visitors, the main entrance is about 20 feet down the alleyway between Magus Books and MOD Pizza on NE 42nd. Upon entering, I was immediately greeted with the smell of freshly ground coffee. On first impression, Cafe Allegro is cozy. The walls are decked out with vintage posters and vinyls, and the tables and chairs are unique and antique, adding to the cohesive ambience.
The space certainly qualifies as having high study-ability. The three different rooms allow for ample seating, even during the busiest hours of the day. In looking around, there wasn't amazing access to outlets, but many patrons had brought their own portable chargers. Similarly, I found the Wi-Fi to be a bit finicky.
UW student and Cafe Allegro regular Kiki Chu agreed that the multi-room system benefits those who come to study, as it provides a separation between socializing and focusing.
"I studied here during finals week all the time partially because this room exists,'' Chu said. "You can be out there and it's great for having a social time, but if you're in here, it's perfect to study."
The old, established nature of this café provides an almost perfect ambience for studying, but also results in weaker technological infrastructure. Overall, on the study-ability scale, I would give it a 3.75/5.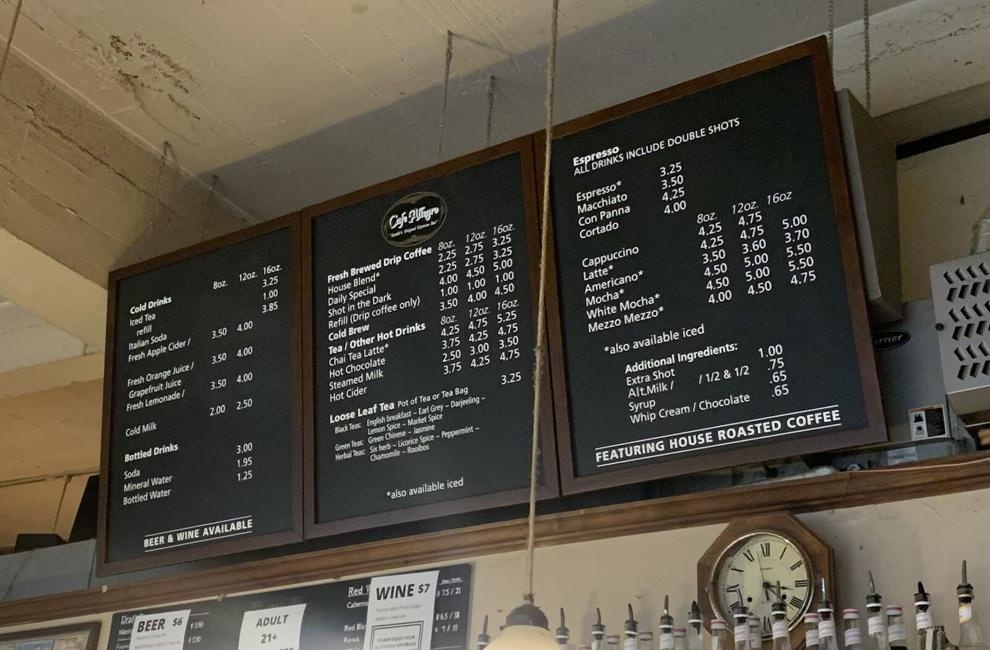 According to the Starbucks app, a 12-ounce iced Americano with oat milk is $3.45. At Cafe Allegro, the same drink was $4.35. Both drinks include two shots of espresso. Looking at the menu overall, Cafe Allegro is definitely on the cheaper end of the local coffee shop spectrum. All alternative milks are an additional $0.75, which is standard at most establishments, including Starbucks. They do not charge extra for making your drink iced, which is not nearly as common as you would think. I rate the affordability 4/5.
Now for arguably the most important factor: quality. This was one of the best iced Americanos with oat milk I have had in a long time. It had an excellent balance of strength and creaminess, and avoided the burnt flavor that many iced Americanos often have. The coffee was certainly strong, but not overpowering. UW student Thalia Felice corroborated this analysis, sharing that the coffee appeals to students and parents alike.
"I took my coffee-addicted mother here," Felice said. "She is very choosy with her coffee, and she loves the coffee here."
Chu also expressed that the coffee is typically strong, but has its off days.
"I think it's pretty solid, sometimes the coffee is a little watered down," Chu said. "But normally, it's pretty concentrated."
Chu and Felice both drank their coffee hot, proving that the quality extends beyond my regular iced Americano. Cafe Allegro is an espresso bar above all else, and they clearly give priority to crafting strong, enjoyable coffee. I rate their quality 4.5/5.
In averaging my three criteria, Cafe Allegro receives an overall rating of 4.1/5.
All in all, I thoroughly enjoyed my visit to Cafe Allegro. Being basically in the heart of the U-District and at most a mile walk from most UW housing, I highly recommend taking a trip across campus and through the alley to experience one of UW's most beloved cafes.
Therefore, with high ratings and easy accessibility, I consider Cafe Allegro a great spot for all UW students.
Reach columnist Piper Davidson at arts@dailyuw.com. Twitter: @PiperDavs
Like what you're reading? Support high-quality student journalism by donating here.