Editor's note: "The Weekly Grind" is a weekly column reviewing the various coffee shops and study outlets in the U-District.
Cafe Solstice can be best described as busy. Located on the Ave, within minutes of the West Campus dorms, the café is consistently packed with students and U-District residents, alike.
The café's roots go back to the early '90s, when co-owners Joel Wood and Doug Sowers launched the brand as a coffee cart. The café once boasted two locations, but now stands alone following the closure of their Capitol Hill location in 2019. The Capitol Hill location had only been open a few years before its closing, whereas the U-District location has been a staple in the community since 2000.
The café is located on 4116 University Way NE, only a block away from the West Campus dorms and the bridge leading into Red Square. Similar to last week's Cafe Allegro, Cafe Solstice has doubled their space as a miniature art gallery, promoting local artists. The café also has a patio with outdoor seating, which I'm sure is well utilized during Seattle's average of 152 days of sun per year.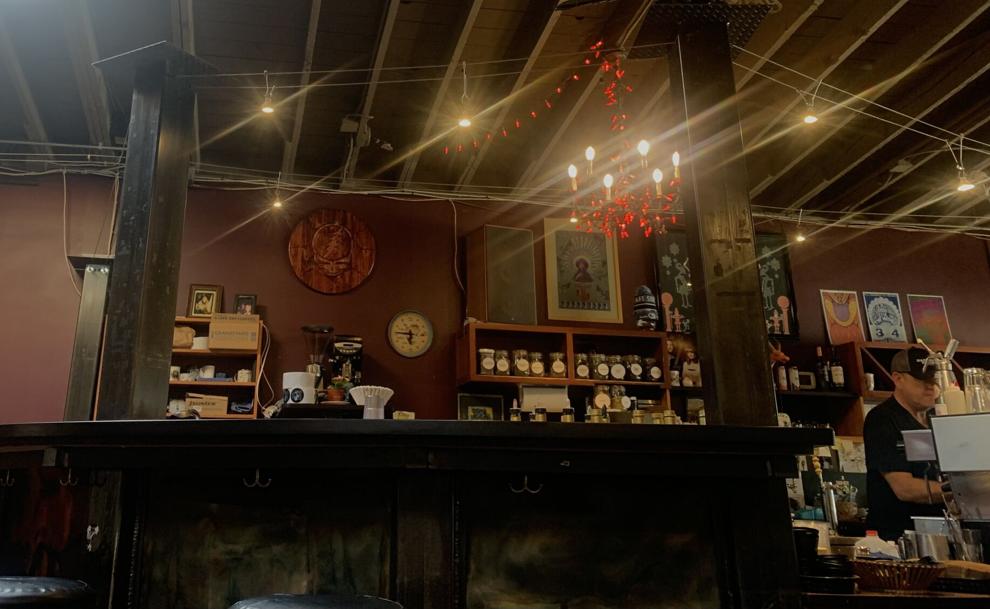 With that being said, let's look into our first core criteria: study-ability. The café is certainly busy, but I can say that in my two hours of sitting here and writing this column, seating is consistently available if you avoid peak hours.
Of course, peak hours appear to align with UW class times, with large rushes coming in on the half hour. Despite this, the open floor plan allows for larger table spaces, as well as bar seating. If you can find a table, it will certainly have space for your coffee, a snack, and the entire Apple ecosystem.
Much of the seating is booth-style, which allows for easy wall outlet access. However, the center tables and bar seating have limited access to outlets. The Wi-Fi is solid, and a large majority of customers have laptops open.
I found it a bit loud for my liking, but second-year student Gali Alony recommended it for studying.
"I do like the interior alot," Alony said. "The vibe is really warm, and it's not too loud."
Similarly, first-year student Mackenzie Oliver complimented the store's music.
"I love going there," Oliver said. "It is always fun to know the songs they are playing in the coffee shop so you don't have to wear your own headphones."
Alony also made note of how nice the baristas are, which I can certainly corroborate. With warm lighting and exposed brick, Cafe Solstice certainly maintains an artsy ambience, amplified by their cozy and eclectic furniture. All things considered, I give it 3/5 stars for study-ability.
For those who didn't read last week's column, I will be ordering an iced americano with oat milk at each café I review to set the standard.
Full disclosure, when I originally went to visit Cafe Solstice, they mixed up my order and made me an iced vanilla latte with oat milk. I didn't correct them or have them remake it, partially because it was busy, but mostly because of the general anxiety that composes a large part of my personality. I did return to Cafe Solstice the next day, and successfully obtained the all-important iced americano with oat milk.
The iced americano with oat milk was just under $5 after tax, which was slightly more than last week's Cafe Allegro. This puts it at about a dollar over the Starbucks standard of $3.45.
Looking at the menu overall, this is certainly one of the pricer options on the Ave. Drinks with flavoring and alternative milks can run up to $8 or more. Milk alternatives are $0.50, which is about standard. Cafe Solstice still runs pretty traditional, and while they do have credit card readers, they strongly prefer cash. I would be wary of trying to pay with Apple Pay, or any other digital alternatives. Overall, I would rate the affordability a 3.5/5.
My iced americano was solid. The coffee was strong, but a little watery even before the ice melted. The ratio of oat milk to coffee was excellent, and there was a really strong balance of creaminess and flavor. They did go quite heavy on the ice, which was a bit overpowering in a 12-ounce drink. If you are mimicking my order, I strongly recommend asking for light ice.
The menu does boast a traditional and large selection of teas and coffees, including an artisanal tea list. Oliver made note of the drinks being one of the café's biggest appeals.
"It was the first coffee shop I ever went to when I moved to Seattle," Oliver said. "I'm not even a big coffee drinker, I'm more of a tea drinker, but everything I've gotten there, I like."
Both my intentional iced americano and unintentional iced vanilla latte were solidly enjoyable, and with that, I am giving Cafe Solstice 4/5 for quality.
With all criteria averaged, Cafe Solstice gets an overall rating of 3.5/5.
Overall, I think that your enjoyment of Cafe Solstice will largely come down to the atmosphere you value in a study space. The drinks are pricey, but often worth the extra dollar. If you live on West Campus and are actively looking for a new study spot, I would certainly recommend a visit.
Who knows? Solstice's lowkey environment and quality beverages could just be what you're looking for.
Reach columnist Piper Davidson at arts@dailyuw.com. Twitter: @PiperDavs
Like what you're reading? Support high-quality student journalism by donating here.